ColdFire Brewing Spring 2021 Wild Beer Releases
|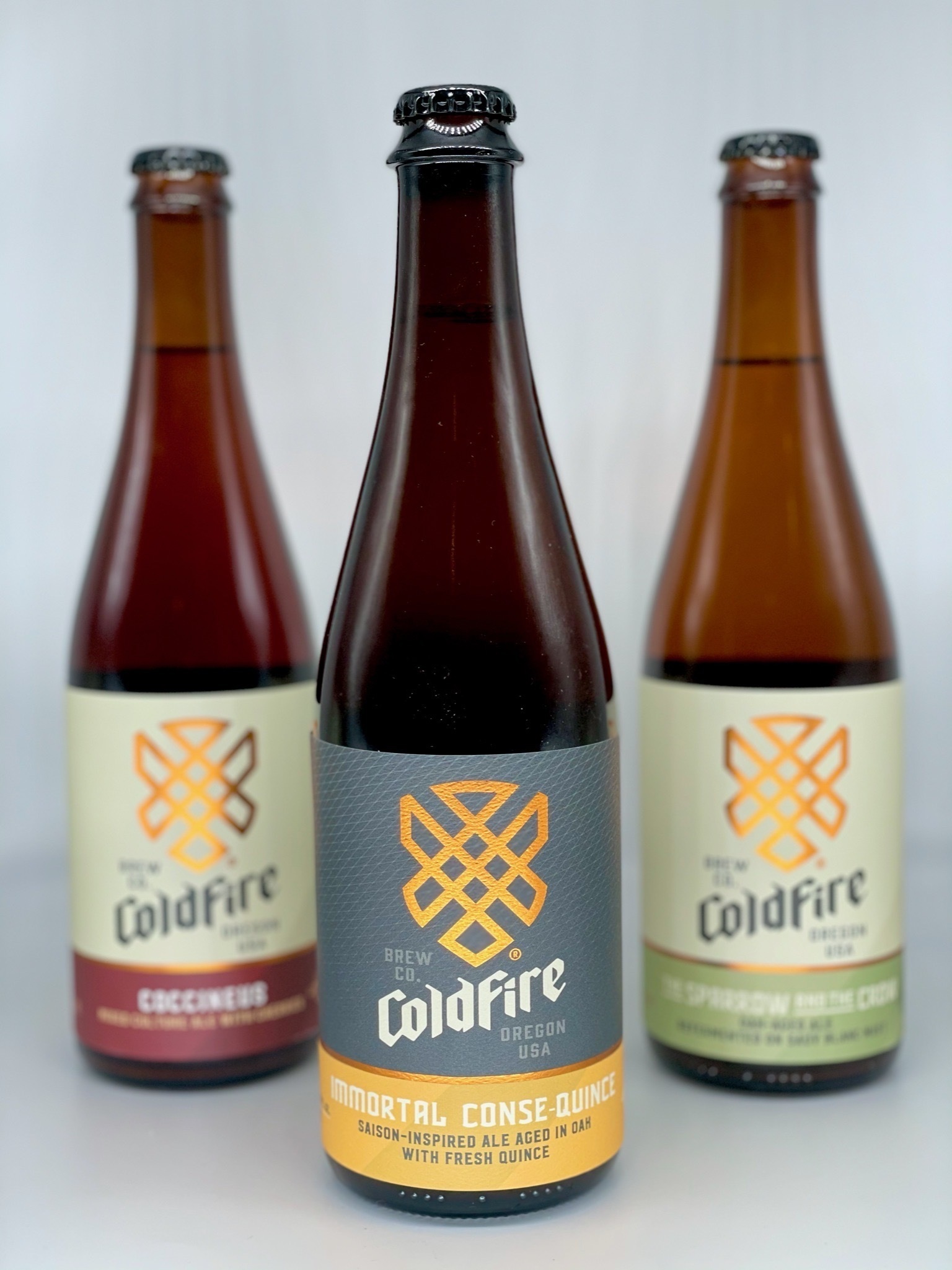 In time for the Memorial Day Weekend, ColdFire Brewing from Eugene, Oregon expands its Wild Beer program. The brewer will offer two new beer releases Coccineus and Immortal Consequince and a re-release of The Sparrow and the Crow, a house favorite with extended conditioning.
Here are descriptions provided by the brewery on each of these three wild ales from ColdFire Brewing.
Coccineus
Coccineus is Latin for the sensual, scarlet hue that served as the inspiration for this wild red ale. We evolved the recipe for our award-winning, open fermented Wild James ale by blending it with a small portion of mature oak-fermented sour blonde ale. Both ferments were aged on Rainier and bing cherries (grown locally in Hood River, Oregon) before bottle conditioning.  7.4% ABV; Total Oak Aging time: 2+ years
Immortal Consequince
A blend of foeder and Tempranillo barrel-aged beer, this saison-inspired ale was aged in oak on fresh quince, and again in stainless steel upon the second harvest from the same quince tree the following season. Claimed to have been the impetus of the Trojan war in Greek mythology, the quince is an ancient fruit with complex flavor and a sordid history. A secondary fermentation in oak, in conjunction with a blend of our unique cultures, imbues this exquisite ale with notes of apricot,pear, papaya, lemon peel and soft malt . Bottle conditioned  6.8% ABV
The Sparrow and the Crow 
Smart and sacred, the sparrow and the crow are symbols we like to compare to our two favorite beverages. This foeder-fermented mixed-culture ale was refermented on Sauvignon Blanc clusters, and was then aged for a year in white wine barrels. The next season, we initiated an additional fermentation with first-press Sauvignon Blanc juice before bottle conditioning. This vinous ale lends delicate notes of soft peach, citrus peel, ripe honeydew, and finishes with a mild earthiness.  7.6% ABV; Total Oak Aging time: 2+ years
For more information about these beers or other ColdFire Brewing products visit coldfirebrewing.com.