Dogfish Head Returns with Punkin Ale & Launches Costumes & Karaoke Imperial Oat Cream Ale
|
Its Pumpkin Beer season and Dogfish Head Craft Brewery returns with its popular Punkin Ale! The Delaware brewer will also release a new beer for the fall with the brand new Costumes & Karaoke Imperial Oat Cream Ale.
Costumes & Karaoke a golden tea-inspired imperial oat cream ale built upon a sophisticated blend of spices, including vanilla beans, ginger, cinnamon and turmeric. The resulting vibrant gold liquid is filled with aromas of ginger, cardamom, anise and vanilla, and sweet and spicy flavors of ginger, citrus and cardamom that sits at 8.0% ABV.
"With Costumes & Karaoke, I wanted to bring to life – in beer form – the intricate flavors and esters found in one of my favorite drinks, a golden milk latte," said Sam Calagione, Dogfish Head founder and brewer, in a statement. "Golden milk, or 'Haldi Ka Doodh,' is a turmeric-infused milk with origins dating back centuries. Through Costumes & Karaoke, I believe, we were able to successfully pay homage to this ancient libation and create a delicious beer that offers a new and exciting experience in every sip."
Making its return this fall is Dogfish Head's fan-favorite Punkin Ale with a new, steampunk-centric look by Dan Stiles, the brewery's collaborating artist for this year's Off-Centered Art Series. A full-bodied brown ale brewed with real pumpkin, brown sugar, allspice, nutmeg and cinnamon, Punkin Ale made its first appearance in 1995 and has been released every year since. Copper in color, this medium-bodied liquid masterpiece is known for its smooth hints of pumpkin, brown sugar and spice and sits at 7.0% ABV.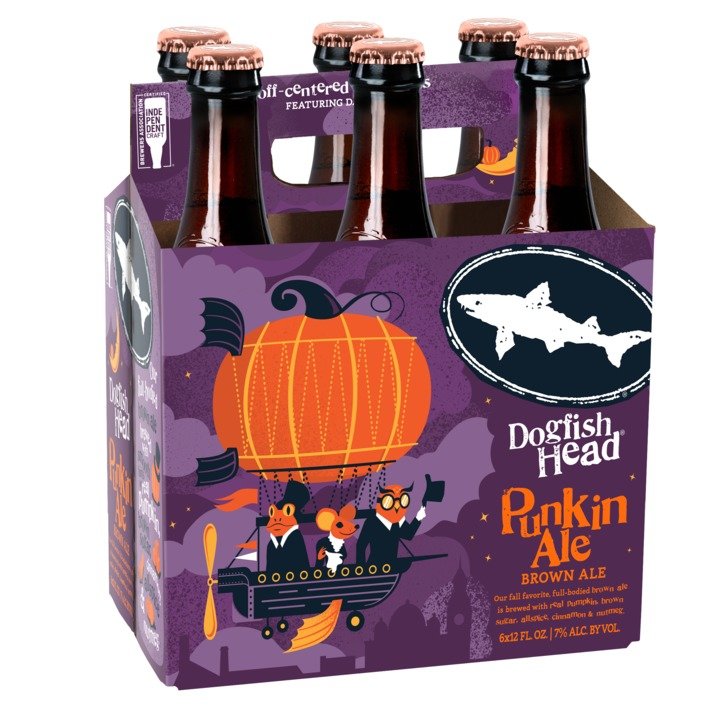 "While I'm beyond excited to share Costumes & Karaoke with Dogfish Head fans both near and far, nothing says, 'It's officially fall,' like a Punkin Ale," said Calagione, in a statement. "This time of year, I always look forward to sitting with my wife, Mariah, around the Cowboy Cauldron at our canal-front hotel, the Dogfish Inn, enjoying some off-centered ales and reminiscing about the memories we've made throughout the years. Typically, we would each raise a Punkin Ale, but this year, we'll have to bring Costumes & Karaoke into the mix!"
To learn more about Dogfish Head, or to find Punkin Ale or Costumes & Karaoke near you, visit the Dogfish Head Fish Finder.