Dogfish Head Reveals 2023 Beverage Release Calendar
|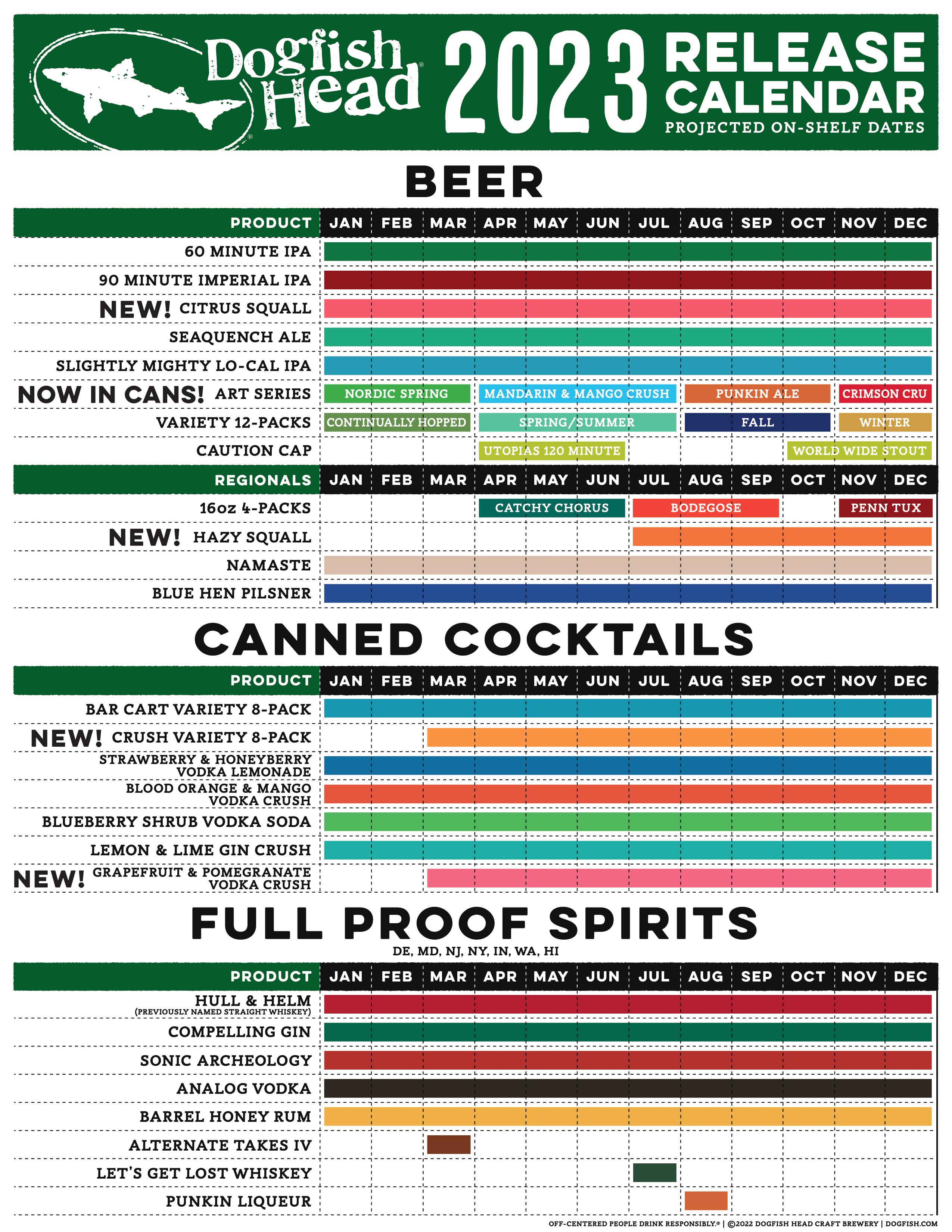 MILTON, Del., (DEC. 8, 2022) – "It's the most wonderful time FOR A BEER" … or Canned Cocktail! With the holiday season comes Dogfish Head's announcement of its annual beverage release calendar, complete with a list of all the new off-centered ales, spirits and Canned Cocktails folks can expect to see on shelves in 2023. With more than a dozen new products and packages on the docket, next year's lineup of libations offers something for every drinker to enjoy.
Off-Centered Art Series Ales:
Celebrating the magic at the intersection of art and ales, Dogfish Head's annual Off-Centered Art Series is a collection of four beers featuring label artwork by a different artist. Next year's Off-Centered Art Series beers will boast designs by New York City-based artist, Natalya Balnova. Best known for magical and mystical illustrations, Natalya works as an illustrator, designer and printmaker, and often self-publishes her own silkscreened books, posters and apparel. Check out her whimsical graphics wrapping the CANS of the following beers, which drop throughout 2023.
CANS?! That's right! For the first time, Dogfish Head's Off-Centered Art Series ales will be released in 6pk/12oz cans, providing fans with a whole new drinking experience.  
Every Day, Year-Round Beers:
Dogfish Head's list of year-round beers includes not only its continually hopped classics, 60 Minute IPA and 90 Minute IPA, but also a handful of sessionable sippers, SeaQuench Ale, Slightly Mighty and Blue Hen Pilsner, and a brand-new beer-cocktail hybrid, Citrus Squall.
Occasional & Limited-Release Beers & Variety Packs:
Made up of beers clocking in at 15.0% ABV or higher, Dogfish Head's Caution Cap series is marked by distinct neon yellow and black bottle caps, each adorned with a "caution" exclamation mark … er, shark. This eye-catching indication denotes a beer that is a perfect candidate for laying down to age.
Beer lovers along the East Coast will also see a selection of limited-edition 4pk/16oz can releases, including a new collaboration with Record Store Day, a Dogfish Head brewpub exclusive turned regional beer launch and a highly requested off-centered ale returning from the brewery's archive of "legacy beers."
Let's not forget variety packs! In 2023, Dogfish Head will debut four unique variety 12pk/12oz cans, each with four tasty brews, including at least one new or variety pack exclusive beer.
Culinary-Crafted Canned Cocktails:
Harnessing 20+ years of distilling experience, Dogfish Head's spirits-based, ready-to-drink Canned Cocktails feature two full-proof shots of the brand's house-made spirits combined with real culinary ingredients for a bar-quality taste. In 2023, Dogfish Head will add three new recipes to its portfolio, bringing its lineup of Canned Cocktails to seven uniquely tasty tipples.
Full-Proof Spirits & Liqueurs:
For drinkers seeking something more exclusive in nature, check out Dogfish Head's myriad of award-winning full-proof spirits, liqueurs and bottled cocktails. Available in DE, MD, NJ, NY, WA, HI & IN.
Learn more about Dogfish Head's beers, spirits or Canned Cocktails at www.dogfish.com.
**Dogfish Head's Canned Cocktails are not yet available in PA, NC, WV, AL, AR, MT, UT, WY or OR.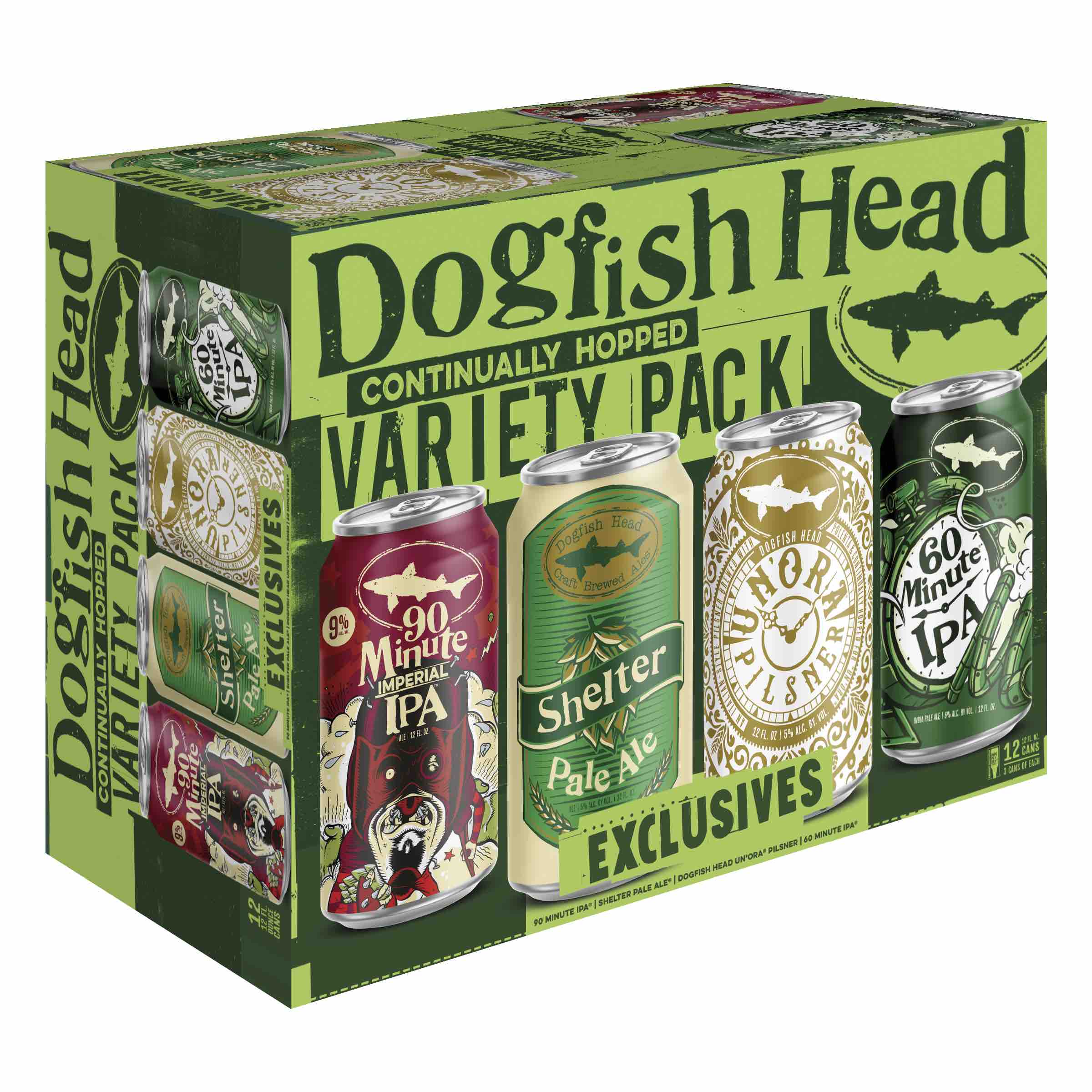 Dogfish Head Craft Brewery:
Dogfish Head has proudly focused on brewing beers with culinary ingredients outside the Reinheitsgebot since the day it opened as one of the smallest American craft breweries more than 27 years ago. Dogfish Head has grown into a top-20 craft brewery and won numerous awards throughout the years, including Wine Enthusiast's 2015 Brewery of the Year and the James Beard Foundation Award for 2017 Outstanding Wine, Spirits, or Beer Professional. A Delaware-based brand with Dogfish Head Brewings & Eats®, an off-centered brewpub and distillery, Chesapeake & Maine®, Dogfish Head's seafood and cocktail spot, Dogfish Inn®, a beer-themed inn on the harbor, and Dogfish Head Craft Brewery®, a production brewery and distillery featuring the Tasting Room & Kitchen and Dogfish Head Distilling Co. ®, Dogfish Head is a supporter of the Independent Craft Brewing Seal, the definitive icon for American craft breweries to identify themselves to be independently-owned and carry the torch of transparency, brewing innovation and the freedom of choice originally forged by brewing community pioneers. Dogfish Head currently sells beer in all 50 states and Washington D.C. For more, visit www.dogfish.com, Facebook: @dogfishheadbeer, Twitter: @dogfishbeer, and Instagram: @dogfishhead.