Dogfish Head Unveils Multi-Sensory Hoppy Variety Pack
|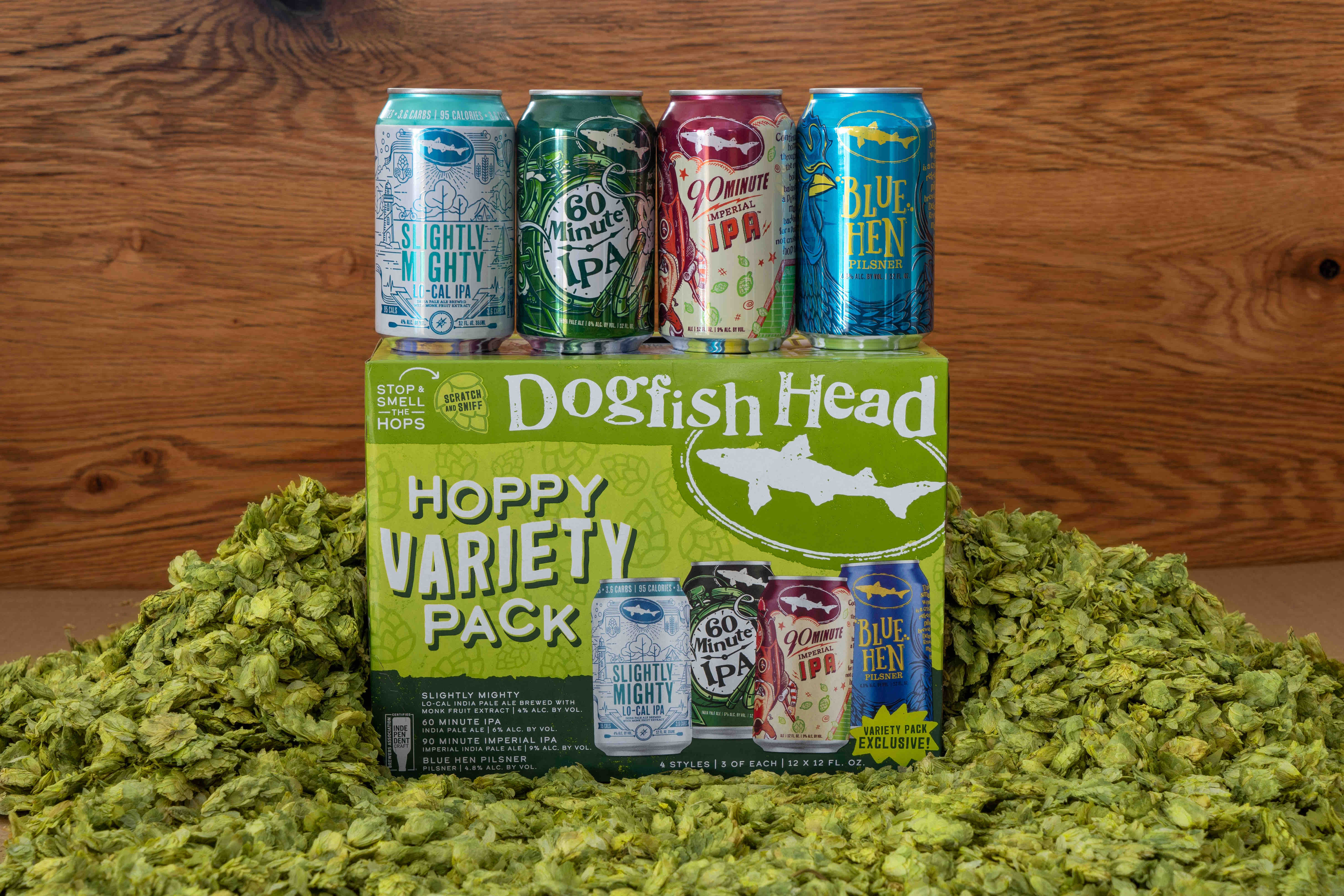 Milton, Del., Monday, August 2, 2021 – Forget about roses … it's time to stop and smell the HOPS! Dogfish Head Craft Brewery introduces its NEW Hoppy Variety Pack. Hitting shelves NOW nationwide, this variety 12pk/12oz cans features four hop-forward beers, including NEW Blue Hen Pilsner, and offers drinkers a unique, multi-sensory experience with a special, hop-scented element made using real hop oils on the front of each box. "It's a reminder that's life's too short to drink boring beer," said Sam Calagione, Dogfish Head Brewer & Founder. "So, grab a Hoppy Variety Pack and share it with your best beer-loving pals. Afterall, the tastiest beers are those enjoyed alongside friends and family."
Created with hop lovers in mind, the Hoppy Variety Pack includes three fan-favorite off-centered ales – 60 Minute IPA, Slightly Mighty and 90 Minute IPA – and a Delaware-centric variety pack exclusive, Blue Hen Pilsner. Every Hoppy Variety Pack contains three 12oz cans of each of the previously mentioned beers.
"Our Hoppy Variety Pack is overflowing with a diverse and delicious lineup of off-centered goodness," said Calagione. "All the beers within it hold a special place in my heart, but I am most excited about finally unveiling Blue Hen Pilsner to drinkers from coast-to-coast."
Dogfish Head first released Blue Hen Pilsner in 4pk/16oz cans from its Rehoboth brewpub, Brewings & Eats, in April of this year. After selling out of its inventory almost immediately, the brewery decided to expand production and release the beer nationally. Calagione adds, "Blue Hen Pilsner has been a huge hit, but for us, it's more than just a crisp and tasty, super-sessionable brew … Blue Hen Pilsner is a liquid love letter to the agricultural awesomeness of our home state, allowing us to share a piece of our beloved Delaware roots with folks everywhere."
For more information about Dogfish Head and its Hoppy Variety Pack, please visit www.dogfish.com.
*95 calories, 3.6g carbohydrates, 1g protein & 0g fat per 12oz serving.
**IRI, Total US MULO+C, YTD Ending 06/06/21.