Double Mountain Brewery & Cidery Release Basic Rights IPA
|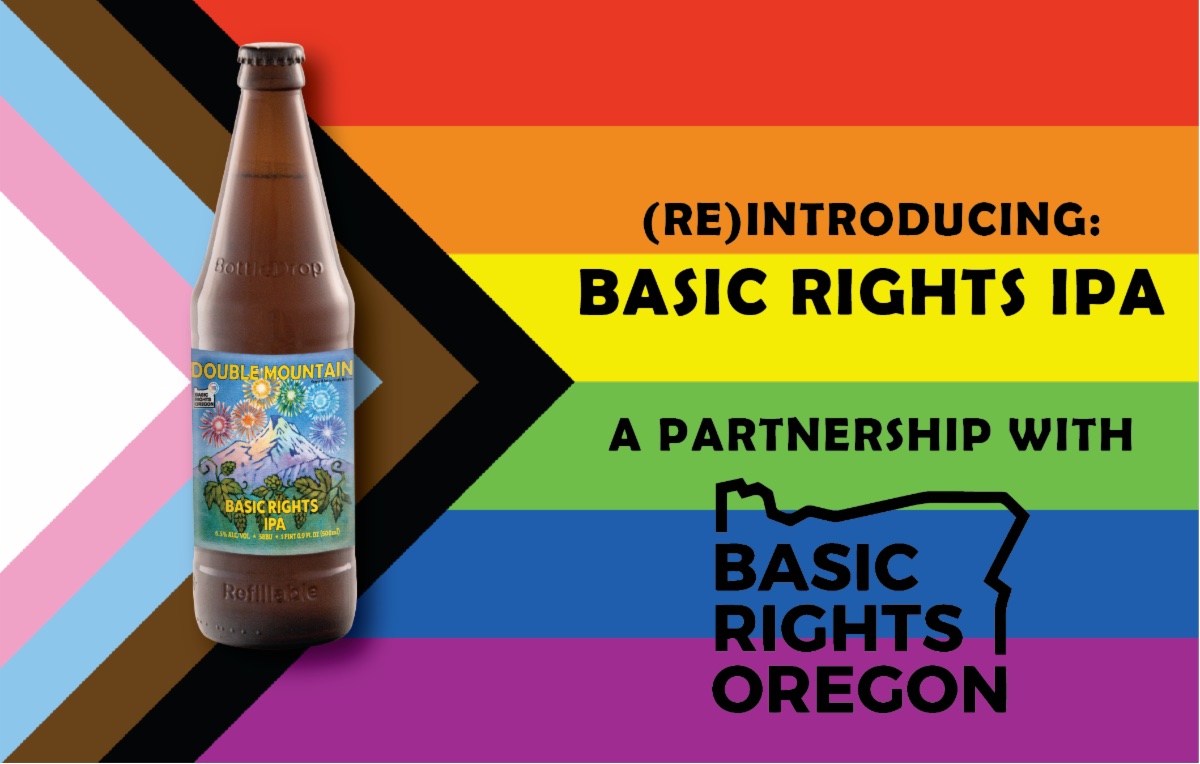 Hood River, OR – June 2023 – Prepare yourselves for the highly anticipated annual collaboration: Basic Rights IPA. This exceptional brew will be available on draft and in 500mL reusable bottles starting on June 1st. By teaming up with Basic Rights Oregon, Double Mountain aims to champion awareness and equality for all individuals within the state. The label design for this beer was brilliantly crafted by the talented local artist Mark Nilsson.
Crafted with a vibrant blend of Pilsner and specialty English malts, complemented by the delightful flavors of Amarillo and HBC 630 hops, Basic Rights IPA delivers a mesmerizing combination of sticky forest and ruby red grapefruit notes, leading to a pleasantly balanced bitterness.
A portion of the proceeds from this collaboration will be dedicated to supporting Basic Rights Oregon in their tireless advocacy for LGBTQ2SIA+ rights throughout the entire state of Oregon. We invite you to join us in raising a glass to celebrate equality. Cheers!
To learn more about Basic Rights Oregon, please visit their website at www.basicrights.org
Basic Rights IPA | 6.5% ABV | 58 BU
Using a colorful array of specialty English malts alongside Amarillo and HBC 630 hops, we get a rainbow of sticky forest and ruby red grapefruit leading to a mellow fruited bitterness. A portion of the profits benefit Basic Rights Oregon.
About Double Mountain Brewery & Cidery:
Double Mountain Brewery and Cidery was established in 2007 in the heart of downtown Hood River, OR. Founder, Matt Swihart, opened the brewery with a clear mission: make great beer for craft beer fans. The unique location of Double Mountain provides the use of pure and clean glacial water for beers and ciders, while also taking advantage of regionally grown hops. Refillable bottles allow customers to partake in a softer environmental footprint, affirming they are part of a sustainable future. Basic Rights IPA is available at our Hood River Taproom, SE Portland Taproom in the Woodstock neighborhood, and throughout the Northwest. Learn more at www.doublemountainbrewery.com