Double Mountain Brewery Releases 2018 Killer Lion Fresh Hop IPA
|
A few weeks back Double Mountain Brewery & Taproom released its 2018 versions of Killer Red Fresh Hop IRA and Killer Green Fresh Hop IPA on draft and in 500mL bottles. Now the Hood River, Oregon based brewer has released its last fresh hop beer from the 2018 hop harvest with its Killer Lion Fresh Hop IPA.
"The mosaics this year were some of the richest, stinkiest and loveliest hops I've seen. They roar nicely through the beer, but remain balanced. I love this beer!" – Matt Swihart, Brewmaster
Killer Hop Lion Description:
Fresh Mosaic hops lead with pride lending dank, green, tropic resin and evergreen.  Blood orange, tangelo, and bread stalk closely behind, with the earthy scent of Northwest petrichor hanging in the finish.
7.8.% ABV, 82 BU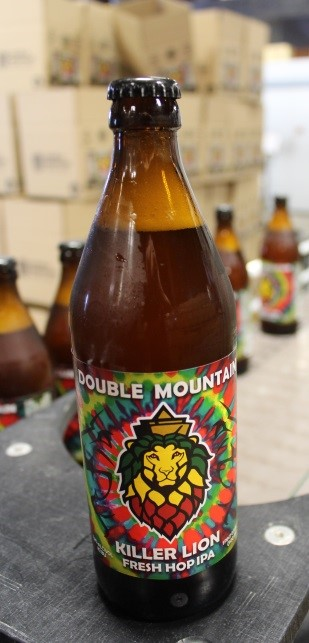 Killer Lion Fresh Hop IPA is currently available on draft and in bottles at the downtown Hood River Taproom and SE Portland Taproom in the Woodstock neighborhood. Killer Lion can also be found throughout the Northwest, and British Columbia.