Double Mountain Brewery Releases Ol' Greg IPA
|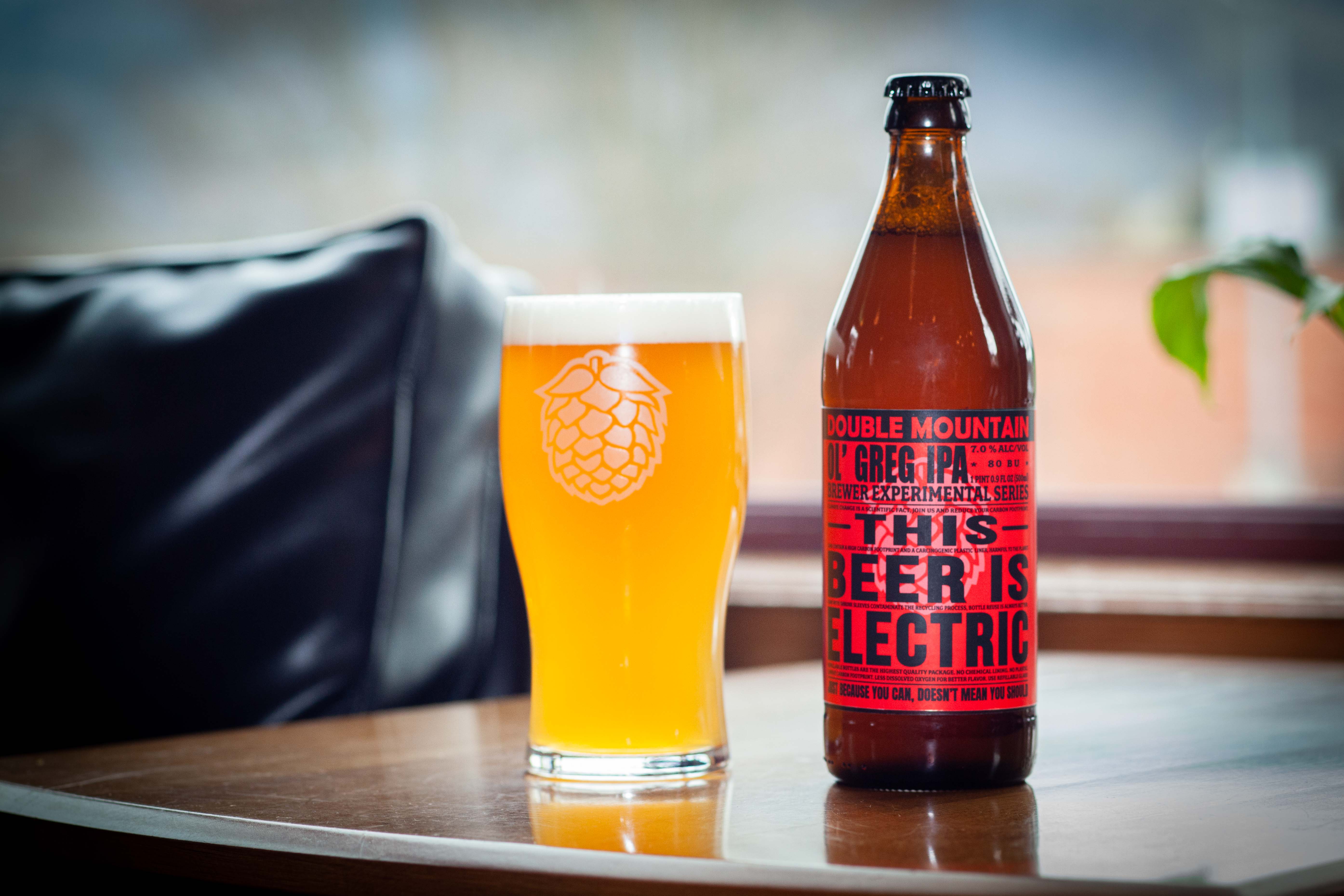 To kick off the year 2020, Double Mountain Brewery & Cidery has launched a new Experimental IPA Series. The first beer in this series is Ol' Greg IPA that is now available in refillable 500mL bottles and on draft at Double Mountain locations in Hood River and Portland along with in its full distribution footprint in the Pacific Northwest.
Matt Swihart, Founder and Brewmaster at Double Mountain Brewery wants to challenge his brew team in the new year. His goal is to have Head Brewer, Lead Brewer, and Barrel Manager at Double Mountain create beers using novel ingredients and techniques, challenging the brewers to leave their comfort zones. This challenge resulted in three IPAs that will test the brewer's boundaries.
First up in this series is Ol' Greg IPA, a 7.0% ABV and 80 BU beer that offers up aromas of spiced fruit and black currant. Ol' Greg is a reference to a sketch from The Mighty Boosh, if you haven't seen it yet, watch it a few times. It's disturbing, hilarious, and is said to be often quoted round the brewery.
"Do ya love me? Could ya learn to love me? Old world meets new with a Pacific NW IPA brewed with English hops and yeast. Big, bitter, and delicious." – Greg Balch, Head Brewer
Here's a letter from Double Mountain owner Matt Swihart on more details about this new Experimental IPA Series…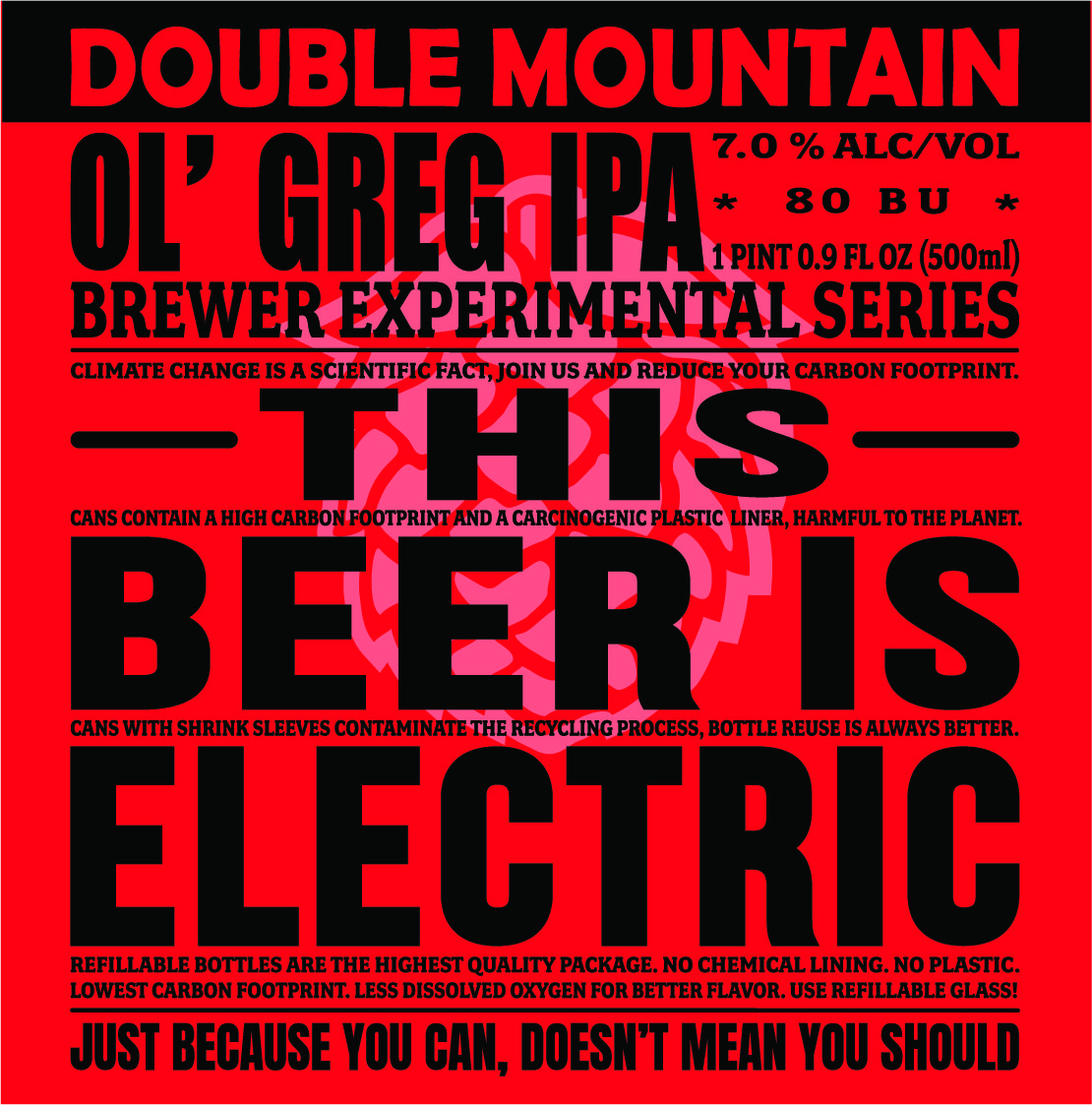 Happy New Year everyone!
Here at Double Mountain, we'd like to ring in 2020 with a lineup of experimental beers. Our senior brew team has been working feverishly. Greg Balch (head brewer), Jen House (aging and barrel funk master), and Matt Coughlin (lead brewer and lead vocals) are each creating an IPA using whatever malt, hops, yeast and techniques they desire. I'll follow with a single hop IPA in late spring. The first beer is Ol' Greg IPA, brewed with the "Riverside" yeast and some traditional English malt and hop choices. That yeast really comes through with some nice fruity overtones- it's an exceptional beer, the best beer I've had in a while.
With these beer releases, you'll notice the labels are a little in your face and might require more explanation, so here are my thoughts. We have two main goals: beer quality and environmental sustainability. On day one we chose the best tasting container available. Ladies and Gentlemen, that container is a glass bottle. It is 100% inert and has a small neck opening that doesn't allow oxygen ingress during the fill (unlike the gapingly large surface area of an un-seamed can) thereby preserving flavor stability. Also, worth mentioning is that all modern cans are lined with a thin plastic film to protect the aluminum from corrosively reacting with the beer's natural acidity. When you drink beer from a can, you, my friend, are drinking beer from a plastic- BPA or BPA like (BPS), lined container. Sunlight you say? Refillable bottles are thicker, blocking 10 times more UV light than a one-way brown bottle. On top of the better flavor in a glass bottle, our refillable bottles can be reused up to 25 times. In 2019 alone, we reused over 55,000 bottles. The life cycle carbon footprint of our Portland-made reusable bottle is less than 2% of an aluminum can. On the sustainability front, reusable containers are always best, and the best choice in the beer aisle. Hell, if you bring a case of empties bottles to one of our pubs, I'll get you a beer on the house. That's double the value of deposits. It's kind of a no-brainer.
The refillable bottle program is the hallmark of our sustainability efforts. In 2018, we used our warehouse roof to build the largest solar panel array in Hood River County. New this year, we are investing in C02 capture technology to grab escaping C02 during fermentation and reuse it in the brewery- another first for Northwest craft beverage producers. It's all just a start as we continue to look for more opportunities to reduce and reuse.
Please enjoy the coming year and our series of great IPAs. Cheers to everyone, cheers to great tasting beer.
Matt