Double Mountain Brewery's Sour Ales – 2017 Vintages of Devil's Kriek, Tahoma Kriek and Peche Mode
|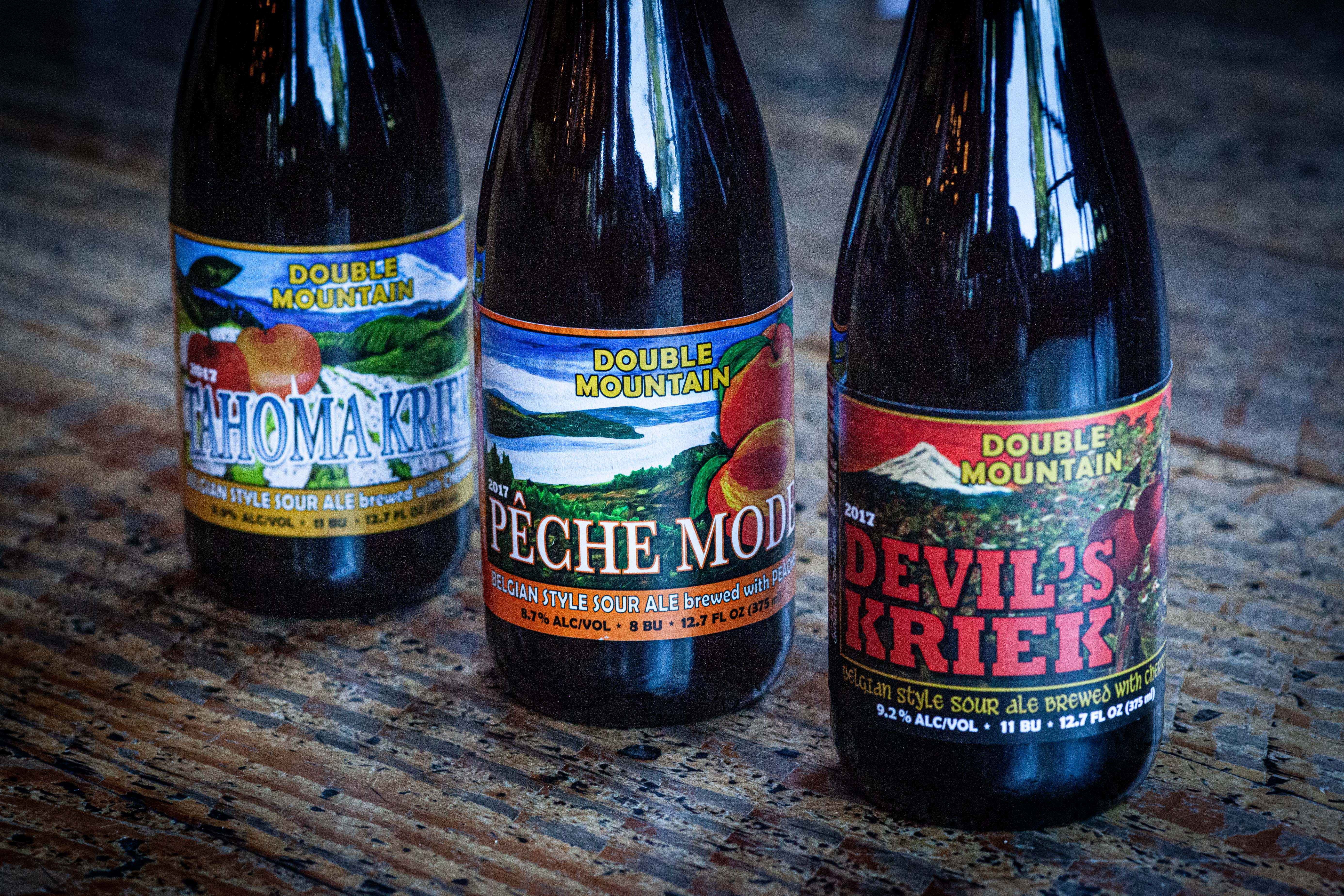 It's that time of year again when Double Mountain Brewery releases its sour ales. This time the Hood River brewer will release 2017 vintages of Devil's Kriek and Tahoma Kriek, both brewed with Cherries. In addition 2017 Peche Mode brewed with Peaches will also be released all at the same time.
"The Hood River Valley is such a perfect place to make a lambic/fruit style beer," said Owner and brewmaster Matt Swihart in a statement. "Combining a great fruit growing region with dedicated brewmasters makes our valley a destination for sour fruit beers."
If you're looking to try all three of these offerings at one place and at one time, they'll all be featured at Belmont Station on Friday, July 18th at 5:00pm during its annual Puckerfest.
These are some of the most fun, challenging, rewarding, and laborious beers made by Double Mountain. Aside from the cellaring time, the sours take a lot of time, effort, long hours, concentration, and love. Working with agricultural products is wonderful because they differ each year, making replication of the previous production nearly impossible. These vintages sat in the cellars at a slightly elevated temperature to increase the yeast activity in the bottle conditioning. – Double Mountain Brewery
Here are descriptions on each of the three beers as provided by Double Mountain Brewery.
Devil's Kriek-2017 Belgian Style Sour Ale with Cherries
9.2 % ABV, 11 BU
Our two house yeast strains share the field with Brettanomyces lambicus and Van and Bing cherries from the Double Mountain Orchards in this Belgian style sour. Resting on the fruit for over a year, time gives way to marionberry, tannic ripe blackberry, and sweet spring strawberry notes, leading through a tart, dry red wine finish.
Tahoma Kriek- 2017 Belgian Style Sour Ale with Rainier Cherries
9.9% ABV, 11 BU
Rainier cherries from the Hood River Valley are harvested and sent to the brewery where they're crushed, andadded to a strong Belgian blonde base beer. This little gem sat on the fruit with three yeast strains for 13 months in our cellars, surrendering flavors of tart stone fruit, pithy grapefruit, and kumquat.
Peche Mode- 2017 Belgian Style Sour Ale with Peaches
8.7% ABV, 8 BU
With nearly 500 pounds of peaches, this Belgian Ale ferments on the fruit with our house yeast and Brettanomyces lambicus for nine months. The result is a juicy, paradise. Lightly tart and refreshing, this one drinks easy, with juicy peach and ripe citrus peeking through a farmhouse of funk.
Double Mountain sour beers are available in 375mL bottles and on draft at the brewery's Hood River Taproom, SE Portland Taproom in the Woodstock neighborhood, and throughout the Northwest.