Double Mountain & E9 Brewing Collaborate on a Grisette & IPA
|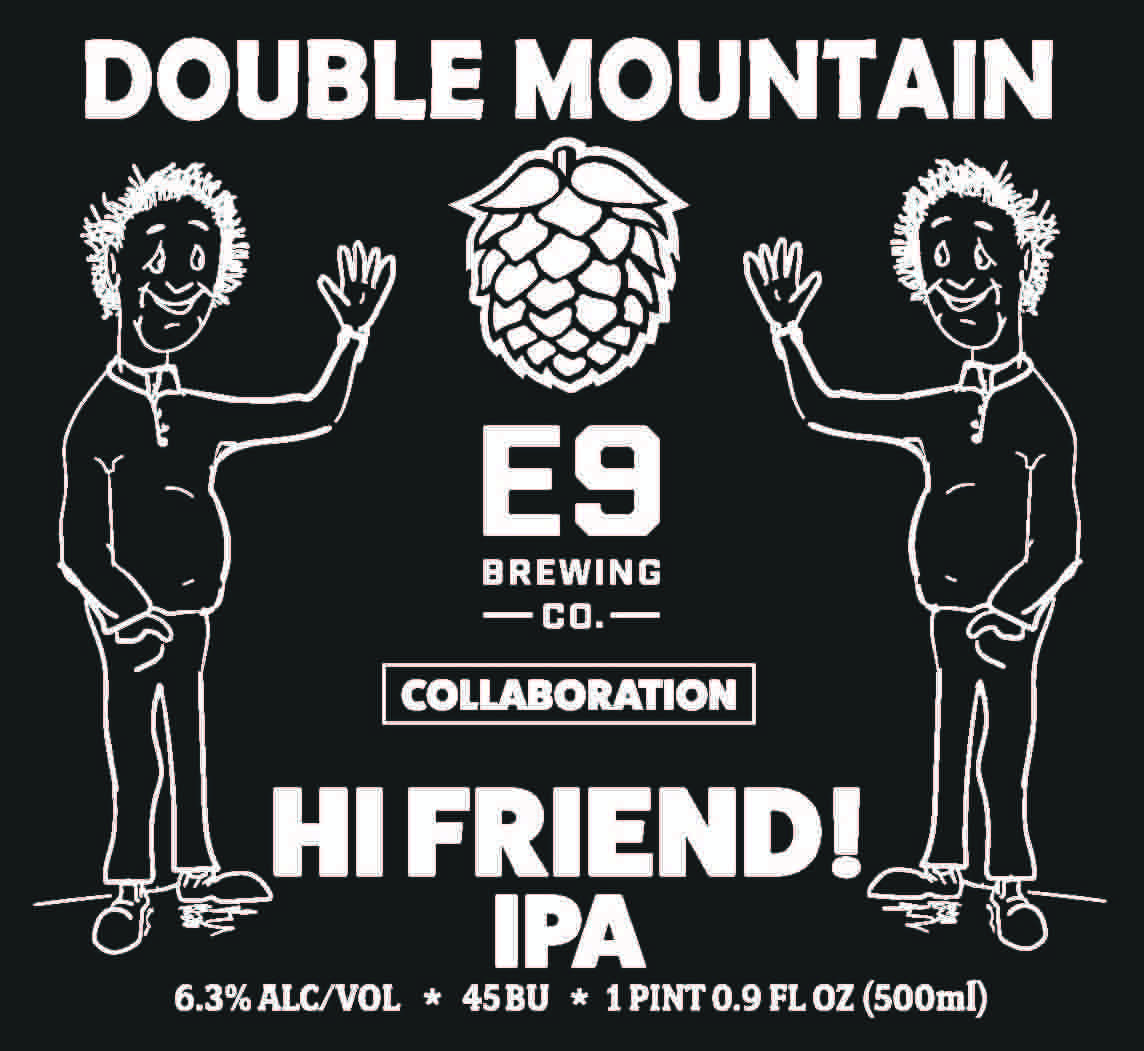 Hood River, OR – May 2021 – Double Mountain Brewery & Cidery is excited to release Hi Friend! IPA , a collaboration with our friends to the north at E9 Brewing Co. A warm welcome of ripe grapefruit, tangelo, and bright forest greet the nose of this IPA, like old friends getting together for a high five and a few laughs. It's certainly been a while, hasn't it? Dry and quenching, light on the tongue, and pulling sticky citrus and forest aroma; it's a perfect beer to welcome friends (safely) on those warm evenings when the spring is waning and summer is getting started.
One collaboration wasn't enough and the two breweries got together for a Washington-only Grisette dubbed Kissa Me. Supremely crushable and low on ABV, this Grisette is can conditioned. To find it, you may have to venture north, but traveling will be well worth it!
The Double Mountain and E9 collaboration, Hi Friend! IPA, is available in refillable 500ml bottles and on draft at our Hood River Taproom, SE Portland Taproom in the Woodstock neighborhood, E9 Brewing, and at fine establishments throughout the Northwest.
Hi Friend! IPA 6.3% ABV 45 BU
"Shane has been quietly making some of the best beers in the PNW for years, and I'm honored to have the chance to work with him. We wanted to bring something that we would sit down and have a few of while catching up. Hi Friend! Is just that." Matt Coughlin, Lead Brewer
About Double Mountain Brewery and Cidery: 
Double Mountain Brewery and Cidery was established in 2007 in the heart of downtown Hood River, OR. Founder, Matt Swihart, opened  the brewery with a clear mission: make great beer for craft beer fans. The unique location of Double Mountain provides the use of pure and  clean glacial water for beers and ciders, while also taking advantage of regionally grown hops. Reusable bottles allow customers to partake  in a softer environmental footprint, affirming they are part of a sustainable future. Double Mountain may be found on tap and in bottles  throughout the Pacific Northwest and British Columbia.
Learn more at www.doublemountainbrewery.com