Double Mountain Releases Basic Rights IPA + Pride Cider
|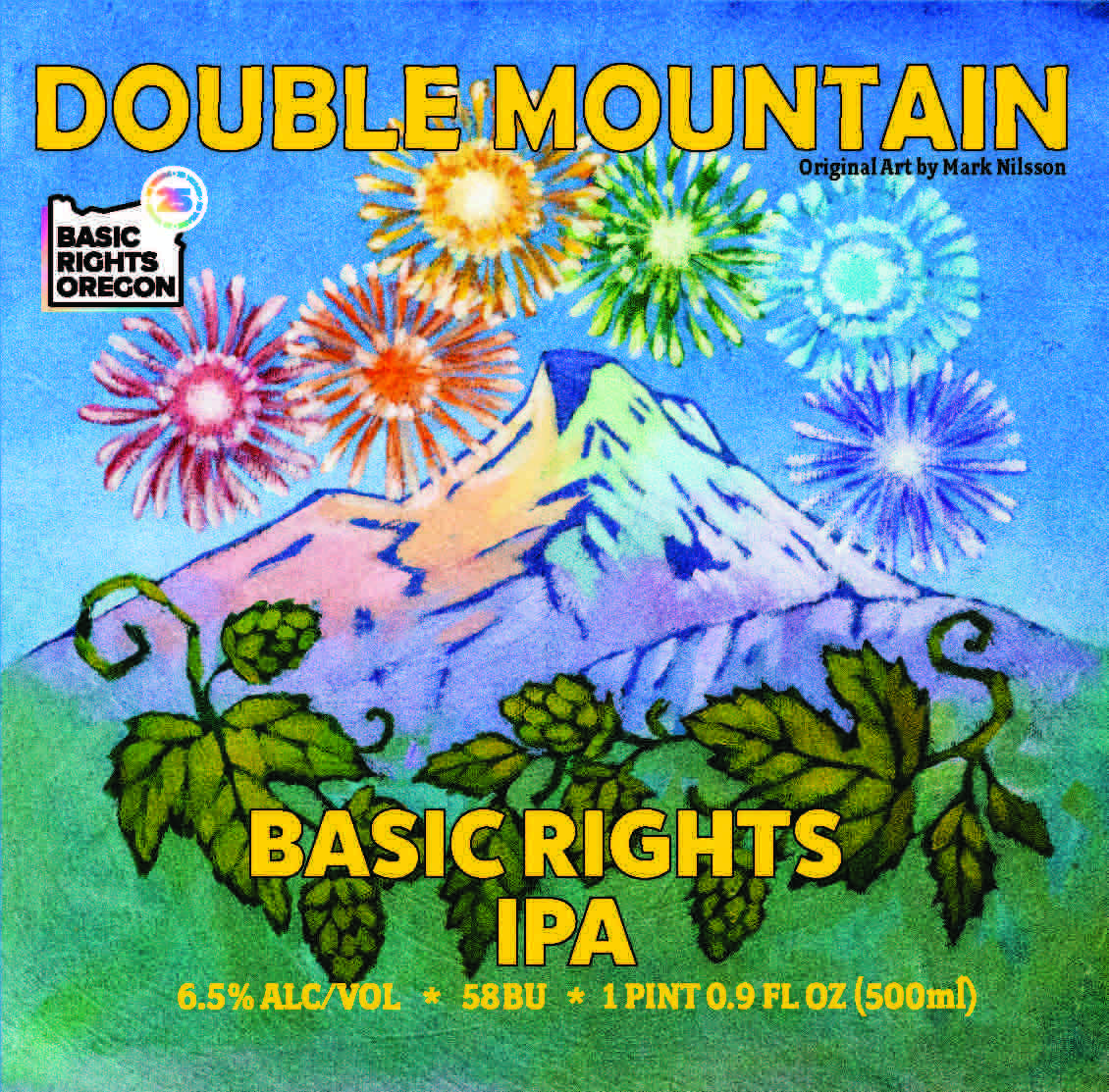 Hood River, OR – June 2021 – Continuing support of LGBTQ+ rights, Double Mountain is proud to release Basic Rights IPA and Pride Cider. Joining forces with local artist and pub favorite, Mark Nilsson, we created a greatly balanced IPA that would feature Mark's talents and utilize a portion of the profits for donation and partnership with Basic Rights Oregon. Additionally, we created a delicious Dry Cider available for draft. Basic Rights Oregon is celebrating 25 years of advocating to ensure that all lesbian, gay, bisexual, transgender, and queer Oregonians experience equality by building a broad and inclusive, politically powerful movement, shifting public opinion, and achieving policy victories on issues throughout Oregon for youth, racial and LGBTQ justice. Basic Rights IPA is available in refillable 500ml bottles and on draft along with Pride Cider at our Hood River Taproom, SE Portland Taproom in the Woodstock neighborhood, and at fine establishments throughout the Northwest.
Basic Rights IPA 6.5% ABV 58 BU
A colorful array of English Malts our favorite local hops. Celebrating the rich diversity of all Oregonians, this IPA will be featured at Pride events throughout the Northwest. A portion of the profits benefit Basic Rights Oregon. Original art by Hood River Artist, Mark Nilsson.
"It was a kick in the pants working with Mark, making a great beer, and celebrating that beer with a new painting for the Taproom. Partnering with Basic Rights Oregon helping fund their advocacy and justice campaigns is just the right thing to do." Matt Swihart, Brewmaster
About Double Mountain Brewery and Cidery:
Double Mountain Brewery and Cidery was established in 2007 in the heart of downtown Hood River, OR. Founder, Matt Swihart, opened the brewery with a clear mission: make great beer for craft beer fans. The unique location of Double Mountain provides the use of pure and clean glacial water for beers and ciders, while also taking advantage of regionally grown hops. Reusable bottles allow customers to partake in a softer environmental footprint, affirming they are part of a sustainable future. Double Mountain may be found on tap and in bottles throughout the Pacific Northwest and British Columbia.