Double Mountain Winter Beer Releases – Fa La La La La + Chocolate Stout
|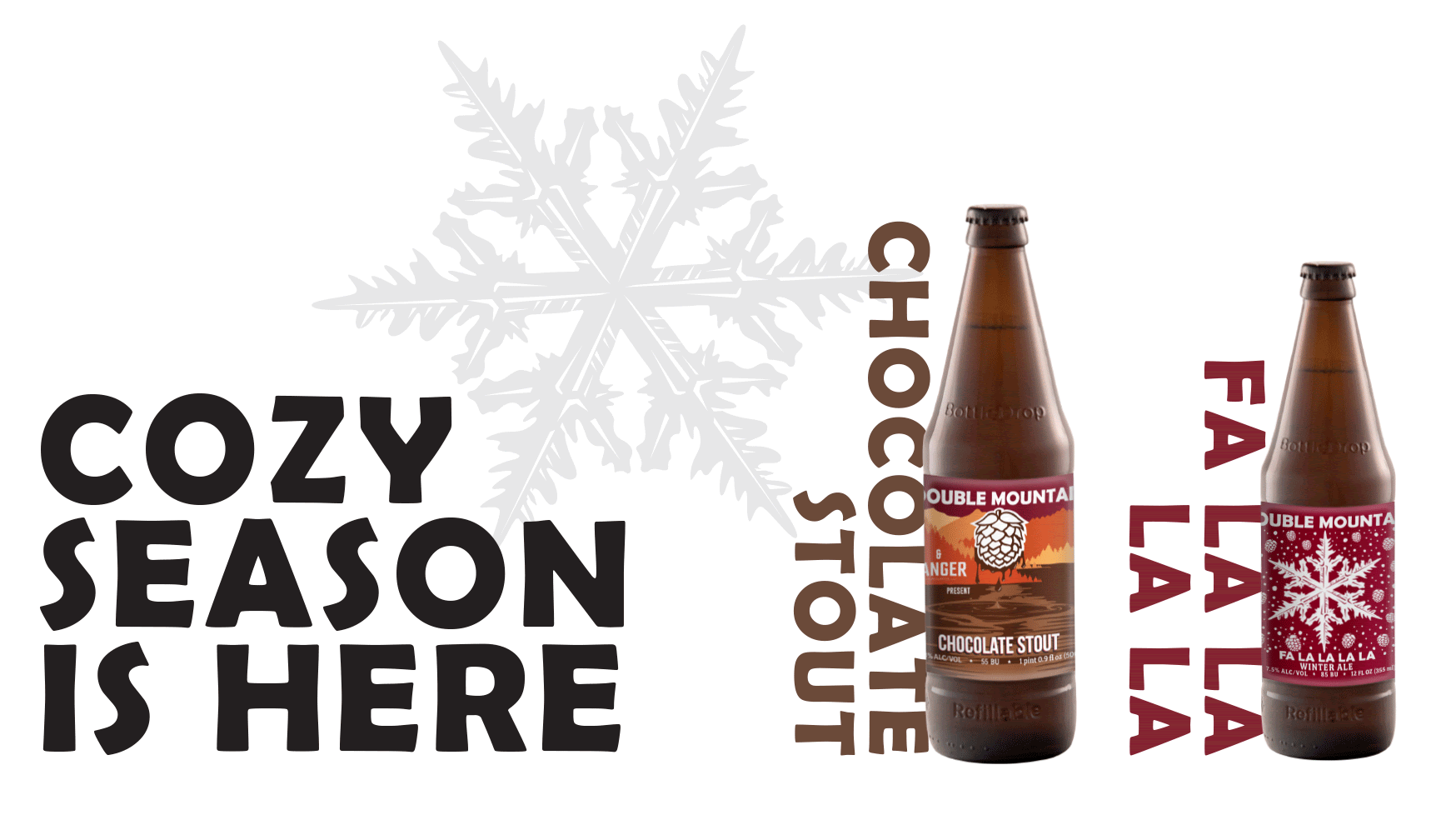 Hood River, OR – November 2022 – BRR! You can already feel it in the air that winter is coming. Which means it's time for Double Mountain Brewery & Cidery's two winter seasonal beers to make a come back, just in time for cozy season!
First, we are reintroducing our Chocolate Stout, brewed in collaboration with Ranger Chocolate Co. (if you haven't had any of their chocolate, you should seek it out- it's really quite amazing) and availible in refillable 500ML bottles.
Second, we are bringing back the seasonal favorite, Fa La La La La Winter Ale, again in six-packs! Not every winter beer needs to be dark. In this spirit, we bring you great tidings of joy with this year's Fa La La La La.
Shorter days and colder temperatures mean it's time to dust off the sweaters and cozy up with a Double Mountain Winter Seasonal Release!
Chocolate Stout 
6.8% ABV 55 BU
Brewed in collaboration with Ranger Chocolate Co., this beer goes down smooth with notes of dark rye bread, baking chocolate, molasses, and dark fruit, leading to a dry finish.
Fa La La La La Winter Ale
7.5% ABV 85 BU
Centennial hops take the reins with evergreen and juicy, ripe citrus, and a resounding chorus of Pilsner and Crystal malts echo the refrain. This IPA is full of love, goodwill, and is as crisp as a bluebird winter morning. Peace, love, and beers!
About Double Mountain Brewery & Cidery:
Double Mountain Brewery and Cidery was established in 2007 in the heart of downtown Hood River, OR. Founder, Matt Swihart, opened the brewery with a clear mission: make great beer for craft beer fans. The unique location of Double Mountain provides the use of pure and clean glacial water for beers and ciders, while also taking advantage of regionally grown hops. Refillable bottles allow customers to partake in a softer environmental footprint, affirming they are part of a sustainable future. Both of our winter seasonal beers are available at our Hood River Taproom, SE Portland Taproom in the Woodstock neighborhood, and throughout the Northwest.
Learn more at www.doublemountainbrewery.com