Ecliptic and Baerlic Releasing Cosmic Collaboration Beer Featuring Cryo Frozen Fresh Hops
|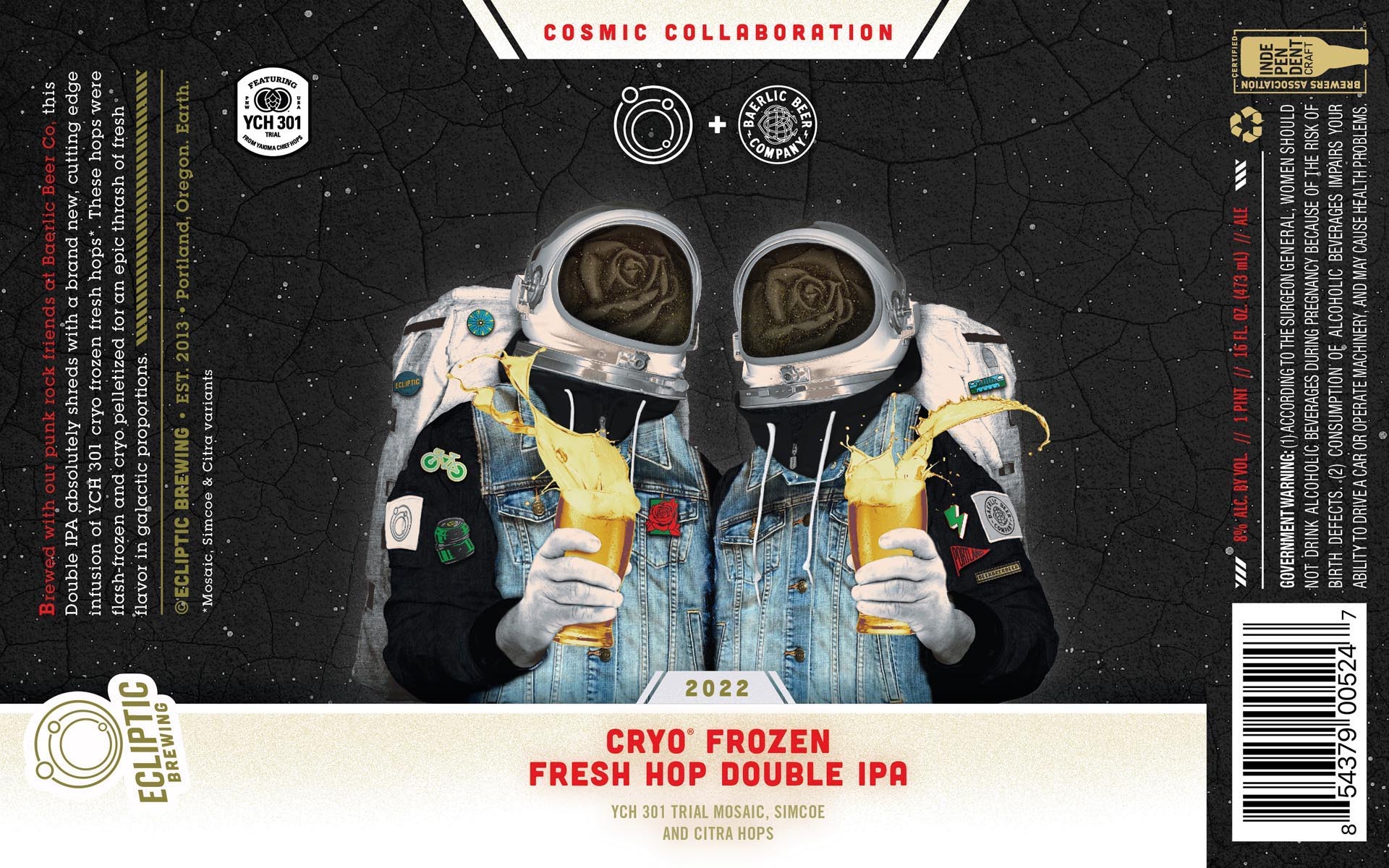 Portland, Oregon. Earth. (December 7, 2022) – Portland's Ecliptic Brewing and Baerlic Beer Co. have teamed up to brew a Cosmic Collaboration beer launching this winter. Ecliptic + Baerlic Cryo ® Frozen Fresh Hop Double IPA will ship December 14th in 16-ounce cans and draft and is the sixth and final beer in this series for 2022.
Ecliptic + Baerlic Cryo ® Frozen Fresh Hop Double IPA is brewed with Pale and Pilsner malts and a variety of special trial hops coming from Yakima Chief Hops (YCH). YCH 301 Trial hops are part of the company's Elite Product Trial Program. From YCH: "It combines the ground-breaking concept of frozen fresh hops and the innovative technology of Cryo ® Hops to pioneer a new way to brew fresh hop ales with a pelletized product." This Double IPA features Citra, Simcoe and Mosaic varieties of these trial hops and finishes at 8% ABV.
Says Ecliptic's Owner and Brewmaster, John Harris, "I'm stoked to be working with Rik and Ben at Baerlic. They have been making super fun beers for many years. We met up to discuss what to make and realized that we had all tried a certain beer recently and were loving the hop aromas. The beer used these new hops from YCH. So, the idea was to make a straight-ahead Double IPA, relishing in the citrus, tropical and dank aromas."
Ecliptic + Baerlic Cryo ® Frozen Fresh Hop Double IPA will be released in 16-ounce cans and draft throughout Ecliptic Brewing's distribution network on December 14th. Visit Ecliptic's website for up-to-date details on this release and potential release events.
Ecliptic + Baerlic Cryo Frozen Fresh Hop Double IPA
Brewed with our punk rock friends at Baerlic Beer Co, this Double IPA absolutely shreds with a brand-new, cutting-edge infusion of YCH 301 cryo frozen fresh hops. These hops were flash-frozen and pelletized for an epic thrash of fresh flavor in galactic proportions.
ABV: 8%
IBU: 60
About Ecliptic Brewing
Ecliptic Brewing is a venture from John Harris, an Oregon beer icon whose background is steeped in the state's rich craft brewing history. The name Ecliptic unites Harris' two passions: brewing and astronomy. Ecliptic Brewing's Mothership location opened in October of 2013 in North Portland and its second location – the Moon Room –opened in November of 2021 in Southeast Portland.
Ecliptic celebrates the Earth's yearly journey around the sun through both its beer and restaurant menus. Harris' signature beers include Ecliptic Starburst IPA, Phaser Hazy IPA, Carina Peach Sour Ale, Capella Porter, Pyxis Pilsner and LIGO West Coast IPA.
Ecliptic beers are available at the mothership brewery (825 North Cook St), the Moon Room (930 SE Oak St), in grocery stores, bottle shops, and on-tap throughout the area. They are distributed by: Maletis Beverage (Portland, Salem, Vancouver WA), Bigfoot Beverage (Eugene, Bend, Coast), Fort George Distributing (Northern Oregon Coast, Southern Washington Coast), Hodgen Distributing (Eastern Oregon), Summit Distribution (Southern Oregon), NW Beverages (Seattle, Tacoma), Odom (Eastern Washington, Northern ID), Dickerson Distributing (Bellingham), Hayden Beverage (Idaho), Crooked Stave Artisans (Colorado), Freedom Distributors (North Carolina), Arizona Beer & Cider (Arizona), Beer Thirst (Canada) and Tread Water (Japan).
For more information, visit: eclipticbrewing.com.