Ecliptic Brewing and Chuckanut Brewery to Release Cosmic Collaboration Vienna Lager
|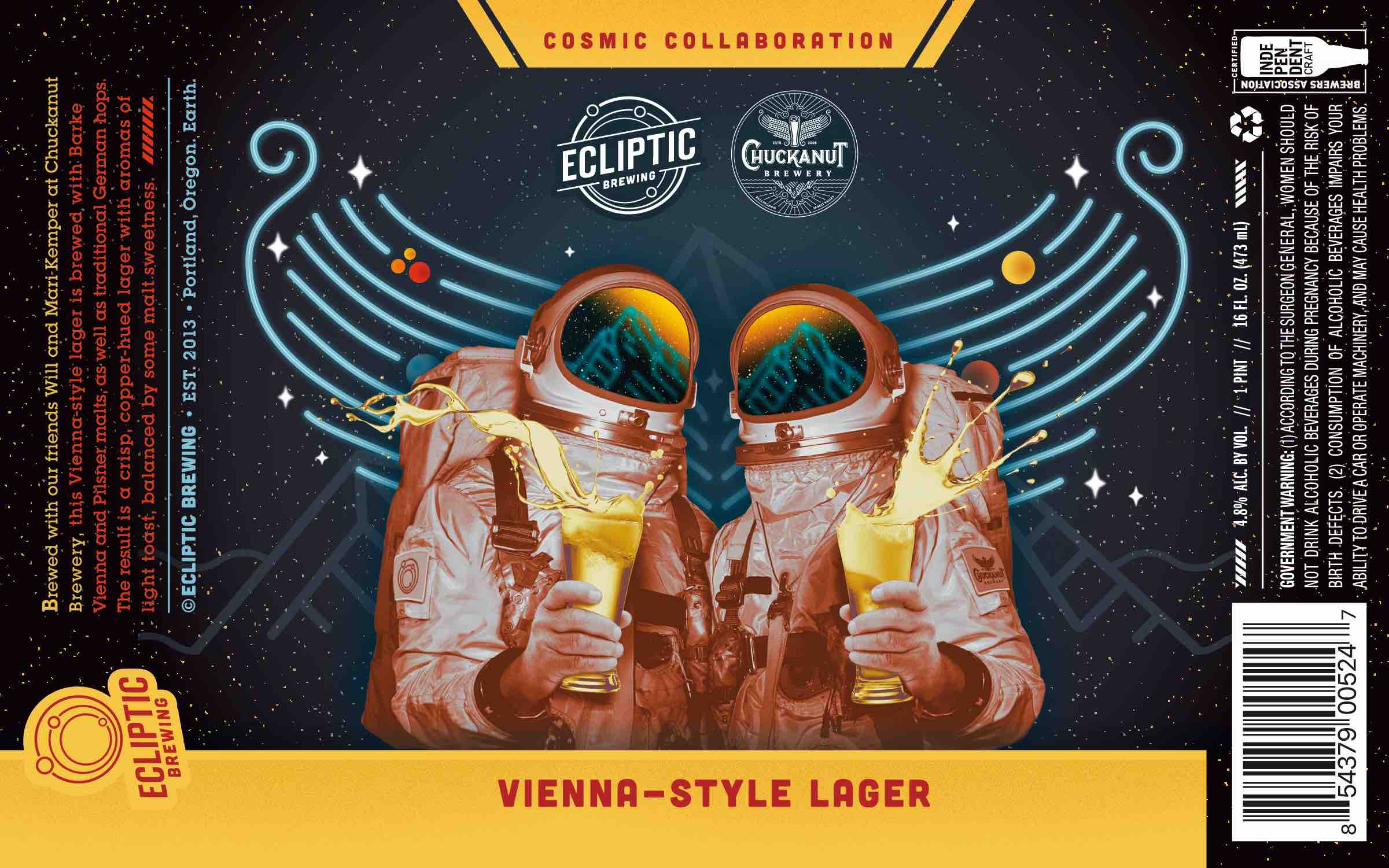 Portland, Oregon. Earth. (March 18, 2021)- Portland, Oregon's Ecliptic Brewing and Washington's Chuckanut Brewery are teaming up to create a Vienna Lager, shipping March 24th in 16 ounce cans and draft. This is Ecliptic's second Cosmic Collaboration of the new year.
Ecliptic + Chuckanut Vienna Lager is brewed with Barke Vienna and Pilsner Malts, as well as traditional German hops. Hersbrucker hops offer floral and spicy aromas, while Saphir hops bring the citrus. The result is a crisp, copper-hued lager with aromas of light toast, balanced by some malt sweetness.
Ecliptic's Owner and Brewmaster, John Harris, has long admired Chuckanut's Owners, Mari and Will Kemper. Says Harris, "I've been following Will's beers for years- since he started the Thomas Kemper Brewery back in 1985. Will and Mari's Chuckanut Brewery has been making award-winning lagers for a while now, so it really is an honor to make a classic, smooth-drinking Vienna Lager with them."
Ecliptic + Chuckanut Vienna Lager will be released in 16 ounce cans and draft throughout Ecliptic Brewing's distribution network on March 24th. An official virtual release party will be held on Zoom on April 1st from 5:30-6PM, with John Harris, and Mari & Will Kemper in attendance. Visit Ecliptic's website or Facebook event page for up-to-date details on this release.
About Ecliptic + Chuckanut Vienna Lager
Brewed with our friends Will and Mari Kemper at Chuckanut Brewery, this Vienna Lager is brewed with Barke Vienna and Pilsner Malts, as well as traditional German hops. The result is a crisp, copper-hued lager with aromas of light toast, balanced by some malt sweetness.
ABV: 4.8%