Eel River Brewing Releases UNKINDNESS Barrel-Aged Stout and Vanilla Citrus Stout
|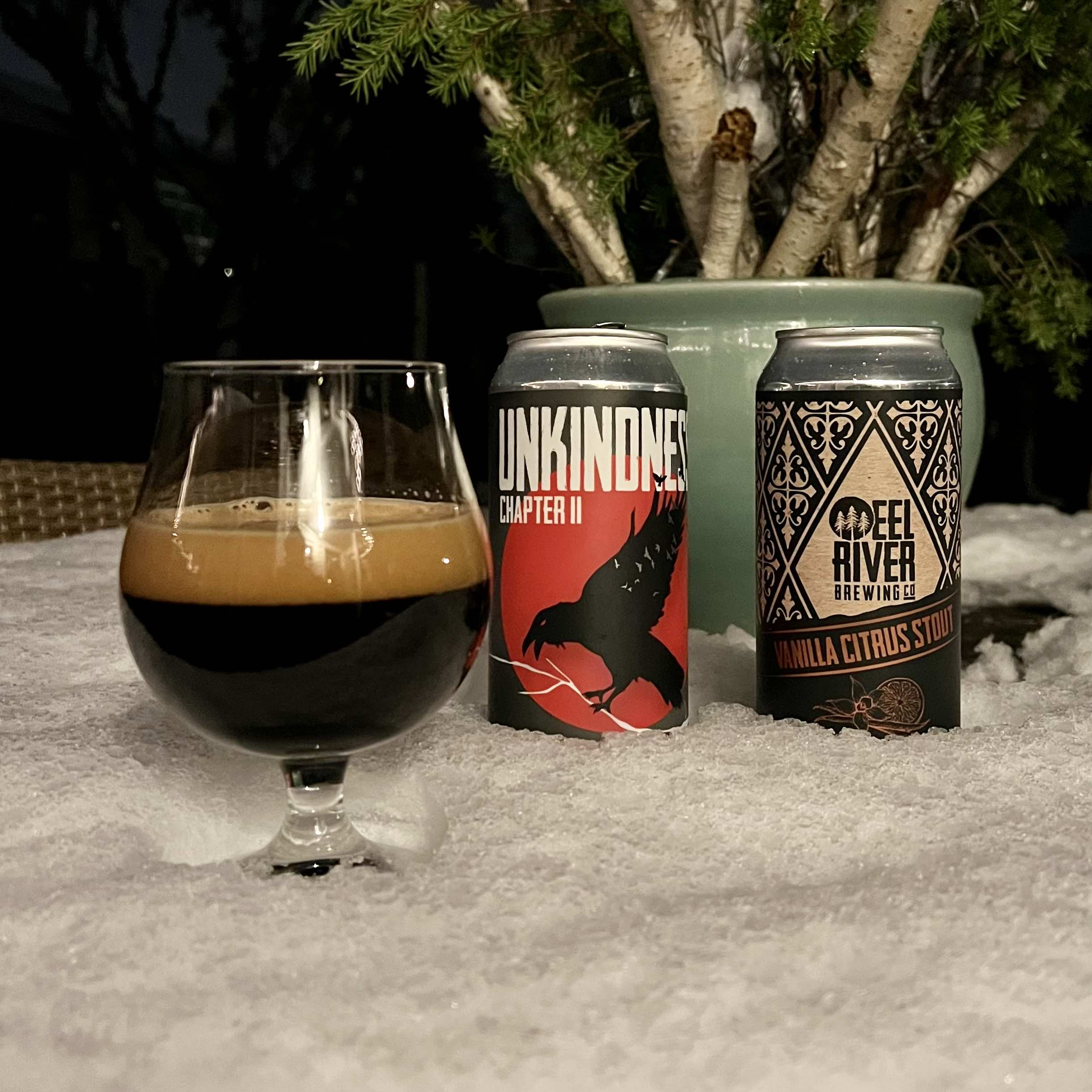 Two new stouts, one a barrel-aged imperial stout and the other, a pastry style stout, have recently been released from Eel River Brewing. UNKINDNESS Barrel-Aged Stout and Vanilla Citrus Stout join the lineup this winter from the Northern California brewers from Humboldt County.
UNKINDNESS began its journey as Raven's Rye Imperial Stout and was then aged in former Balcones Distilling Rye Whiskey Barrels for about 10 months. This has resulted in a beer that is full of chocolate, coffee, rye spice, and a bit of oak.
"In early 2021 we contacted every barrel broker in the industry looking for something special," said Eel River Head Brewer, Mike Smith. "Somehow we were fortunate enough to find 8 Balcones Texas Rye whiskey barrels. Raven's Eye Stout was aged in these for about 10 months and the results speak for themselves. Monstrous flavors of whiskey, rye, vanilla, and oak brought the already killer Ravens Eye into a whole new plan of existence."
In addition to the release of UNKINDNESS, Eel River has also recently released another stout, Vanilla Citrus Stout. Brewed with Single Origin Belize cacao from Dick Taylor Craft Chocolate, Orange Zest, and Madagascar Bourbon Vanilla beans, the result is a luscious dessert stout!
"We wanted to do something really special with our friends at Eel River Brewery and create a chocolate bar that was inspired by ERB beer," explained Dustin Taylor, co-founder of Dick Taylor Craft Chocolate, "We worked together to come up with a flavor profile that would work well for both beer and chocolate, and vanilla and citrus were no-brainers. We aged the finished chocolate with cascade hops to impart some aroma and the finished chocolate is incredible and pairs wonderfully with their Vanilla Citrus Stout beer."
The velvety chocolate notes of the Microbatch complement the subtle roastiness and bold malts that make-up Humboldt County's own Vanilla Citrus Stout!
Eel River Brewing UNKINDNESS and Vanilla Citrus Stout are available in 4-pack, 16oz cans and on draft. UNKINDNESS is also packaged in 22oz bottles available only at the Eel River Pub in Fortuna, California.