Epic Brewing 2020 Big Bad Baptist Variants Release
|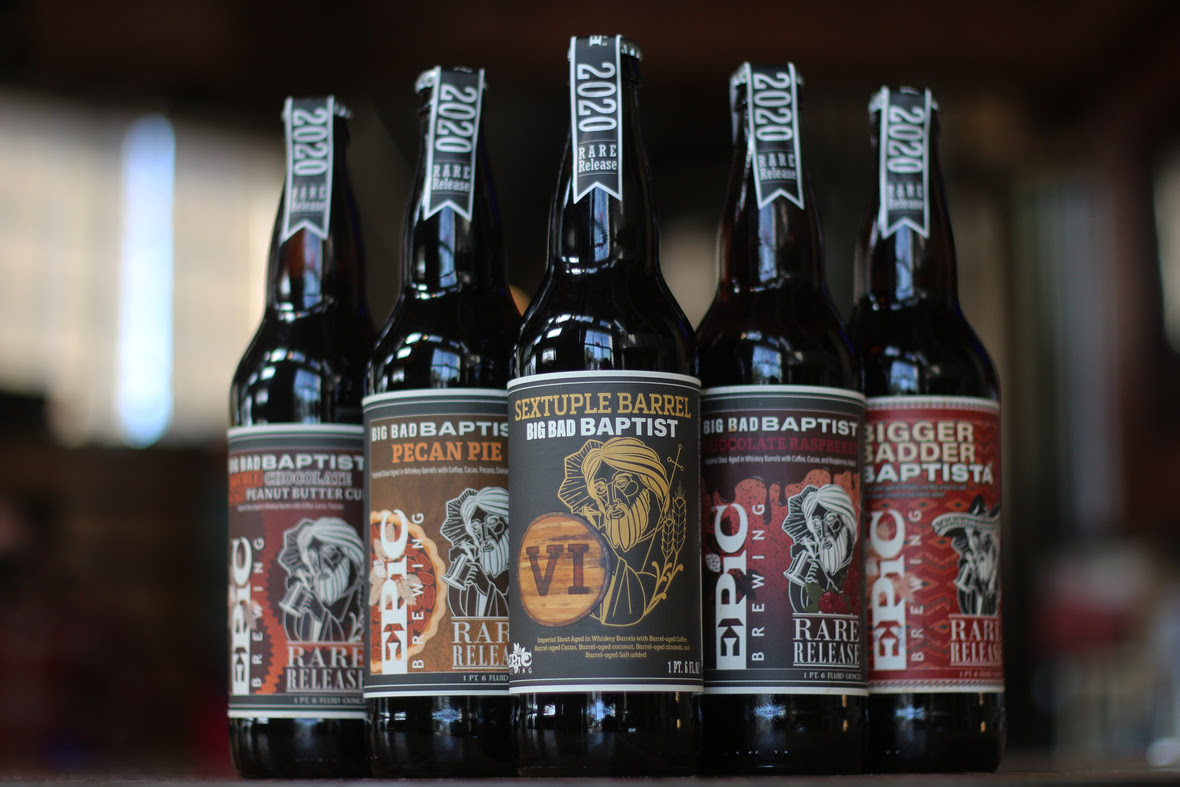 Baptist Season is upon us as Epic Brewing releases its 2020 Big Bad Baptist Variants in 22oz bottles. This year brings five variants to the market with Double Chocolate Double Peanut Butter Cup, Pecan Pie, Sextuple Barrel, Chocolate Raspberry, and Bigger Badder Baptista. These beers, along with the original Big Bad Baptist will be hitting Epic Brewing's full distribution footprint.
Here's a preview of all five variants with descriptions provided by Epic Brewing.
Sextuple Barrel
This beer represents the culmination of a half-decade of pushing the boundaries of barrel-aged beer. The very final effort in our annual numbered series which
began in 2016, Sextuple Barrel Big Bad Baptist includes all of our favorite ingredients. We hope you enjoy this last beer of the series as much as we enjoyed
making it.
Double Chocolate Double Peanut Butter Cup
We found a winning combination with Big Baptist Baptist and peanuts. This year, we took it to the next level with more peanuts and more cacao. So pour a glass and take a ride to liquid dessert heaven.
Chocolate Raspberry
The road to romance is paved with Chocolate and Raspberries. The tangy freshness of real raspberries blends gloriously with the rich chocolate flavors of Big Bad Baptist. Take your time to explore and enjoy this luxurious blend with someone who is more than a friend.
Bigger Badder Baptista
Badder Baptista draws its roots from our original Big Bad Baptista but we've added an edge. This beer was brewed with smoked malt and aged in Mezcal and Whiskey barrels. Badder Baptista is the Vaquero Bandito of the Baptist Family. Don't mess with this hombre, he's the Baddest Baptist yet!
Pecan Pie
We all love Aunt Millie's homemade chocolate and bourbon pecan pie, now imagine it was a beer! Indulge yourself in the sweet Southern charm of this unique
bourbon barrel aged brew made with cinnamon sugar and real pecans.
And the original Big Bad Baptist can be found in 4-pack, 12oz cans and 22oz bottles. For the second year in a row the classic, award winning, big and bold, original Big Bad Baptist will be available in 12oz, 4 pack cans in most markets and 22oz bottles everywhere. Plus, Big Bad Baptist is going year-round so you can enjoy your favorite barrel-aged stout during all four seasons.