Ferment Brewing Releases Three Barrel-Aged Beers
|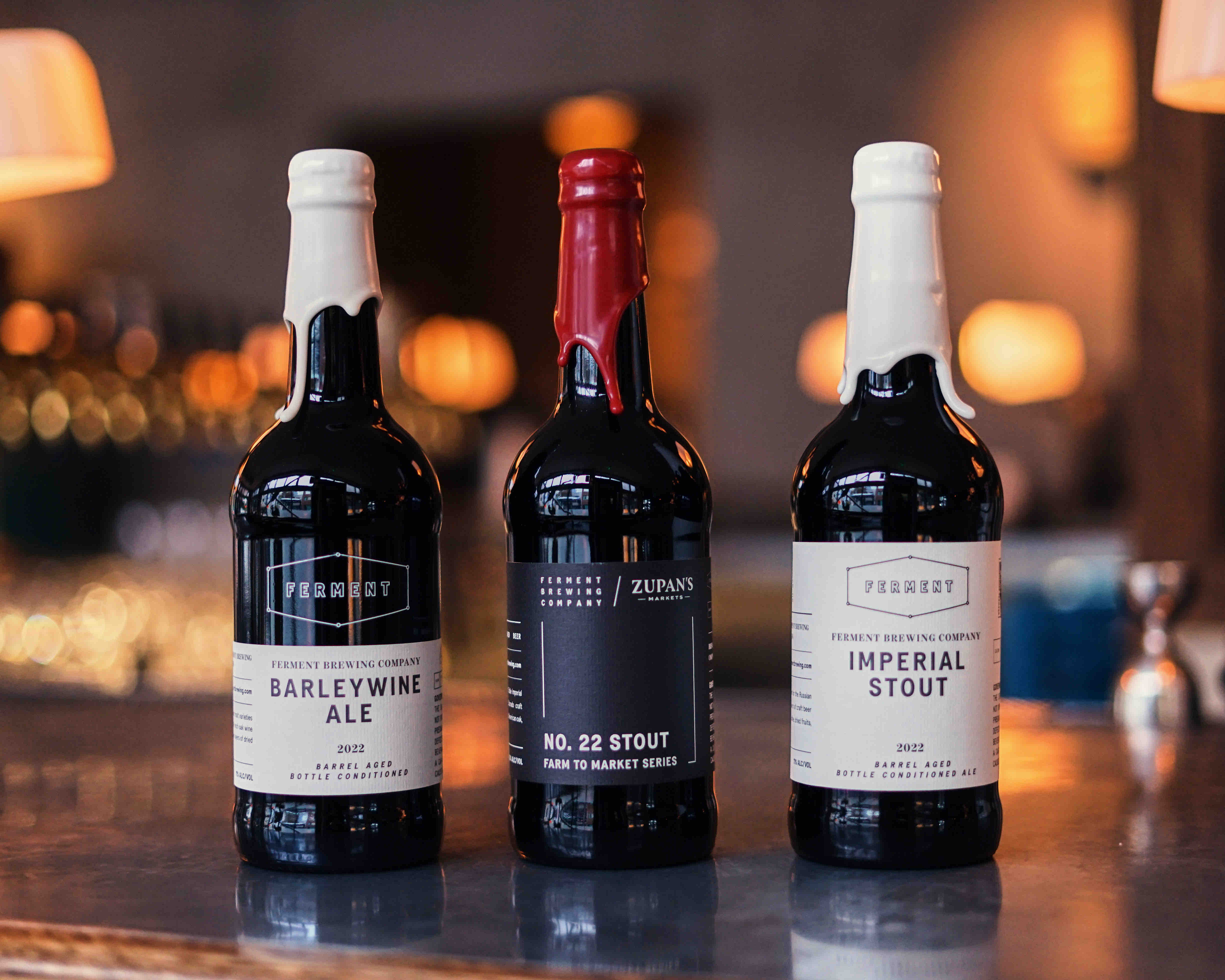 November 30, 2022 — Hood River's Ferment Brewing Co. announced today the annual release of three barrel-aged beers, ushering in the cold and frosty nights of the holiday season. Barleywine and No. 22 Stout were released for the Thanksgiving holiday, and Imperial Stout is available beginning Tuesday, December 6  in limited quantities. Each beer is bottle-conditioned in wax-dipped 500ml bottles. Additionally, this year marks the first time Ferment's barrel-aged Imperial Stout and Barleywine will be served on draft throughout Oregon and Washington.
The second annual release of Ferment's Barleywine presents beer lovers with an 11% winter warmer, brewed with a blend of seven different malt varieties from England. The beer was aged for a year in French oak wine barrels and showcases deep layers of dried cherries, raisins and toffee flavors.
Ferment Imperial Stout was aged in Hood River's, Camp 1805 Bourbon, rye whiskey and rum barrels and blended to taste. Dark dried fruit, coffee and caramel malt character is met with oak and delicate whiskey notes in this traditionally rich 11% ABV brew.
No. 22 Stout is Ferment's third collaboration in the Zupan's Farm to Market Series. This traditional Imperial Stout was aged for 7 months in fresh Colorado whiskey barrels, resulting in a big bodied 14.3% ABV beer with sweet fruit and whiskey notes with an oak backdrop.
By Dec. 5 all three beers can be purchased at bottle shops throughout Oregon and Washington as well as at Ferment Brewing Company's own Tasting Room which overlooks the scenic Columbia River. In addition to an indoor restaurant, Ferment has heated, outdoor, dog-friendly yurts on its second floor patio from now until early Spring.
About Ferment Brewing Co.
Ferment Brewing Co. opened in 2018 as a 20-barrel brewery and tasting room in Hood River, Oregon. Born out of an appreciation for the art of fermentation, the company prides itself in providing a modern brewery and tasting room experience that fuses traditional farmhouse techniques with a forward-thinking scientific approach. Ferment offers a unique family of beers that tap the wild terrain of the Columbia River Gorge for inspiration. Learn more at fermentbrewing.com.