Ferment Brewing Unveils Five Year-Round Beers in Cans
|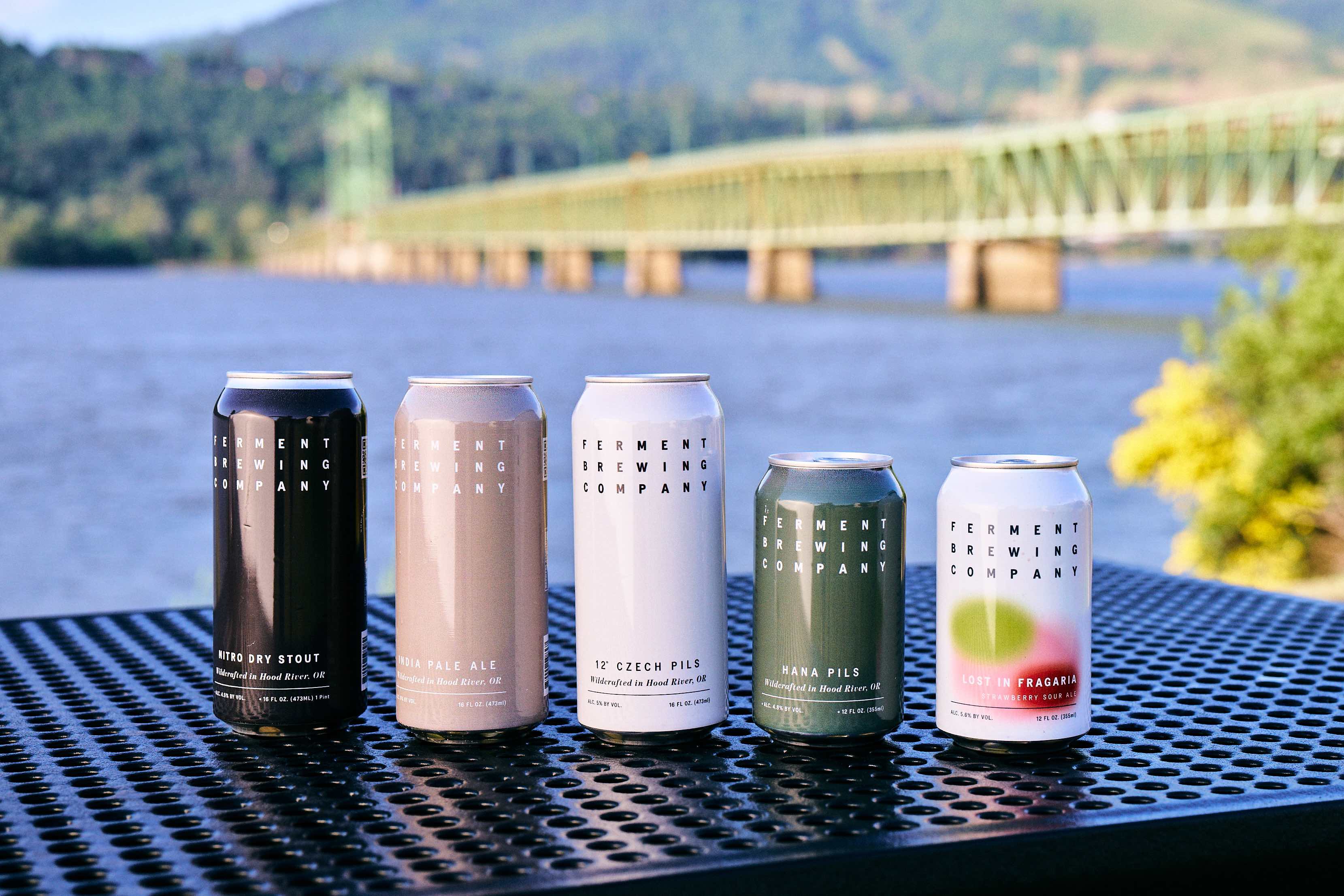 After releasing many one-off cans during its nearly five-year run, Ferment Brewing has officially announced that five canned beers will be part of its year-round lineup. This new year-round lineup includes 12° Pils, India Pale Ale, Hana Pils, Lost in Fragaria, and Nitro Dry Stout.
A few of these beers were the ones that debuted when the brewery opened in late summer of 2018. Therefore they hold a special place for Brewmaster Dan Peterson.
"Each of these beers are special to me in their own way so this is a really exciting moment for me and our team," said Dan Peterson. "Nitro Stout, 12° Pils and the India Pale Ale are beers that I opened the brewery with and the latter two are finally getting their time to shine in cans. Hana Pils and Lost in Fragaria were more experimental and I wasn't sure how'd they do, but the recipes turned out fantastic and their popularity continues to grow. I'm really happy that now drinkers around the Pacific Northwest can grab these beers year round no matter where they live."
To learn more about these five offerings, descriptions as provided by the Ferment Brewing are listed below.
12° Pils
12° Pils is a Czech-style lager with malted barley from Bohemia, harmonized with Saaz hops from Czechia, and naturally soft, pure spring water from the base of Mt. Hood. In addition to new 16oz can 4-packs, Ferment's taproom is now serving the beer in Czech-style mugs from side pull tap for a smoother pour and foamier head.
India Pale Ale
India Pale Ale is carefully crafted and left unfiltered to fully express a medley of ingredients from England and the Pacific Northwest. Rahr malt, Simpson malt, and wheat form a base that is biscuity and lightly sweet. A dry hopping of Cascade, Crystal, and Mosaic hops come together with East Kent Golding and Fuggle hops to impart an herbaceous and complex aroma of peach, tangerine, and red cedar without being buried by bitterness.
Hana Pils
Brewed with toasted rice for a slight nuttiness, Hana Pils is a Japanese-style rice lager with flavor layers of wildflower, fruit blossom, and melon. This crisp and clean lager clocks in at 4.8% ABV and is available in 12oz 6-pack cans.
Lost in Fragaria
Lost in Fragaria is a bright pink, full-bodied sour ale, bursting with 28 pounds of Oregon strawberries per barrel and a subtle dry-hop charge of Hull Melon hops. This deliciously refreshing beer is 5.6% and available in 12oz 6-pack cans.
Nitro Dry Stout
Nitro Dry Stout, Dan Peterson's favorite shift beer, is a 4.5% ABV easy sipper with a delicate roast quality, inspired by the midnight black ales of Dublin. Give the 16oz can a decent shake before pouring into a tall glass for a beautiful cascading nitro effect.
Also of note, each can in the year-round lineup is digitally printed. Ferment has officially made the switch from sticker labeled cans in order to reduce the brewery's environmental impact. As we have previously mentioned, sticker labels can cause issues with the recyclability of aluminum cans and according to Oregon BottleDrop, these sticker labeled cans do not get recycled.
All five beers are available throughout Ferment's distribution channels in Oregon and Washington. For more information, visit https://www.fermentbrewing.com/.