Firestone Walker Brewing Celebrates 21 Years With XXI Anniversary Ale
|
Celebrating its 21st year of brewing on California's Central Coast, Firestone Walker Brewing has announced the release of its highly sought after annual Anniversary Ale. Available beginning on Saturday, November 4, 2017 at the brewery's locations in California. XXI Anniversary Ale will begin hitting Firestone Walker's distribution next week in 12 oz bottles and very limited draft.
The 2017 version of the brewer's Anniversary Ale marks the 12th consecutive year of this evolving beer as it was first released to celebrate its 10th Anniversary in 2006. Each year since Firestone invites local winemakers to the brewery to assist with the blend.
This year's winemakers included the following:
Anthony Yount – Denner Vineyards (Winning Blend)
Jordan Fiorentini & Kyle Gingras – Epoch Estate Wines (Winning Blend)
Fintan Du Fresne & Mike Callahan – Chamisal Vineyards
Vailia Esh & Riley Hubbard – Desparada Wines
Molly Lonborg & Kevin Sass – Halter Ranch
Russell From and Gio Grandinetti – Herman Story
Steve Martell – Kaleidos Wine
Mark Adams – Ledge Vineyards
Matt Trevisan & Meghan Ball – Linne Calodo
Justin Smith – Saxum Vineyards
Bastien Leduc – Seven Oxen Estate Wines
Neil Collins and Chelsea Franchi – Tablas Creek Vineyard
Terry and Natalie Hoage –TH Estate Wines
Sherman Thacher & Daniel Callan – Thacher Winery
Scott Hawley & Quinn Hubbard – Torrin Wine
Jordan Collins & Chris Cherry – Villa Creek
Arie Litman –Bread maker and friend
Bobby Fox – Friend
Jamie Bogner – Craft Beer & Brewing Magazine
The result of this final blend is an inspired blend of five distinct beers aged in spirits barrels that consists of Velvet Merkin (oatmeal stout, 42%), Parabola (Russian imperial oatmeal stout, 18%), Stickee Monkee (Central Coast quad, 17%), Bravo (imperial brown ale, 14%) and Helldorado (blonde barleywine, 9%). The final blend sits at 11.8% ABV.
XXI Anniversary Ale will be released to all Firestone Walker markets for a limited time starting next week.
Here are more details from the brewery's press release…
An Annual Rite
The Anniversary Ale blending session has become an annual late-summer rite at the brewery, and the 2017 session took place on August 22 with 27 winemakers in attendance.
"We've been doing this for 12 years now," said Brewmaster Matt Brynildson. "Winemakers are practicing experts in the art of blending—I can't think of a better way to create something synergistic from such a wide range of barrel-aged beers."
As always, the winemakers broke into teams, and a spirited competition ensued to create the winning blend, which was voted on after a blind tasting by the entire group.
This time, the bragging rights and the coveted "cardboard crown" went to Jordan Fiorentini and Kyle Gingras of Epoch Estate Wines along with Anthony Yount of Denner Vineyards, whose three-person team conceived the blend that became XXI.
Bring On The Merkin
XXI represents the first time that Velvet Merkin has set the pace for the Anniversary Ale blend.
"There's a soft, sexy, chocolatey character to XXI that reflects the predominance of Velvet Merkin in the final blend," said Eric Ponce, Firestone Walker's barrel program production manager.
Another twist is the inclusion of Helldorado aged in premium Jamaican rum barrels.
"The rum Helldorado imparts notes of island spice and molasses," Ponce said. "It adds a subtle exotic touch to the beer."
Fittingly, the label design of XXI echoes the distinct curved roofline of Firestone Walker's new brewhouse extension that was completed last summer—the biggest milestone in the brewery's 21st year.
"The XXI blending session was the very best yet, and the result is absolutely gorgeous," Brynildson said. "I'm so proud of this beer, and I'm so proud of the people who helped us make it."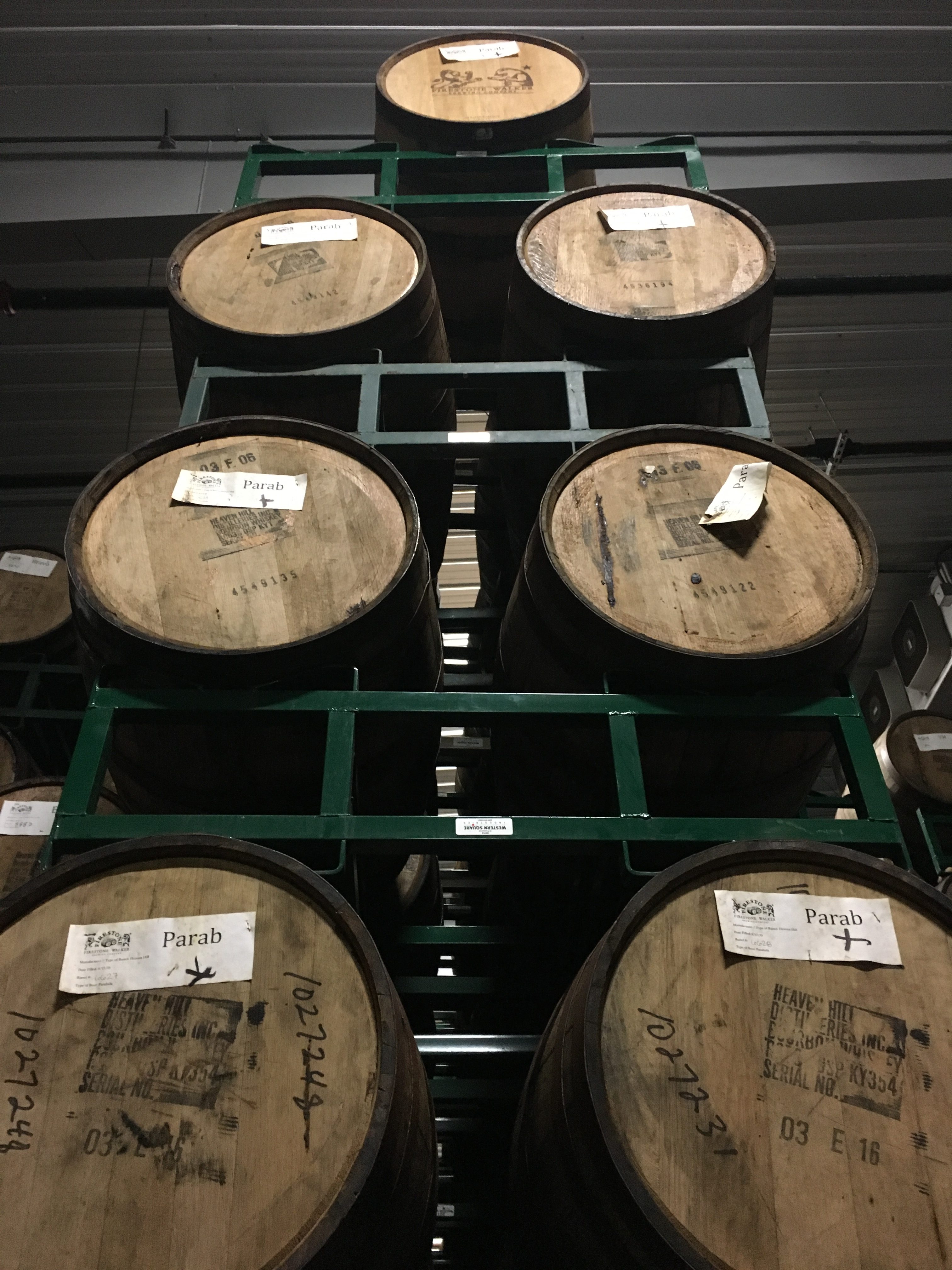 The Final Blend
Velvet Merkin (8.5% ABV) Aged in Bourbon Barrels (42%)
Traditional Oatmeal Stout 
OG=15P FG=4.0 IBU=32.5 Color=Black / 15% Oats / Hopped with 100% US grown Willamette
Parabola (13.1% ABV) Aged in Bourbon Barrels (18%)
Russian Imperial Oatmeal Stout                                                                     
OG=30P FG=8.5P IBU=80 Color=Black / Hopped with Herkules, Styrian Golding and Hallertau Tradition
Stickee Monkee (12.5% ABV) Aged in Bourbon Barrels (17%)
Central Coastal Quad
OG=27P FG=6.5P IBU=45 Color=Deep Brown / Brewed with Belgian Candi Sugar and Mexican Brown Sugar
Bravo (13.5% ABV) Aged in Bourbon Barrels (14%)
Imperial Brown Ale
OG=26.5P FG=3.0 IBU=35 Color=Deep Brown / Hopped with Columbus and Tettnanger
Helldorado (13.5% ABV) Aged in Rum Barrels (9%)
Blonde Barley Wine
OG=15P FG=5.5 IBU=32.5 Color=Deep Gold / 15% Oats / Hopped with CTZ and East Kent Goldings
Brewmaster's Notes:
"XXI is a magical blend of five components. Chocolatey, mild Velvet Merkin takes the lead setting the stage full of lush malt and barrel-driven texture, yet tempered alcohol strength. The rest of the components fall perfectly in line, backing Velvet Merkin up with luscious caramel complexity and a creamy malt symphony. The final component adds a new twist – the rum barrel-soaked and lean Helldorado makes its Anniversary debut, bringing a fresh splash of island spice to a ridiculously balanced barrel-aged brew. This is one of those times that the whole is truly more than the sum of its parts. This beer is unfiltered and unfined, so there will be a small amount of sediment in the bottom of the bottle. XXI is best enjoyed poured carefully into a half-filled brandy snifter or wine glass. Allow it to warm to 55F to fully enjoy the pleasing and complex aromas."