Fort George Brewery Announces Details on 2019 3-Way IPA Release with Ruse Brewing + Cloudburst Brewing
|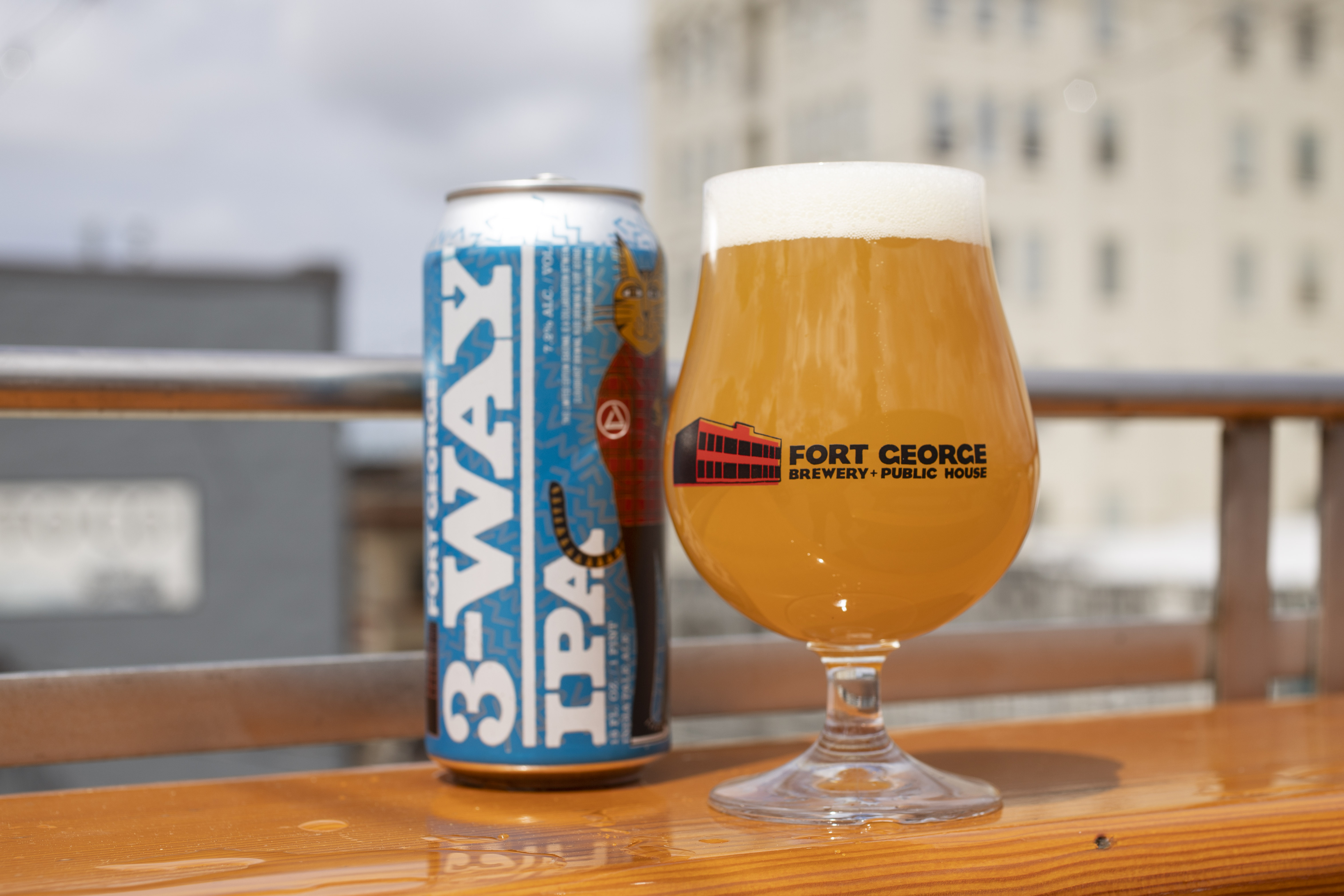 Over Memorial Day Weekend, Fort George Brewery will release its annual 3-Way IPA. For the 2019 edition of 3-Way IPA the Astoria brewer invited Ruse Brewing from Portland and Cloudburst Brewing from Seattle into the mix.
After months of Beta IPA testing various recipes of 3-Way IPA and gathering feedback the final version will be released at the now sold out Lupulin Ecstasy Fest on Saturday, May 25th. However, the following day, on Sunday, May 26th, the 2019 3-Way IPA will be fully released in 16oz cans and on draft to the public at Fort George Brewery. For those in Portland, the official release party will be held on Saturday, June 1st at Ruse Brewing located at 4784 SE 17th Avenue from Noon-6:00pm.
When it comes to this year's 3-Way IPA recipe, there's a new hook. With each batch of the beer, the brewery will dry hop the beer with a different hop. The base beer that uses Cashmere, Idaho 7, and Citra hops will be slightly tweaked as well as a different hop being used for dry hopping. Since the cans have already been designed, you'll be able to tell which hop was used for dry hopping by checking the bottom of the can. Let's hope that that canning date and hop name aren't smudged!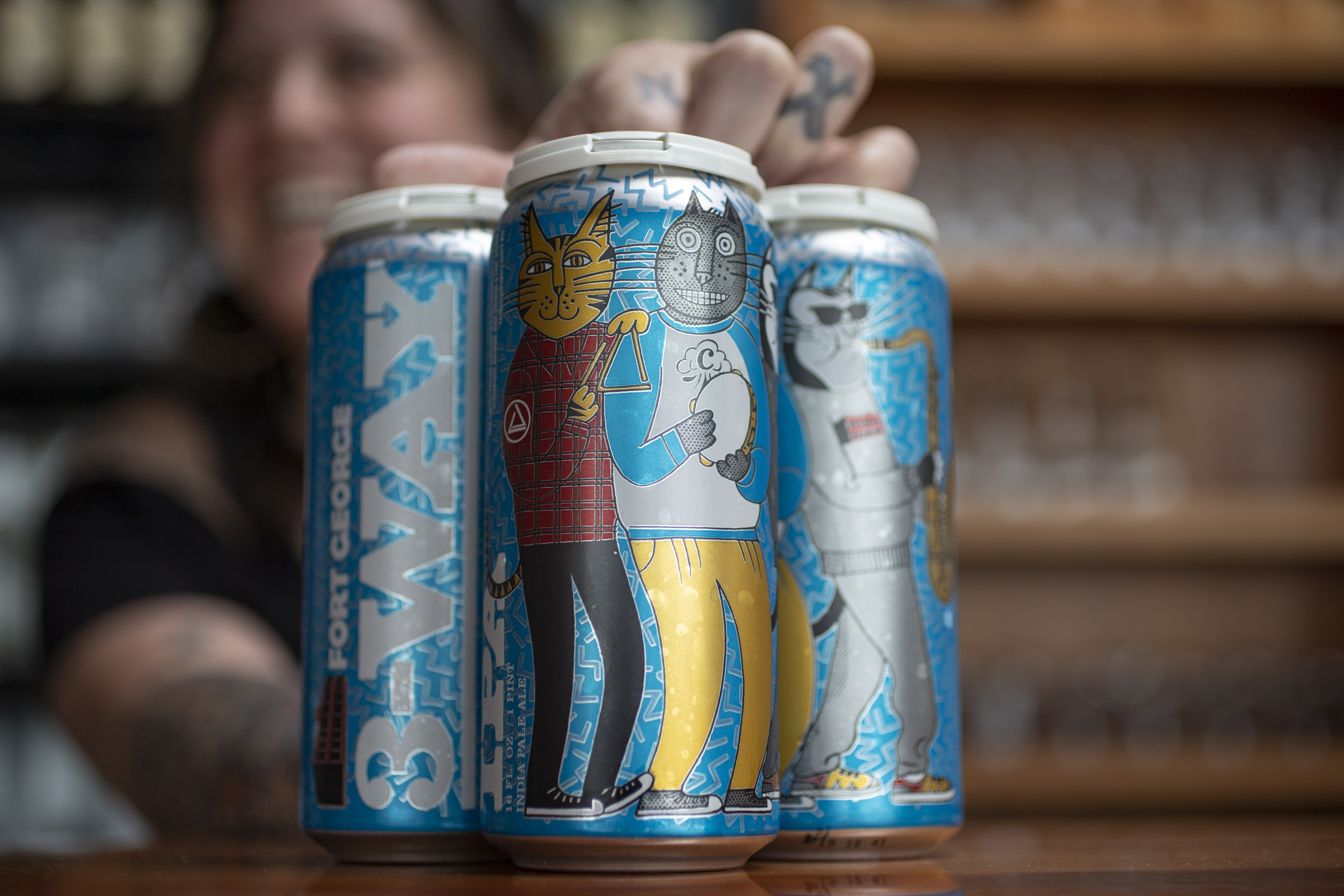 Here are additional details on this the 2019 3-Way IPA from the Fort George Brewery press release…
The concept is rock solid. Each year Fort George travels the Pacific Northwest, tastes a lot of great beer, and looks for two breweries making innovative and exciting IPAs. After the invitations are extended in late summer, the collaborators come to Astoria to hang out, share more beer, and most importantly work together on a concept for the next 3-Way IPA.
SUMMER 2019 LINEUP
For 2019, Cloudburst Brewing joined the party. This award winning Seattle brewery brings with them a ton of experience, lead by Steve Luke, the former head of experimental brewing at Elysian and creator of the Space Dust IPA recipe, among others. And they also brought the Corporate yeast strain for this year's beer. Where did they get it? We weren't asking any questions.
Although Ruse Brewing in Portland is only two-years-old, these folks are definitely not unknown in the brewing world. Co-Founders Devin Beware and Shaun Kalis came from Culmination Brewing before branching out on their own. And already Ruse has been voted by the Willamette Week Oregon Beer Awards as both best new brewery and best small brewery in Oregon.
BETA IPA TESTING
After three days of getting to know each other in Astoria, they began the Beta IPA process with the first small batches starting in November of last year. The initial idea was to brew something in between a New England style hazy and a West Coast IPA – unfiltered with pilsner malt, red wheat, golden promise, plus ample discussions about pH levels in the whirlpool and the amounts of each hop addition.
Hops are the final and perhaps most important component to the 3-Way IPA collaboration. Sourcing the thousands of pounds needed to brew this beer can be tricky. Three hops were initially chosen – Cashmere, Idaho 7, and Citra. However, they also hatched a plan to try out different dominant dry hops in each batch, while also making minor adjustments to the rest of the recipe.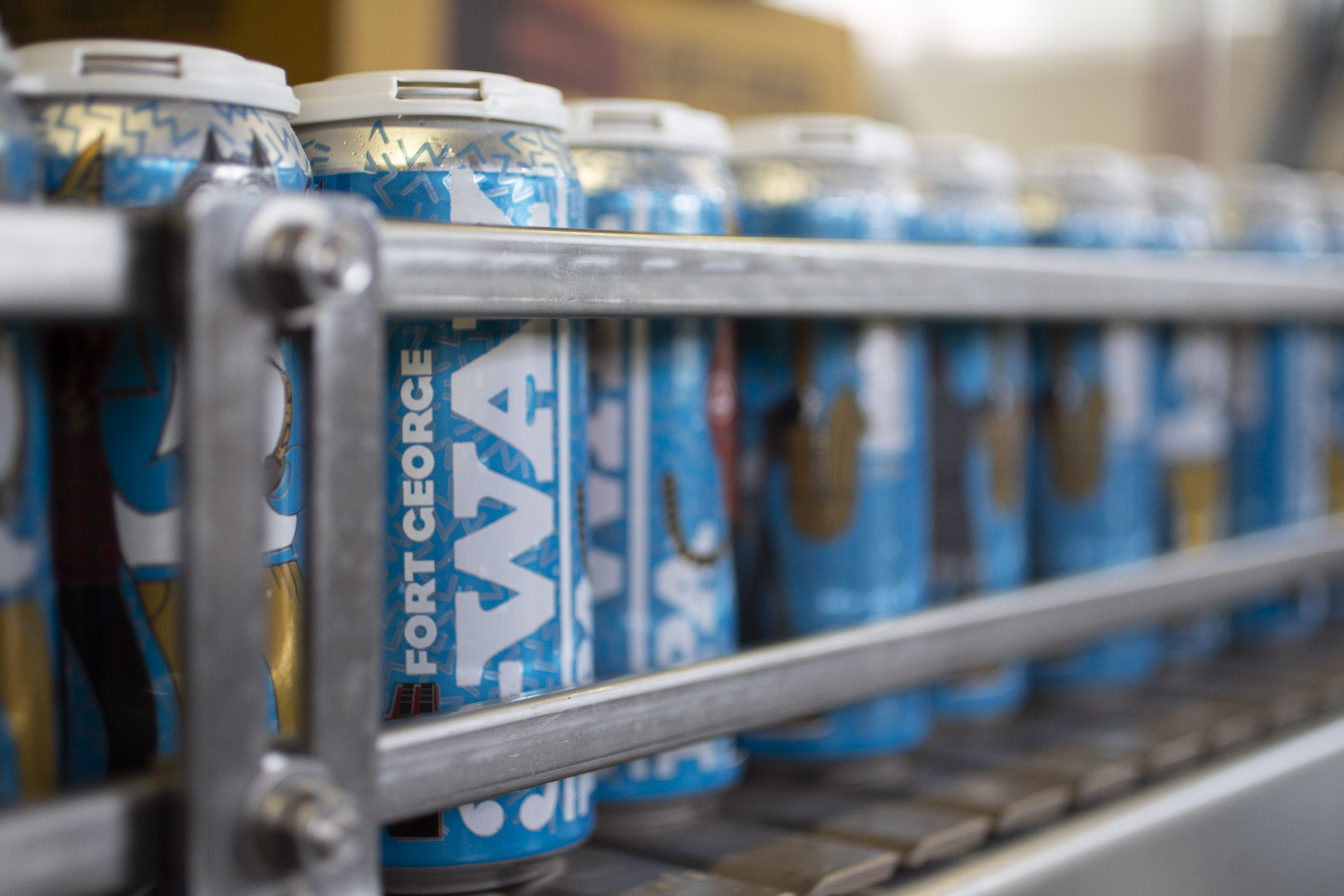 THE FRUITS OF THEIR LABOR
3-Way IPA combines all of the fruit-forwardness of a hazy, but with that classic touch of bitterness from a West Coast IPA. Many Beta IPA test batches were brewed (and enjoyed) to achieve that balance. The result is a bright, citrus fruit bomb that doesn't finish too heavy or sweet. And it also doesn't hold back on the hops.
But the fun doesn't stop there. As an added wrinkle to this year's collaboration, that dry hop will also rotate throughout 3-Way IPA season. The first batches are heavily dry hopped with Citra (notes of orange juice, grapefruit zest, and bitter lemon peel). As the weeks go by, supporting hops will take a starring role. And you'll be able to see which hop is dominant by checking the bottom of your can.
For those of you with tickets to Lupulin Ecstasy, taste the new 3-Way IPA on Saturday, May 25th at the historic Flavel Mansion & Grounds, surrounded by lupulin delights from every 3-Way IPA collaborator throughout the years. If you don't have a ticket, unfortunately it is sold out. But 3-Way IPA will be on sale at Fort George starting Sunday, May 26th. And at the brewery, there are no limits on can sales.
Join all three collaborators for the first release parties in Seattle on Friday, May 31st at Chuck's Hop Shop Central District, and in Portland at Ruse Brewing on Saturday, June 1st. Then look for 3-Way IPA cans & draft releasing at pubs & bottleshops near you, starting June 3rd. Fort George is distributed only in the Pacific Northwest.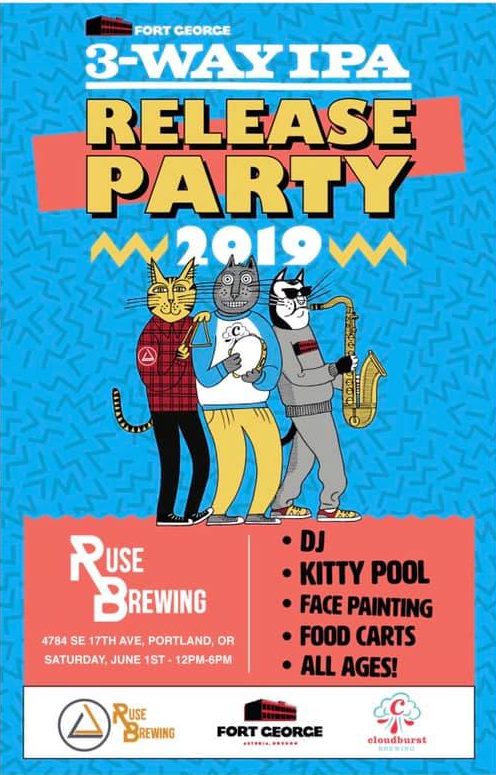 3-WAY IPA CELEBRATIONS
Come hang out and enjoy a pint of 3-Way IPA with us. You're guaranteed to find it on tap at these locations, on these days. Or, you can always search for Fort George beer at fortgeorgebrewery.com/beerfinder.
Sunday, May 26th
Starting at noon
Fort George Brewery/Lovell Building
1483 Duane St, Astoria, OR
*Can release party*
Friday, May 31st
6pm to 9pm
Chuck's Hop Shop Central District
2001 E Union St, Seattle, WA
*Can release party*
Saturday, June 1st
Noon to 6pm
Ruse Brewing
4784 SE 17th Ave, Portland, OR
*Can release party*
Tuesday, June 4th
5pm to 8pm
The Bier Stein
1591 Willamette St, Eugene, OR
Friday, June 7th
7pm to 10pm
Beer O'Clock
1205 SW Washington St, Portland, OR
Tuesday, June 11th
5pm to 8pm
Valley Growlers
15735 SE Happy Valley Town Center Dr, Happy Valley, OR
Thursday, June 13th
5pm to 8pm
New Seasons Woodstock
4500 SE Woodstock Blvd, Portland, OR
Thursday, June 13th
5pm to 8pm
Growler Guys Ashland
345 Lithia Way, Ashland, OR
Friday, June 14th
5pm to 8pm
Elizabeth Station
1400 W Holly St, Unit 101, Bellingham, WA
Thursday, June 20th
5pm to 8pm
Peaks and Pints
3816 N 26th St, Tacoma, WA
Tuesday, June 25th
5pm to 8pm
The Beer Junction
45511 California Ave SW, Seattle, WA