Fort George Brewery Releases Matryoshka 2020
|
Though the calendar still reads the year 2019, Fort George Brewery will get bit antsy for the new year as it releases Matryoshka 2020 at its brewery in Astoria, Oregon today.
From first glance it looks as if this beer name had a typo as last checked, its still the year 2019. That or the brewery decided to release Matryoshka 2020 a month or so early to gain some additional Christmas sales. Either way Fort George will release the latest beers that's part of the brewery's Sweet Virginia Small Batch Series, today, Saturday, December 7, 2019.
Here are additional detals from the brewery's press release…
Matryoshka is the largest of the bottle projects at Fort George, and it's the most anticipated release in the Sweet Virginia small-batch series. The name comes from the Russian word for wooden nesting dolls. And as that name implies, this barrel aged Russian Imperial Stout is released in layers throughout the winter. The brewery begins with the straight bourbon barrel version of Matryoshka, and this year they were able to bottle and wax-dip it all before Christmas.
"The barrels for this year's Matryoshka are actually pretty similar to previous years, in that they were all relatively young bourbon barrels from Kentucky," explains Dave Coyne, Fort George's barrel master and the illustrator for the Matryoshka bottle series. "All of the base Matryoshka aged in Buffalo Trace barrels, which works really well because it's such a smooth bourbon that's not too hot. And the oak was still in great shape and had lots of life left, to help add complexity to the beer."
You'll be able to buy Matryoshka 2020 bottles at the brewery starting Saturday, December 7th, and around the Pacific Northwest soon after. This year's Matryoshka is deceivingly smooth at 12.7% ABV, with notes of dark chocolate, vanilla, coffee, cardamom, and licorice.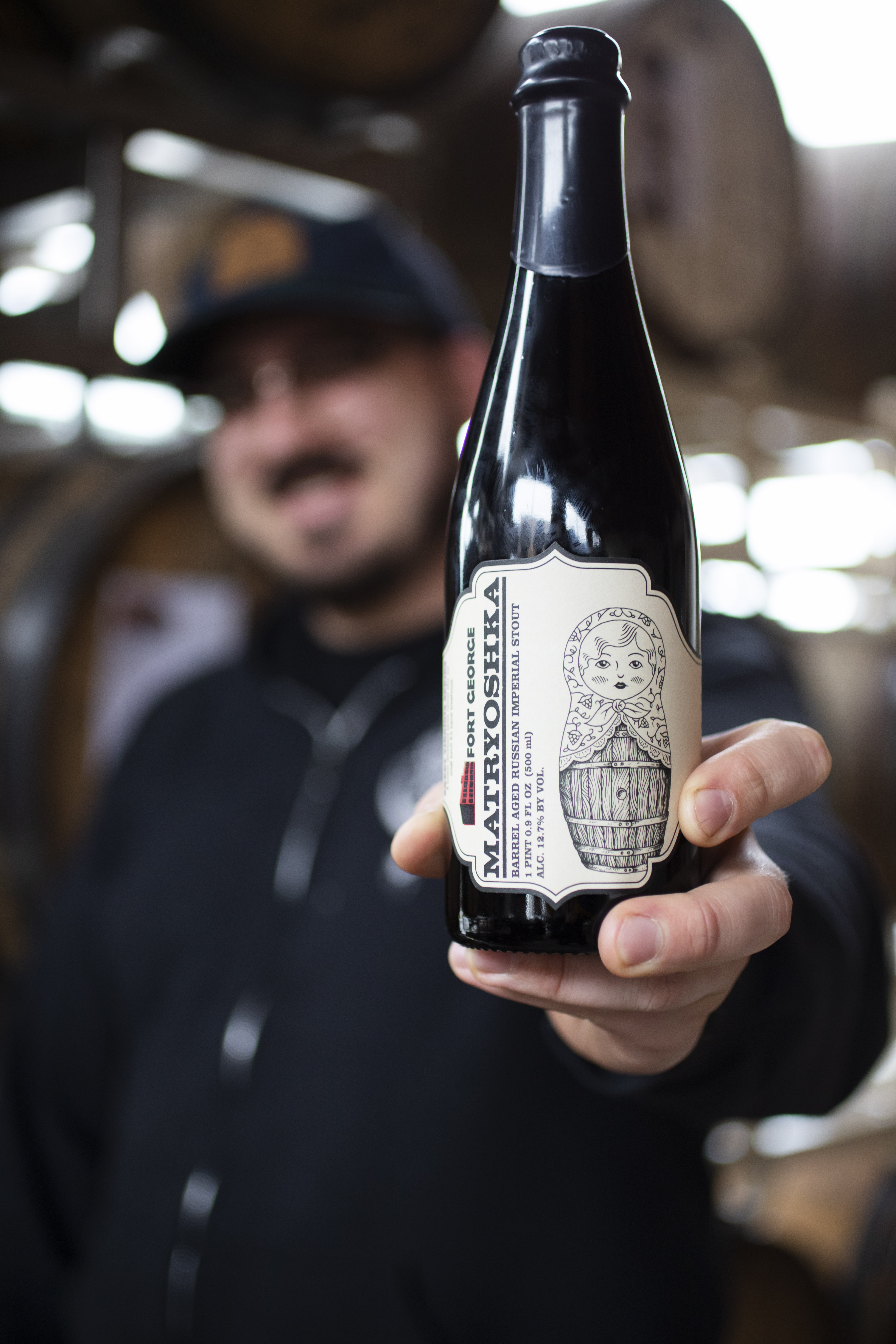 "We'll have six additional variations of Matryoshka this year," Dave continues. The Matryoshka variations are released at The Aftermath, which is on the Sunday following the Festival of Dark Arts. "Along with the fun adjunct ingredients, we have a variety of barrels that we used for aging the variants. There's a maple bourbon barrel aged version with even more maple syrup added, and then that same beer with coffee beans. There are Westward Whiskey barrels aged with vanilla, then vanilla + hazelnut, then vanilla + hazelnut + blackberries. The sixth variant is a Woodinville Rye Whiskey version, with ingredients still to-be-determined."
One last question, Dave: If you were a barrel aged stout, what kind of barrel aged stout would you be? "I'd be a 15% ABV bourbon barrel aged stout collaboration with Alesong, aged with vanilla and cinnamon. Hint hint, wink wink, blatant foreshadowing."
You'll have to wait for Stout Month 2020 to get your hands on that one.
Matryoshka 2020 releases on Saturday, December 7th at Fort George Brewery. Look for limited bottles and draft around the Pacific Northwest later in the month. February is Stout Month at Fort George. Stop in any day that month and find tap lists overflowing with dark and delectable beers. The Aftermath will take place on Sunday, February 16th, 2020. Look for all six Matryoshka 2020 variations to be released, along with very limited bottles of cellared Matryoshkas from winter 2017, 2018, and 2019.