Fort George Brewery, Structures Brewing, and Level Beer Collaborate on 2020 3-Way IPA
|
Press Release: This time last year Fort George was blowing up giant inflatable eagles, gathering all of your favorite 3-Way IPA breweries together in Astoria, and whisking you away to Lupulin Ecstasy. Oh, how things have changed.
But don't worry, 3-Way IPA is moving forward as planned. While we know that festivals are on hold during these highly unusual times, your desire for delicious new beverages is not. With help from our friends at Structures Brewing in Bellingham and Level Beer in Portland, Fort George continued to brew test batches through the spring and refined the recipe for this year's summer seasonal IPA.
Built on a structurally sound foundation of pilsner malt, spelt, and flaked oats, and dry-hopped with ridiculous levels of Simcoe, Azacca, Citra, and Chinook hops, this juicy beast is coming to crush your summer. 3-Way IPA has enough tropical fruit flavors to satiate a giant lizard, playing on pleasant notes of melon & fresh orange peel, and a soft finishing touch, like a gorilla on the bongos.
And this year, there's no need to drive out to Astoria to get that first taste. We definitely don't want large crowds or long lines anywhere (unless you want to line up behind your own front door). Fort George is looking to deliver your beer as conveniently, and safely, as possible. And starting in June, you'll be able to pre-order cases of 3-Way IPA with direct shipping to homes in Washington & Oregon. You must be 21 and older to order, receive, and sign for delivery of beer. Go to fortgeorgebrewery.com/shoponline for details and pre-orders, starting June 1st. The first cases will ship on Tuesday, June 9th. We'll be adding new beers to the website as we bottle or can, so keep checking back. Here's a taste of what you'll find.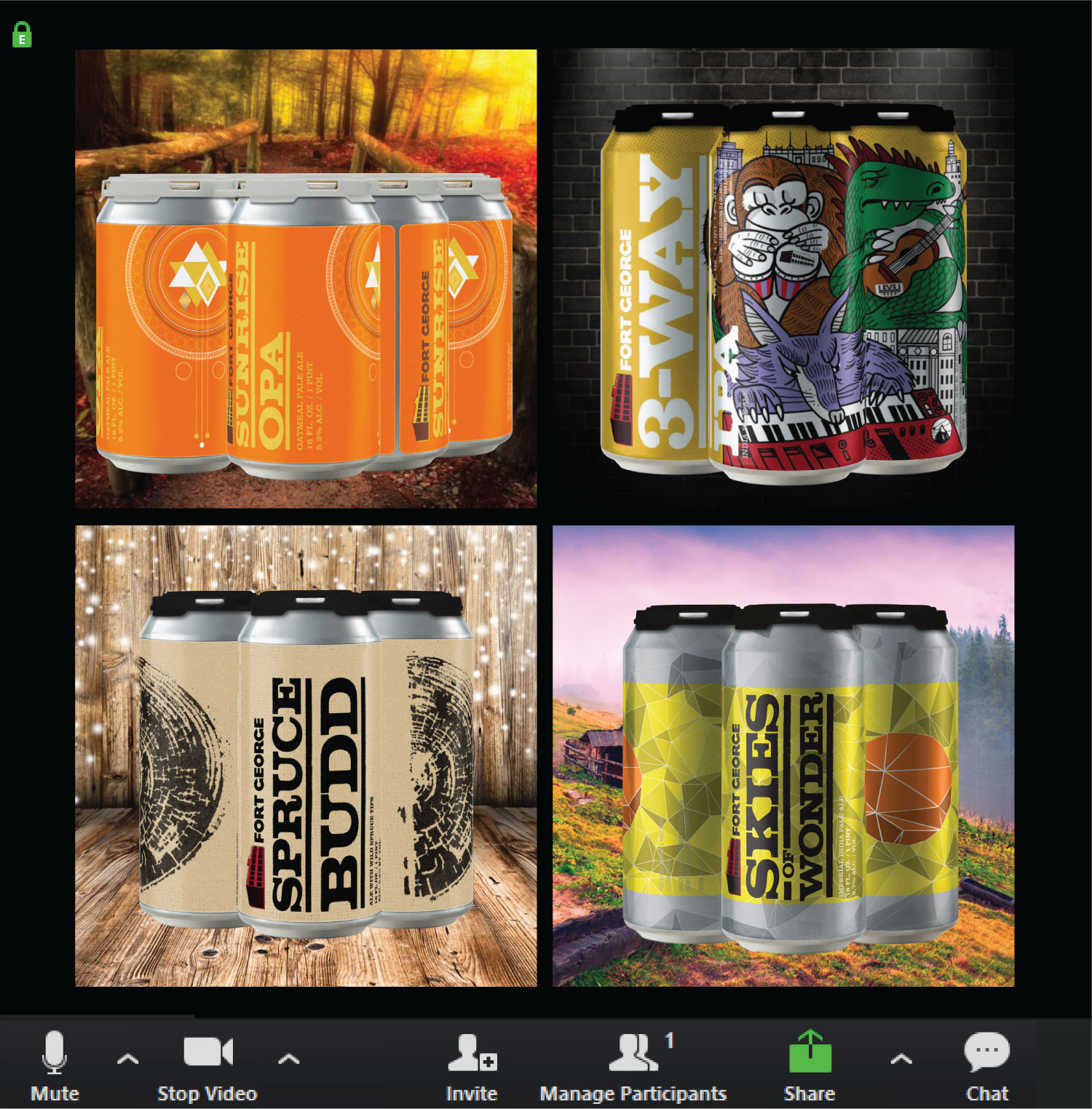 Spruce Budd Ale
Like the new green growth of the coastal forests, Spruce Budd Ale is a reminder that spring is here. A local favorite with a faithful following, this beer is brewed with nothing more than hand-harvested spruce tips and pilsner malt. Almost the entire brewery (and marketing team) went out one early morning and harvested the hundreds of pounds of spruce tips needed to brew this beer, making it the most locally sourced beer we can make. Those tips went from tree, to kettle, to four-packs in about two weeks. It tastes just like a sprucy dance through the forest.
Cases are available now at the coast. Look for Spruce Budd Ale on the online store in June, and around the Pacific Northwest at a few independent retailers later this week.
Sunrise Oatmeal Pale Ale
Always a staff favorite, Sunrise OPA returns in this redesigned twelve-ounce six-pack. Smooth and creamy with a crisp, citrusy finish from a healthy amount of Amarillo & Centennial hops, this pale ale is perfect for any time of day. One more OPA? Yes, please!
Available on the coast and at the pub right now. Look for Sunrise OPA cans around the Pacific Northwest as early as this week.
Skies of Wonder: The Future
Each batch in this double IPA series is a wondrous inspiration. This one is also quite peachy and full of passion. The Future was brewed with lofty amounts of Citra, Azacca, Sabro, and Mosaic hops, and finished fermenting on hundreds of pounds of both peach & passionfruit puree. You will soar among the Imperial IPAs, to the fruit-filled heavens, where the lupulin heights know no bounds.
Look for cases at the coast and through the Fort George online store starting in early June. Skies of Wonder will appear around the Pacific Northwest soon after.
3-Way IPA 2020
You can't stop 3-Way IPA. You can only hope to contain it. And thankfully, the packaging crew at Fort George is putting this year's 3-Way IPA into convenient 16-ounce containers for you. Each summer features two new collaborating breweries, a new collaborative recipe, and a new can design by Portland artist Patrick Long. This year brings together Structures Brewing (Bellingham, WA), Level Beer (Portland, OR), and of course Fort George Brewery. Let the rampage begin!
Pre-order the first cases off of the canning line starting June 1st, with direct shipping to homes in Washington and Oregon. You must be 21+ to order, receive, and sign for beer shipments. Those cases will ship starting June 9th. Then grab your fresh 3-Way IPA and join all three breweries online for a toast to collaboration & summer. Details about this event will be included with your 3-Way IPA case delivery. You can look forward to 3-Way IPA at Pacific Northwest locations near you starting June 15th and rampaging through the end of August.
Right now, it's all about staying safe & healthy, yet still providing that unique and accessible craft beer experience – one that fits you. Here's a quick guide on how to access Fort George.
For convenient contact-free pick-up at the pub, place your orders at fortgeorgetogo.com. Each order receives a unique pick-up time. Please wait in your car for the "order ready" text before heading into the Solarium. Open seven days a week, noon to 8pm.
Dine-in service at Fort George is resuming on the deck and in the upstairs restaurant, starting Monday, June 1st. Tables will be limited, all guests must check-in with the host, and reservations will be required. More information about dine-in policies and reservations will be found on fortgeorgebrewery.com. Open seven days a week, noon to 8pm, starting in June.
To purchase & ship Fort George merchandise anywhere in the US, head to fortgeorgebrewery.com/shoponline. After June 1st, Washington & Oregon residents over 21 will also be able to order beer with direct shipping to their homes. Beer shipments will begin on Tuesday, June 9th.
Fort George beer is distributed only in the Pacific Northwest. To find Fort George beer sold near you go to fortgeorgebrewery.com/beerfinder. Or better yet, ask your neighborhood pub or bottleshop to order some in.