Full Sail Brewing Releases Shortest Day CDA
|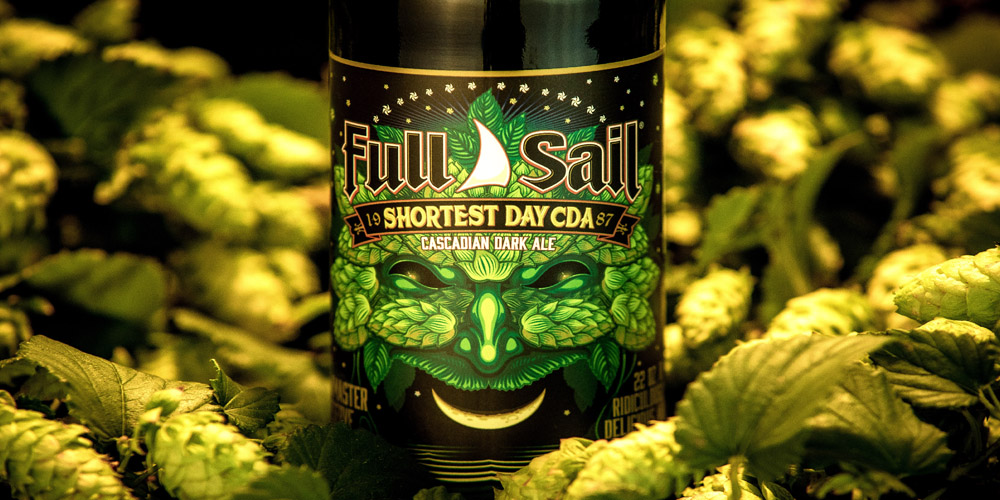 Trendy beer styles come and go. One style that gained momentum about 8 years ago, the Cascadian Dark Ale or what is commonly known as a Black IPA has recently seen a decline in its market availability.
One of our local breweries, Full Sail Brewing returns with its Shortest Day CDA for the fall of 2018 that honors the winter solstice. Brewed with 2-Row Pale, Crystal, and de-husked Chocolate malt, Shortest Day CDA pours a deep dark black with a lacy tan head. With aromas of dark roasty malt and hints of tropical and citrus fruit, Shortest Day CDA offers bold flavor with excellent balance. De-husked chocolate malt imparts dark chocolate flavor while crystal adds depth and complexity. Generous additions of Mosaic, Simcoe and Citra hops lend flavors of fruit and sweet floral notes. Shortest Day CDA is 6.6% ABV and 57 IBUs.
Shortest Day's label artwork features the Green Man, better known in lore as the mascot of the winter solstice and this rendering is fashioned from hops with a crescent moon smile.
Suggested food pairings for Shortest Day CDA include Gorgonzola, smoked taleggio, aged Swiss and smoked Gouda cheese. Rich braised beef, grilled steak and pork, smoked salmon, and braised greens such as collards. Jams, dried fruit and raisin bread pudding.
Shortest Day CDA is available through December in 12 oz. bottles and on draft.