Gigantic Brewing and Ecliptic Brewing Collaborate on Space Brontosaurus IPA
|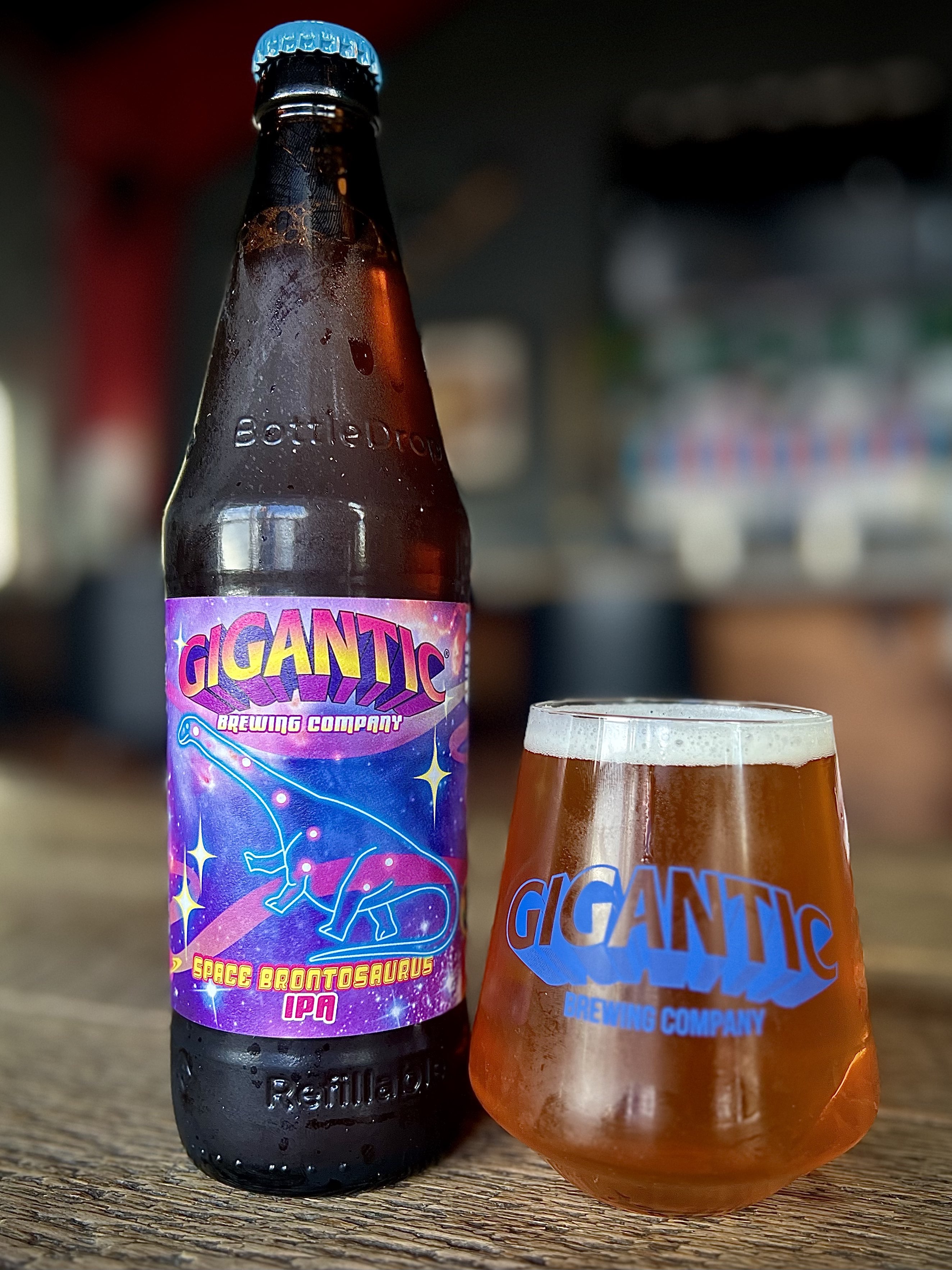 A new collaboration beer from Gigantic Brewing and Ecliptic Brewing has been fermenting away and will make its debut on Tuesday, January 17 at the new(ish) Gigantic Hawthorne. Some may say that this new collaboration, Space Brontosaurus IPA, is a Gigantic Cosmic Collaboration, regardless, it brings together a few legends in the Portland brewing scene.
According to Gigantic Brewing, Space Brontosaurus IPA is result from when "a stargazer sees the big dipper, and a pop art lover sees a brontosaurus, but they're both filled with wonder. Collaborating with Ecliptic is kind of like that for us – two breweries who love IPA coming together to make something wonderful".
Gigantic Brewing goes on to say, "When we brew a collaboration, we like to work with new ingredients and techniques. For Space Brontosaurus John Harris from Ecliptic suggested we use Vista hops. Vista is a new variety of hop released in 2021 and grown in the Pacific Northwest that has notes of papaya, honeydew, white peach and pear. We combined it with Citra hops, which deliver an orangey citrus bomb of flavor and Crystal hops that bring a citrusy floral note. The resulting Space Brontosaurs IPA is full of flavor, ridiculously delicious and eminently drinkable."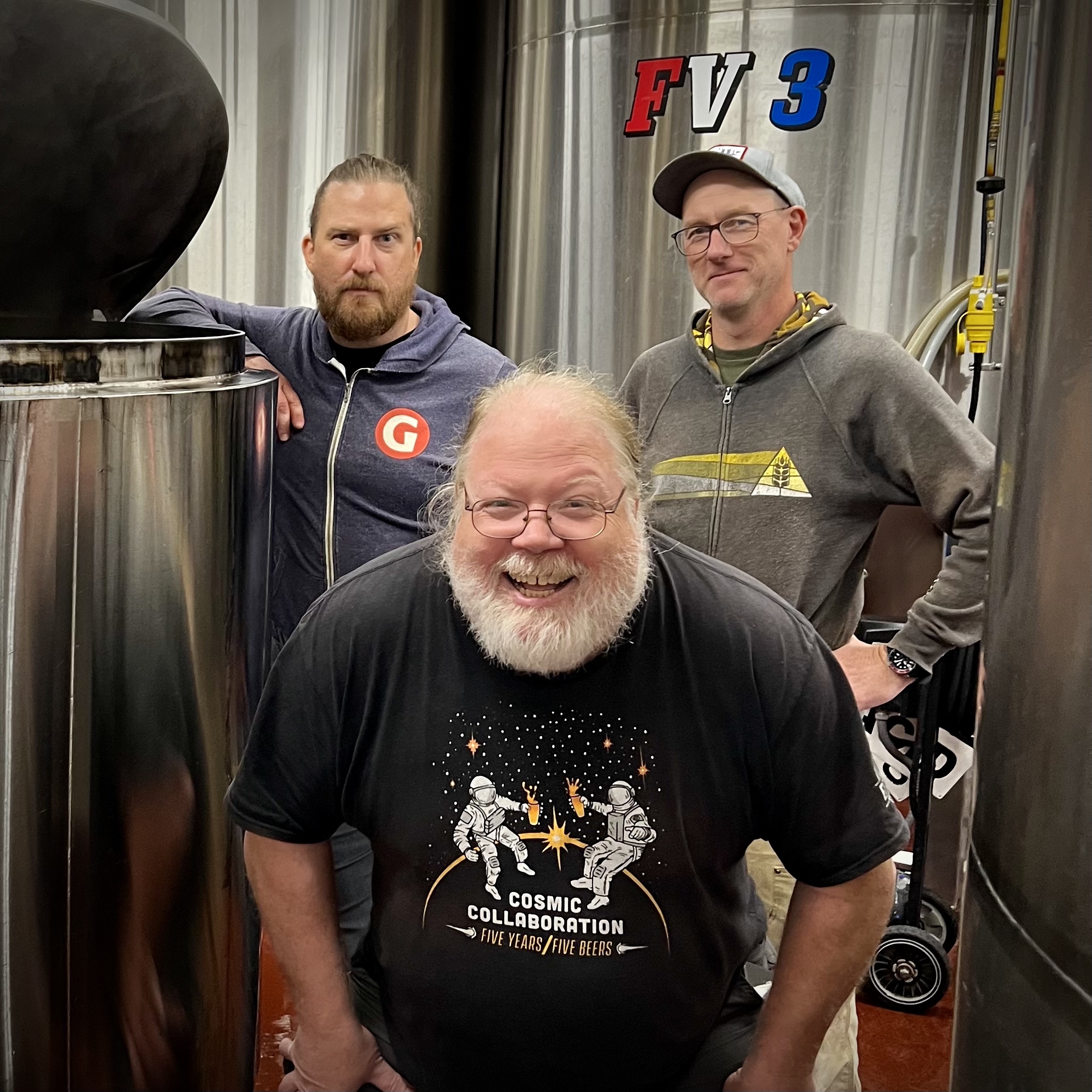 To get the first taste of the new Space Brontosaurus IPA, just visit Gigantic Hawthorne on January 17 at 5:00pm when John Harris of Ecliptic Brewing will join Van Havig and Ben Love of Gigantic Brewing for a First Taste Tuesday. This new IPA will be available on draft and in those environmentally refillable 500mL bottles.
And to make this evening a bit more enticing, the new kitchen staff at Gigantic Hawthorne is preparing a special food item for the debut of Space Brontosaurus IPA. Look for the Space Brontosaurus Burger – 6oz of ground beef, topped with house teriyaki glaze, a grilled pineapple ring (that rivals Jupiter's rings!), lettuce, tomato, onion and Galaxy Sauce – a combo of duke's mayo, sriracha, togarashi, and cayenne. For those that dislike red meat, Gigantic's kitchen is offering a chicken breast version. Maybe bring a friend and split each burger!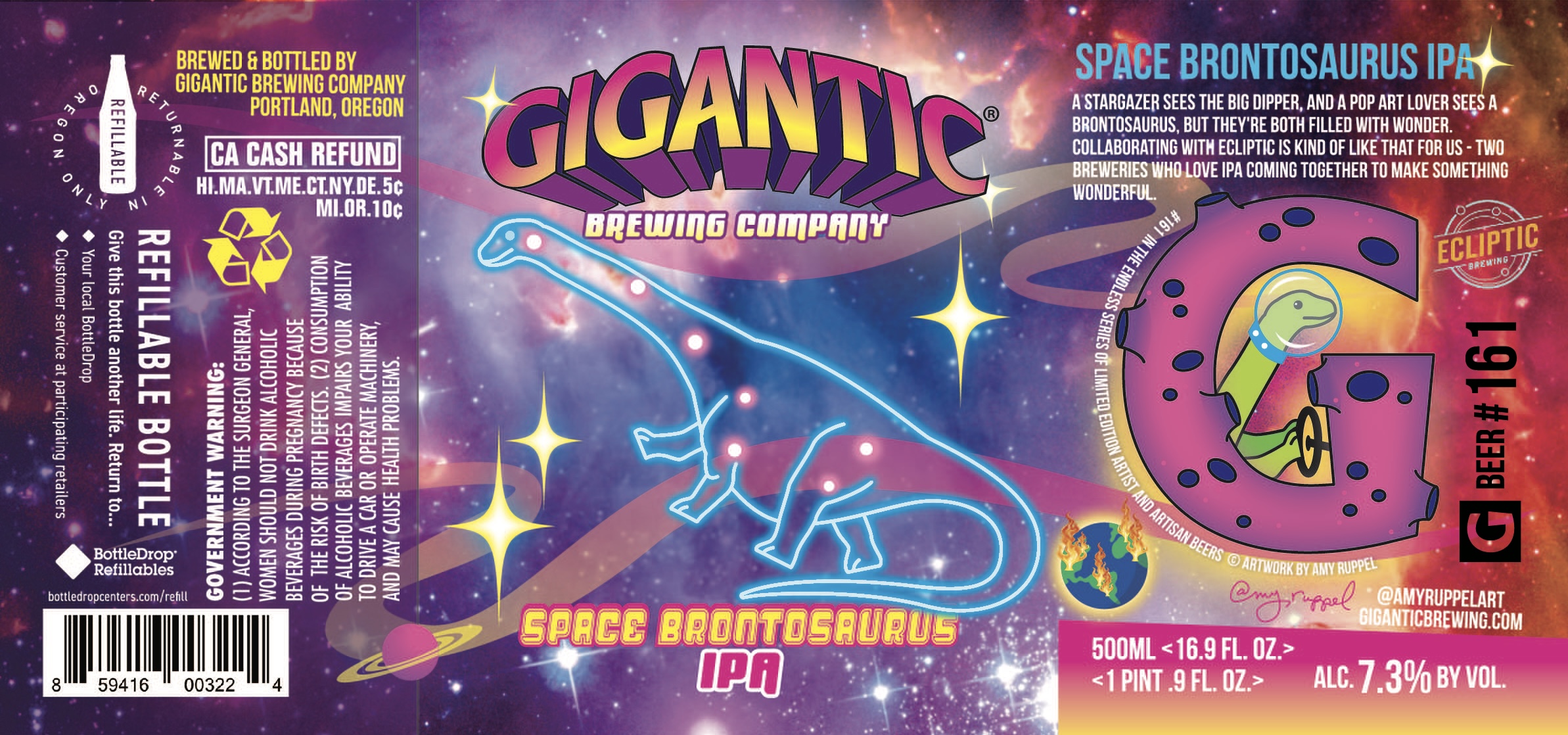 As with all of Gigantic Brewing's beer label artwork, Space Brontosaurus IPA has been created by an artist, Portland based illustrator and artist Amy Ruppel. Amy took a keen interest in science and nature from a young age. This fascination has always informed her creative output. She's adept at many different media with a portfolio spanning digital illustration, drawing, painting and print-making. She likes to paint Pacific Northwest marine life floating in pink skies and make things out of wood scraps in her spare time. Her rewarding day job is creating artful interiors and murals for children's hospitals and museums. Amy has created other memorable labels for Gigantic Brewing, including Stax on Stax Maple Breakfast Stout, Pristine Pacific and Do it in a Park.
Space Brontosaurus IPA is also available on tap and in refillable bottles at both The Brewery and Champagne Lounge (5224 SE 26th Ave) and Robot Room at the Rocket Empire Machine (6935 NE Glisan). You can also find Space Brontosaurus IPA on draft and in refillable bottles at finer grocers, bars, bottle shops and bodegas in the Portland metro area and throughout Oregon.
Gigantic Hawthorne
4343 SE Hawthorne Blvd
Portland, OR 97215