Gigantic Brewing Announces 2020 Beer Release Calendar
|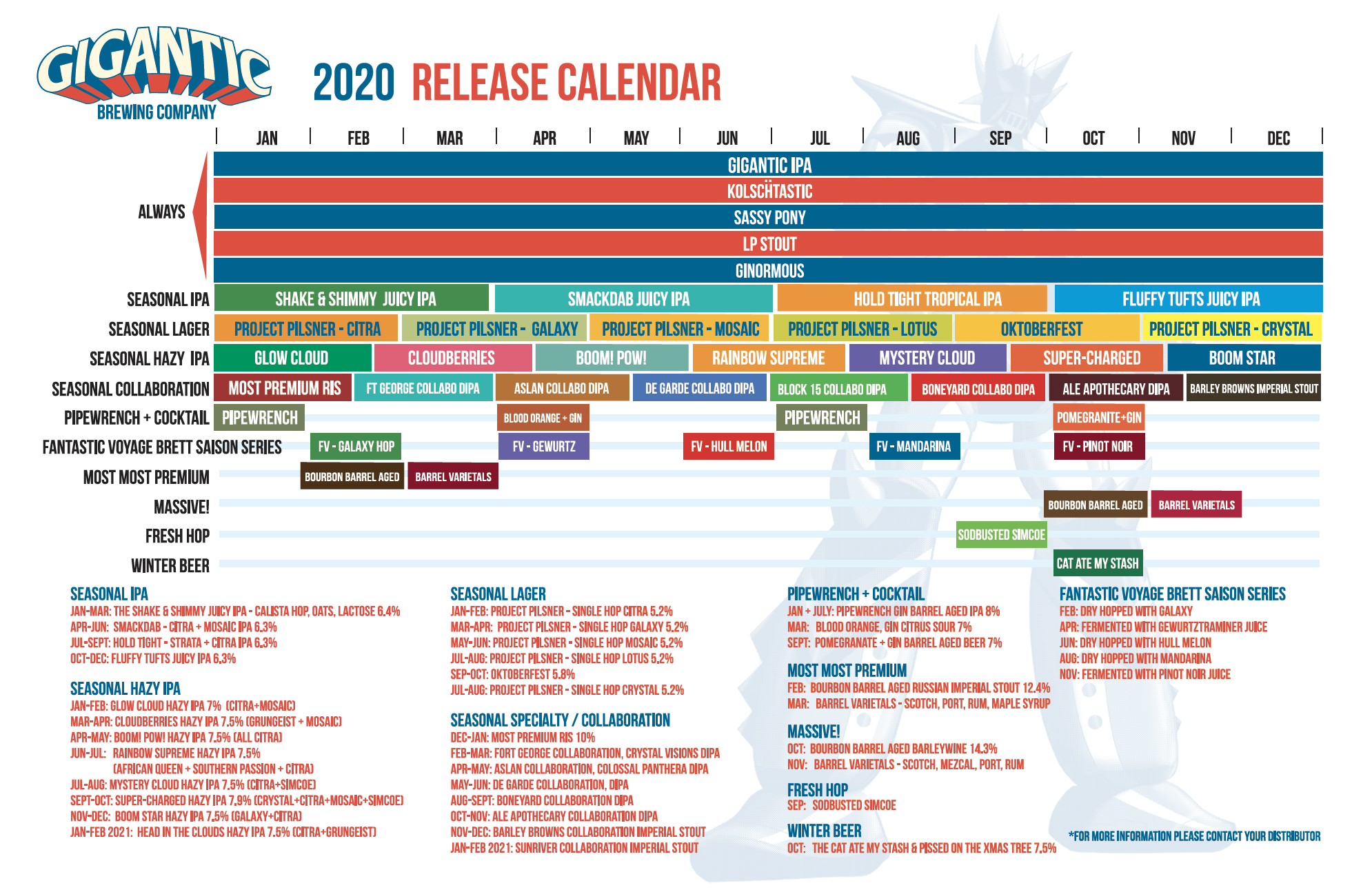 The new year will be a huge one for Gigantic Brewing as it has announced its 2020 Beer Release Calendar that is full of new beers that are part of a few new beer series. Plus, the nearly eight-year-old brewery will soon open its Gigantic Brewing Satellite, a new taproom that's part of the forthcoming Rocket Empire Machine development located at 6935 NE Glisan Street.
Gigantic Brewing will debut its brand-new Lager Series and Collaboration Series, and will release variations of its award-winning Fantastic Voyage Brett Saison. The brewery will of course continue to release its year-round beers that include Gigantic IPA, Kölschtastic, Sassy Pony Juicy Pale, and Ginormous DIPA. Joining this lineup that's available all 365 days is LP Stout that recently debuted at the end of 2019.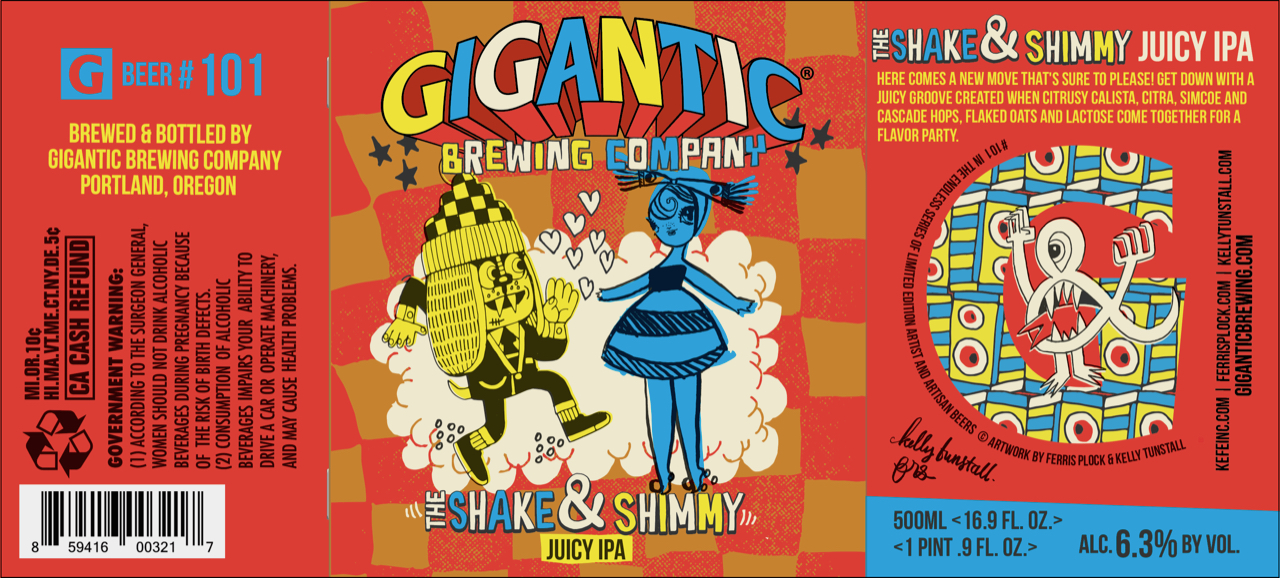 Gigantic's Seasonal IPA lineup features new beers Shake & Shimmy Juicy IPA, Smackdab Juicy IPA, Hold Tight Tropical IPA, and the return of the beloved Fluffy Tufts Juicy IPA.
Here are more details on the beers to expect from Gigantic Brewing throughout the coming year.

New Year-Round Beer: LP Stout
At the end of 2019 we introduced our newest year-round beer, LP Stout. This delicious stout is available on tap in both Nitro and Draught kegs, as well as in bottles. Sit back and get deep into the groove. Enjoy a sublime state of smooth, with notes of espresso, chocolate, and roast backed by a touch of caramel sweetness. A stout with a warm sound and lots of low-end punch.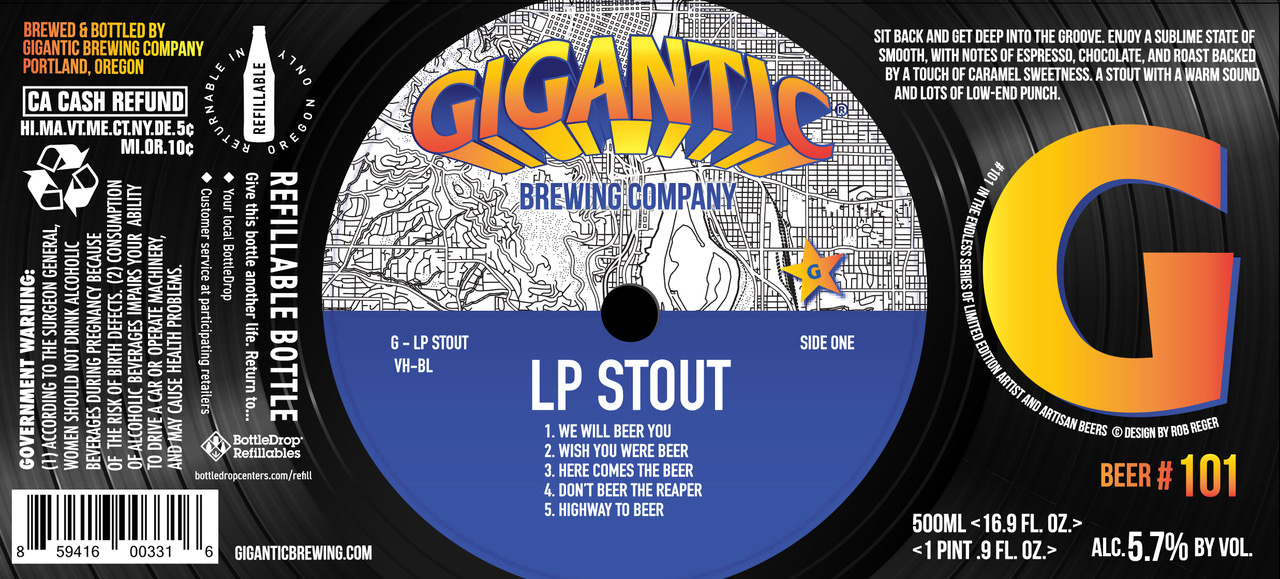 New Series: Seasonal Lager
We love drinking pilsner, so we thought it was about time to start making our own series of pilsner beers that reflect our love of citrusy hops. Our new 'Project Pilsner' series is a line of single hop American Pilsners featuring: Citra, Galaxy, Mosaic, Lotus, Crystal. We will brew these delicious hop forward pilsners year-round, except for a brief visit to the celebration of Oktoberfest. The first beer Project Pilsner Citra will be out February 1st.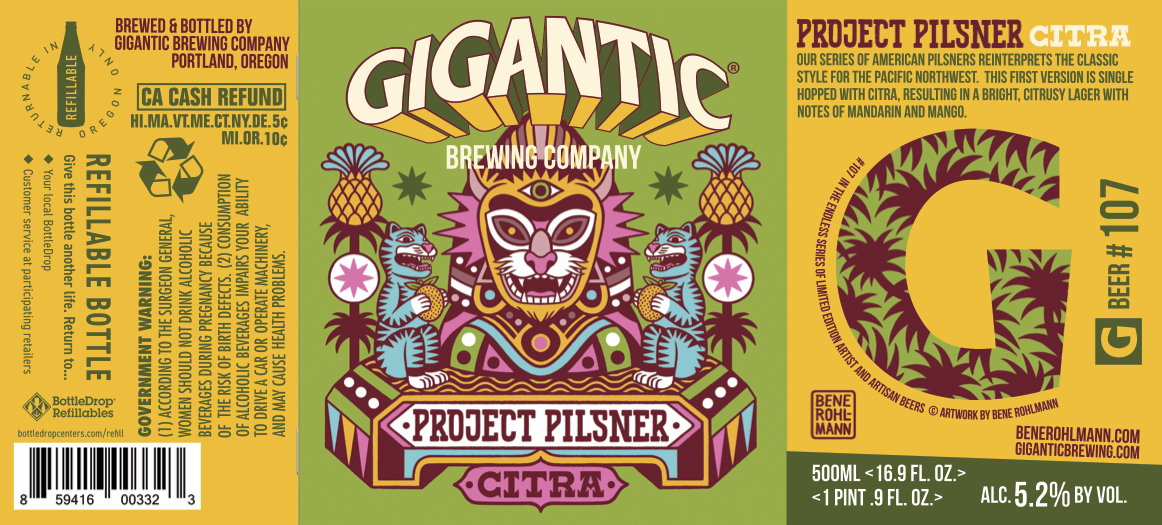 New Series: Seasonal Collaboration
Brewing collaboration beers has always been part of our DNA at Gigantic. We love working with friends and brewers from around the world to combine forces to create new beers, and are excited to work with a few of our favorite Northwest brewers to make new collaboration beers. Our collaborative partners include Fort George, Aslan, De Garde, Block 15, Boneyard, Ale Apothecary, Barley Browns and Sunriver (2021). The first beer in the series Crystal Visions West Coast DIPA brewed with Fort George will be out February 4th.
New Beers: Seasonal Hazy IPA
We are excited to add some brand new beers and bring back a few of our favorites for our Hazy IPA series. New beers to the series include Boom! Pow!, Rainbow Supreme, Super-Charged and Boom Star, while Glow Cloud, Cloudberries and Mystery Cloud make their triumphant return. We guarantee all the beers will be juicy delicious!
Small Batch: Fantastic Voyage Brett Saison Series
Fantastic Voyage is our award winning saison fermented with two brettanomyces and two saison strains. We age it for a year in neutral French Oak barrels and then bottle and keg condition with an additional yeast strain. For the beers in this series we have either dry hopped them with galaxy, mandarina or hüll melon hops or added locally pressed juice from Oregon pinot or gewürztraminer grapes.
OBRC's Refillable Bottle Program
Gigantic has made the transition to using the OBRC BottleDrop Refillable 16.9oz bottle. BottleDrop Refillable bottles are unique glass bottles that can be washed and refilled up to 25 times, making them the most sustainable package for craft beverages. The bottles are made locally from recycled glass and are exclusive to the state of Oregon. Each bottle is marked with "BottleDrop Refillable" on the glass as well as the label to make it easy for the consumer to recognize. Once washed and thoroughly inspected, the bottles are re-distributed back to the participating beverage producers.