Gigantic Brewing Partners with Weird Portland United On New Weirdtastic Beer Series
|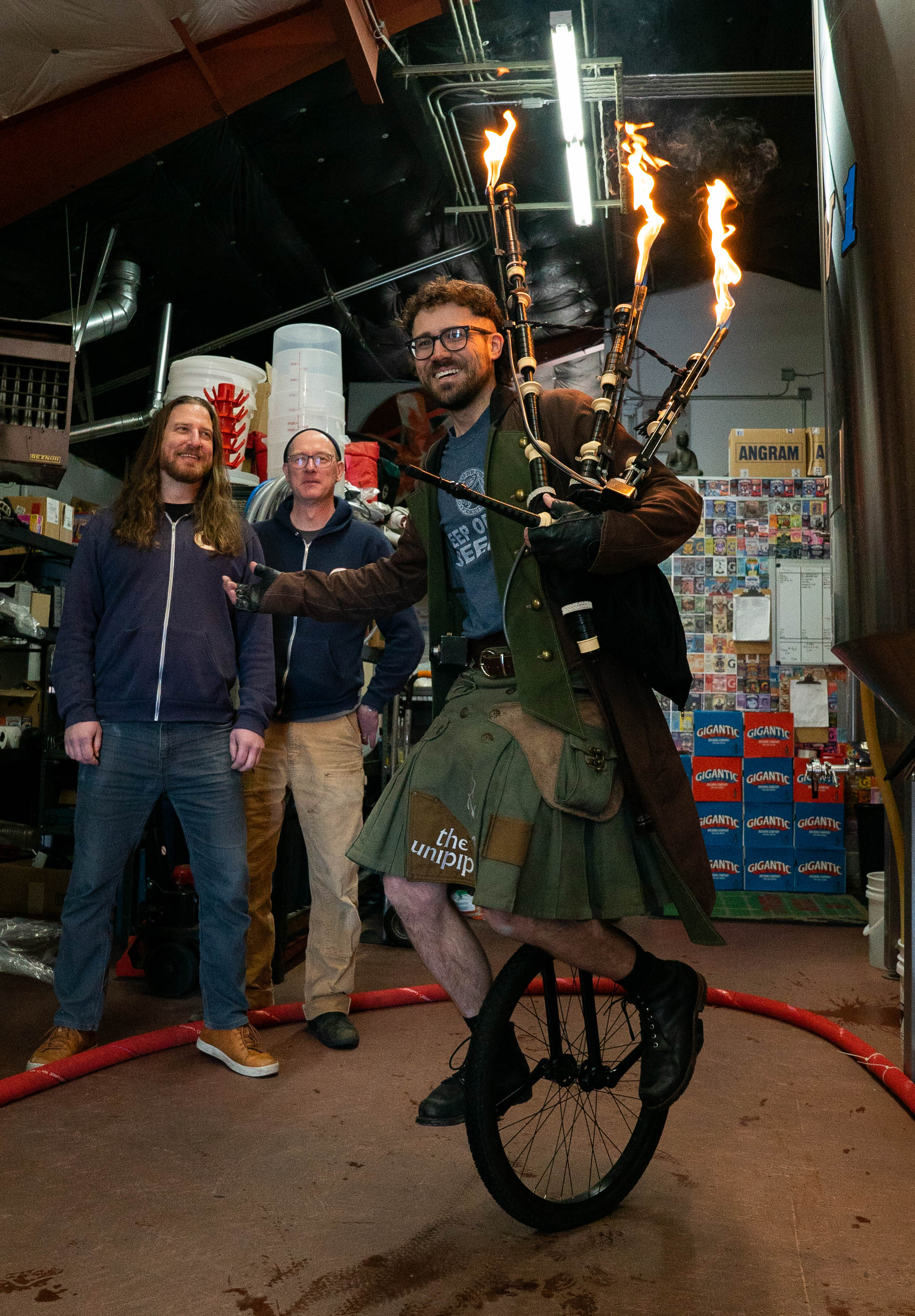 Portland, Ore., March 23, 2022 — Gigantic Brewing Company along with 501(c)(3) nonprofit, Weird Portland United (WPU), today announce a new strategic partnership to include an ongoing series of beers dubbed 'Weirdtastic', exclusive WPU programming and events at the Gigantic taproom, and plans for Portland's first-ever Weird Beer Festival. A portion of sales from the Weirdtastic Beer Series will go directly to WPU in support of the group's mission to "celebrate the community's unique innovative culture, amplify its creative expression, and incubate an even weirder future." Gigantic Brewmaster, Ben Love, said of the collaboration, "For us, this was a no-brainer, given the overlap between the goals of Weird Portland United and our philosophy toward community oriented beer making." WPU president, Jason Turner, commented, "Beer is part of the fabric of this city and has been in our DNA since day one. Like music or art, it is an expression of who we are, and just like being weird, it's a key ingredient to our shared experiences. This beer series gives us an incredible new platform to show the world who and what make Portland special."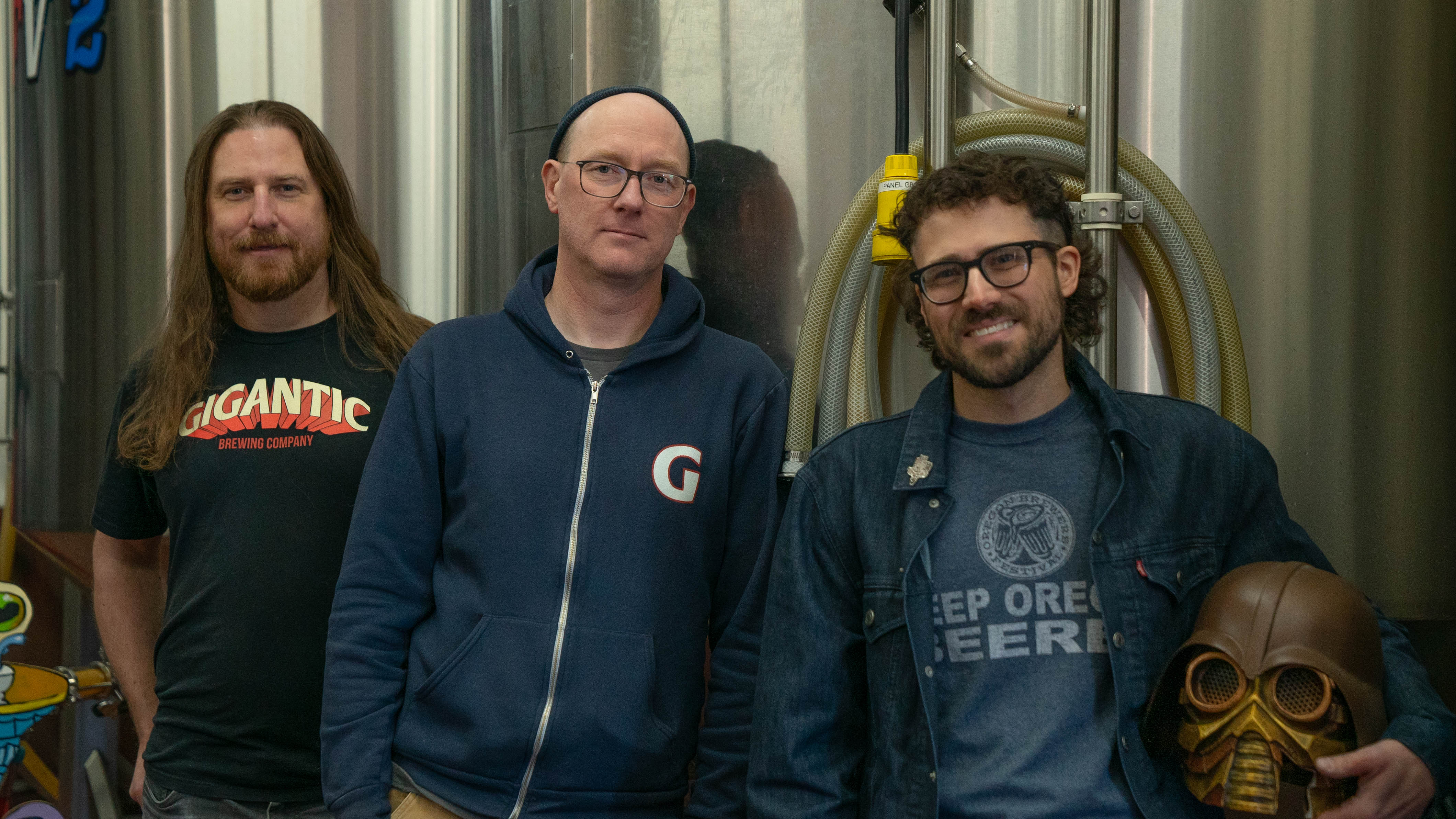 Releasing first in the Weirdtastic Beer Series is Unipiper Hazy IPA, brewed in honor and collaboration with Portland's iconic flame throwing, bagpiping, kilt wearing, one wheeled wonder. This hazy is unlike anything you've had before though, with more in common with the Unipiper than just his name. Crafted from an all new recipe, Unipiper Hazy IPA has an intensely tropical hop aroma of passionfruit, mango, guava and orange derived from the expert use of Citra, Mosaic, Crystal and the Unipiper's own Cascade hops paired with Cosmic Punch yeast which biotransform compounds found in the malt and hops, unleashing thiols to further intensify the tropical aromas.
The Unipiper, a craft beer enthusiast and avid homebrewer, had this to say of the project: "When it comes to Portland beer, any hophead will tell you the quality of Gigantic is second to none and it is a dream come true to be working with them on such an exciting project." "We wanted to create something to celebrate Portland's enthusiasm for taking risks, and that is exactly what we've accomplished with this beer," said Gigantic Master Brewer, Van Havig. "The result is something entirely unique that will still have you coming back for more. This led us to the tagline of the series, Ordinarily Extraordinary Beer for an Extraordinary City."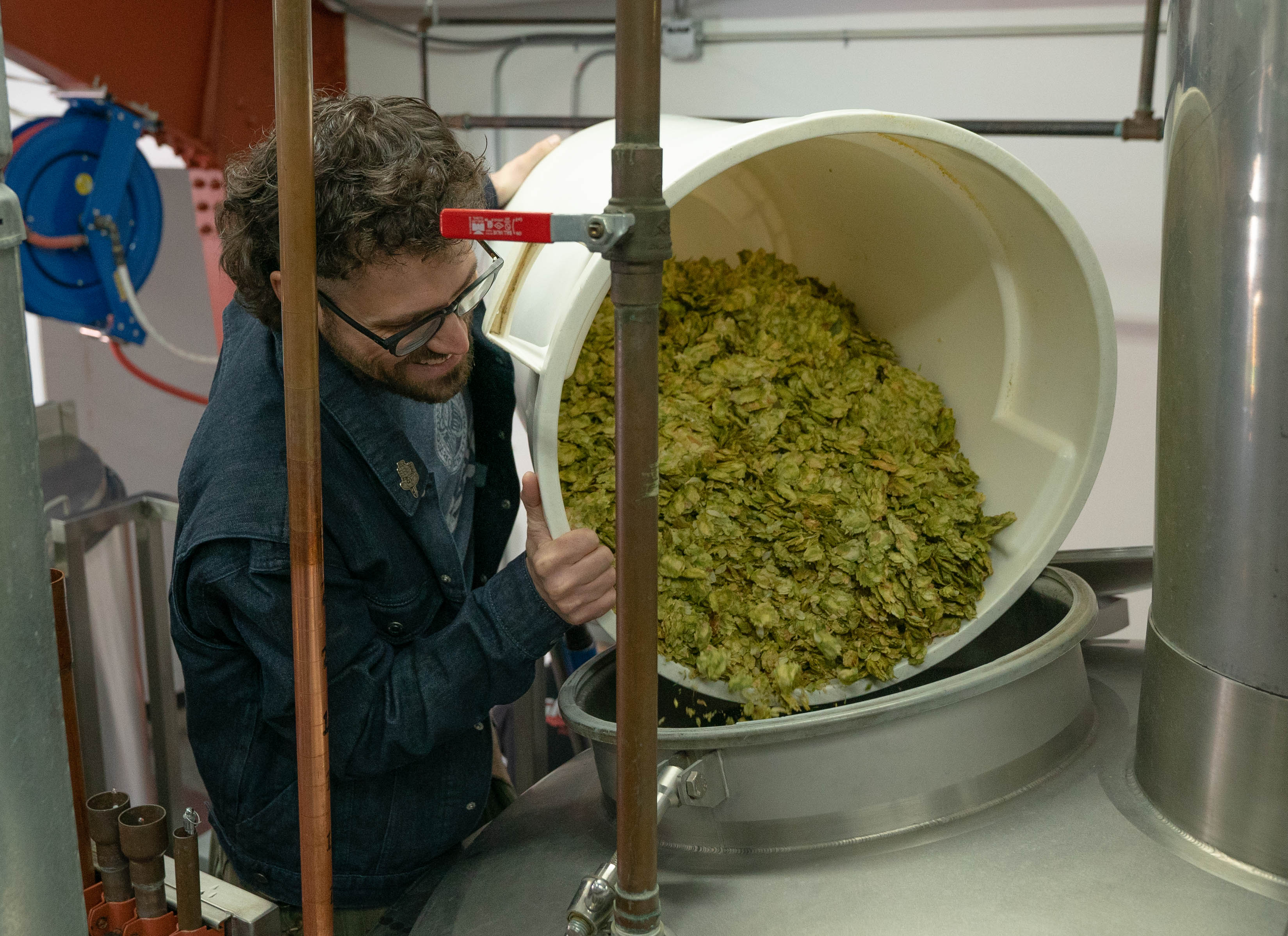 Gracing the inaugural bottle in this series is the work of Portland artist Steven Barker, depicting the Unipiper on one of his signature rides across the Willamette, alongside WPU's anthropomorphic Benson Bubbler-turned-octopus mascot, affectionately dubbed 'Benny'. Limited edition prints of the art will be available at giganticbrewing.com.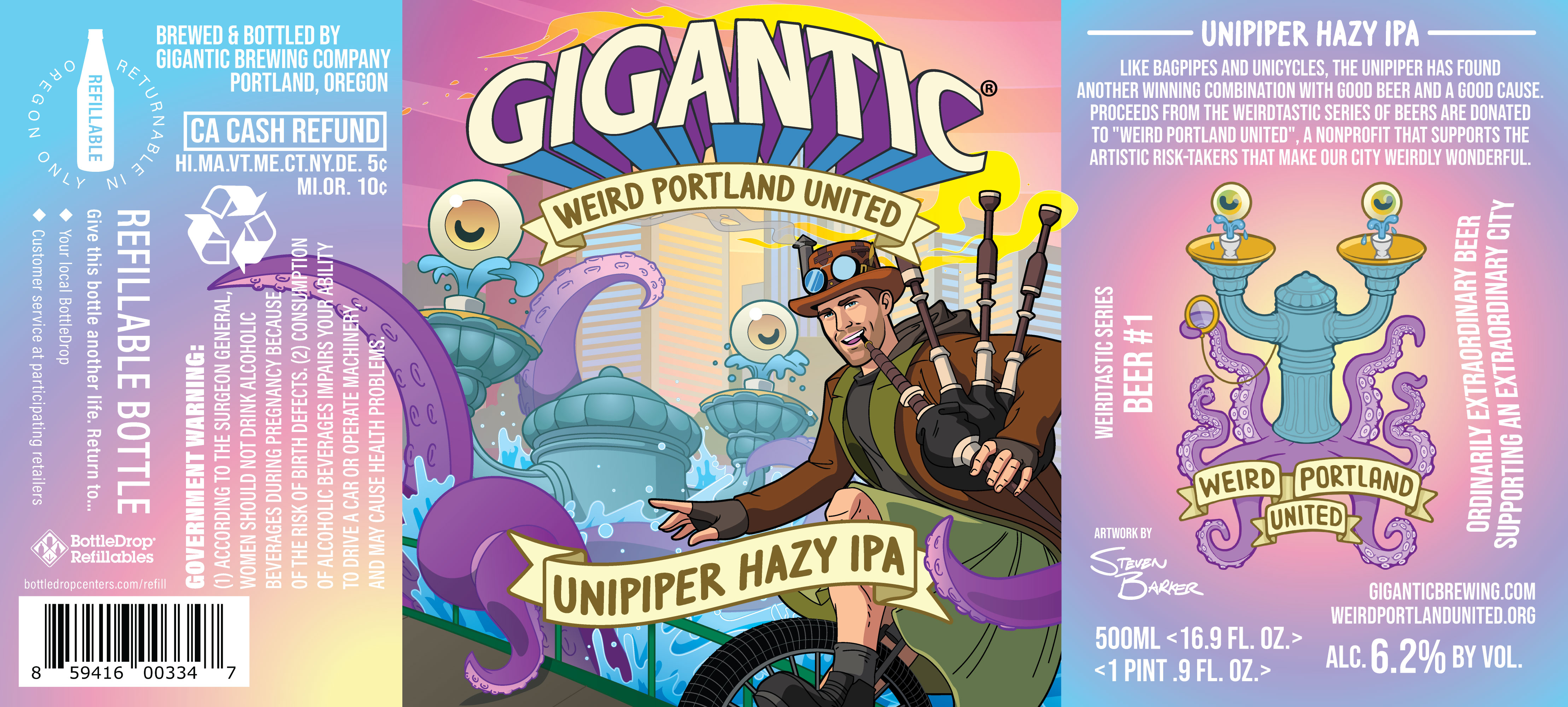 Following Unipiper Hazy IPA, next in the series will be a beer sharing the namesake of the long running and highly revered Portland institution, the PDX Adult Soapbox Derby, releasing in advance of this year's race which returns to Mt. Tabor on August 20.
Unipiper Hazy IPA Beer Release
With two beers confirmed so far and many more planned, collectors will not want to miss this inaugural release. Those looking to be among the first to try Unipiper Hazy IPA on draft or grab some bottles to go can plan on attending a release party at Gigantic Brewing Company April 1st from 4-6pm. The 21 and up party is open to the public and admission is free. Naturally, the Unipiper himself will be on hand providing entertainment, signing bottles, and drinking his beer. Following release, Unipiper Hazy IPA will be available on draft and on store shelves everywhere Gigantic is sold, including New Seasons Market. Home delivery of Unipiper Hazy IPA is also available within 18 miles of Portland through the Gigantic website.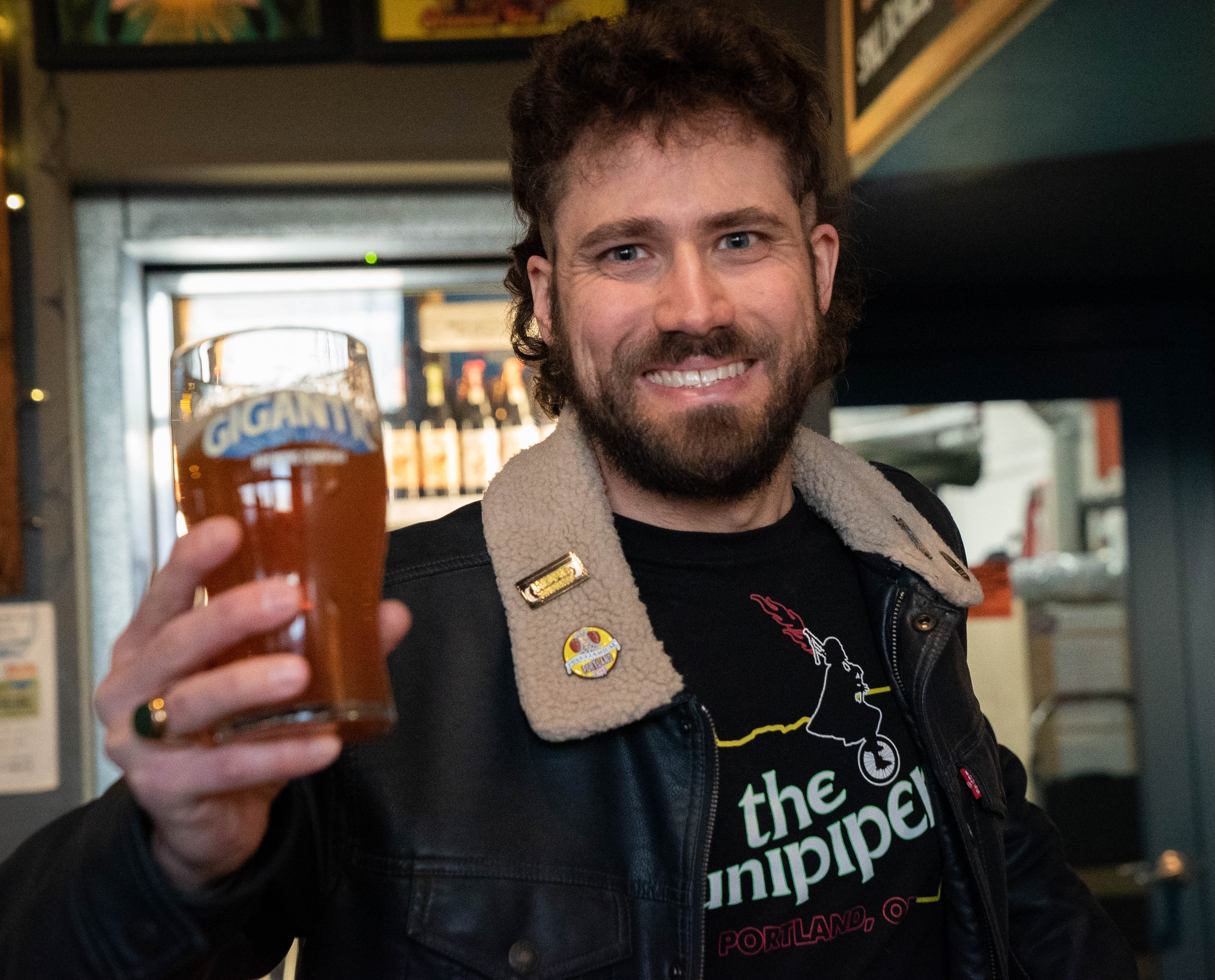 Unipiper Hazy IPA Release Party and Bottle Signing
April 01, 4-6pm | Gigantic Tap Room and Champagne Lounge, 5224 SE 26th Ave | Portland | Join the Facebook Event