Gigantic Brewing Releases Boom Star Hazy IPA
|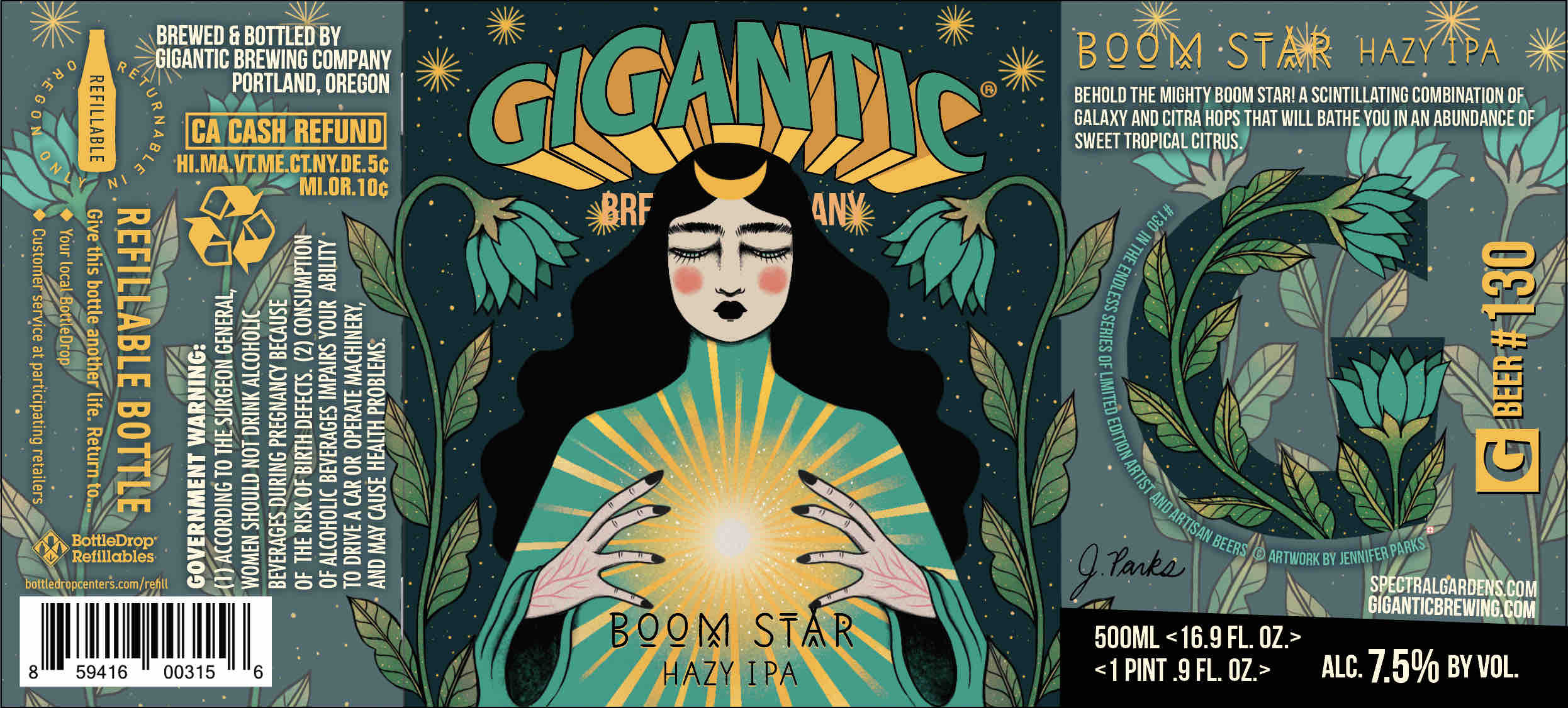 Tuesday, March 23rd, 2021:  Gigantic Brewing brings the next big hazy with our newest release Boom Star IPA! After launching our first hazy IPA back in 2018, we became fascinated with the hop flavor and profile of these beers. Our journey to bring you the juiciest IPA continues!  Boom Star is a scintillating combination of Galaxy and Citra hops that will bathe you in an abundance of sweet tropical citrus.
"This is an American beer, with very clear, bold flavors. It doesn't beat about the bush" Van Havig explains. "The great thing about this beer is the citrusy hop profile with flavors of grapefruit, passionfruit and candied orange. Behold the mighty Boom Star!"
For this Hazy IPA, we combine the absolutely gorgeous Galaxy hop from Australia with Citra hops from the Pacific Northwest. Both hops are known for their intense orange, tangerine, kumquat, citrus aroma. They also possess other tropical and citrus aromas and flavors that make this combination magical.
We had the pleasure to work the very talented artist Jennifer Parks on the Boom Star label. She is an illustrator, ceramic artist, activist, mother, nature lover and believer in magic. She currently lives in Portland, OR where her world is filled with ghosts, cats, and witchy women.
Join us for First Taste Tuesday featuring Boom Star Hazy IPA on March 23rd at both The Brewery and Champagne Lounge (5224 SE 26th Ave) and Robot Room at the Rocket Empire Machine (6935 NE Glisan). You can also look for Boom Star on draft and in 16.9oz refillable bottles in the Portland metro area, and along the west coast in CA and WA!
As always, Gigantic beer is packaged in BottleDrop Refillable bottles.  BottleDrop Refillables are sorted, washed, inspected, and delivered back to Oregon's craft beverage producers to be refilled. By choosing beverages in refillable bottles, you help keep our air clean, our beaches, parks and roadsides litter-free, promote a circular economy, and set a model for future generations.