Gigantic Brewing To Release 5 Varieties of 2021 Most MOST Premium Russian Imperial Stout
|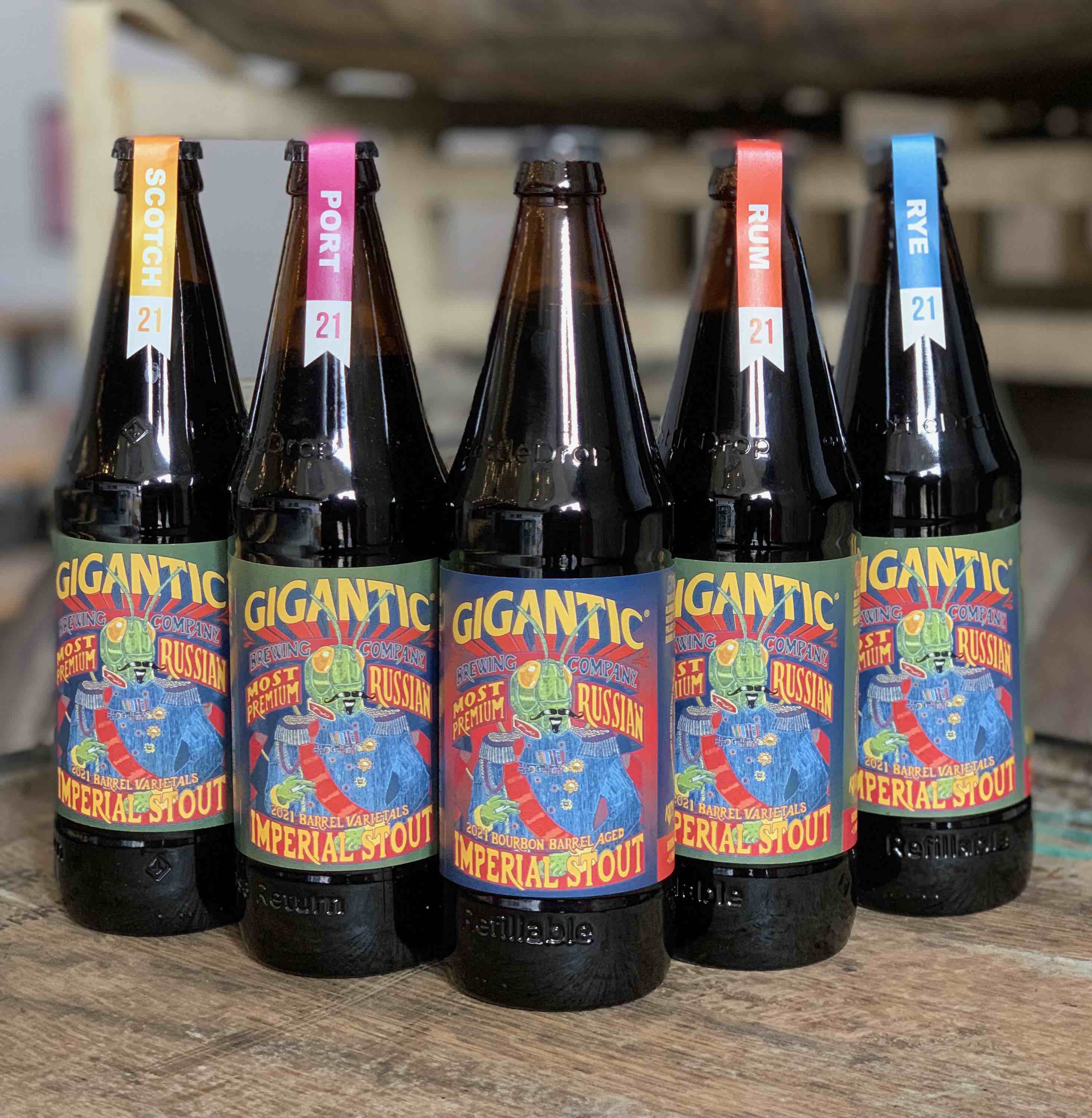 Five barrel-aged varieties of 2021 Most MOST Premium Russian Imperial Stout are set to be unleashed on Saturday, March 13 at both Gigantic Brewing locations in Portland, Oregon.
The 2021 vintage continues on the tradition that began in 2015 of barrel ageing Most Premium Russian Imperial Stout in bourbon barrels. "Originally inspired by Russia's favorite expression for great, Most Premium, once we barrel aged the beer, we knew we had to use proper Russian grammar, and name it Most MOST Premium", says Van Havig, Co-Founder of Gigantic Brewing, in a statement.
For 2021, Gigantic Brewing will release the traditional Most MOST Premium Russian Imperial Stout aged in Bourbon barrels along with four specialty barrels including Rye, Port, Scotch, and Rum. Full details on each variety are listed below.
2021 Most MOST Premium Russian Imperial Stout Varieties:
Bourbon: Enjoy notes of cocoa, coconut, caramel, umami & a delightful vanilla bourbon warmth. We blended beer aged in Buffalo Trace and Woodford Reserve bourbon barrels.
Rye: A delightful blend of chocolatey + cinnamon and peppery spice with a subtle woody character.  The more pronounced booziness, this varietal was aged in American rye whiskey barrels.
Port: With distinct woody, dark red fruit notes, we aged this in real Portugese port barrels.
Scotch: A hint of smoke, delicate dry woody notes, strong malt backbone and a mild sweet spiciness, we aged this varietal in a blend of Islay and Highland whisky barrels.
Rum: Notes of chocolate, vanilla, brown sugar, and a very distinct fruit cake cherry notes resulting in the fruitiest varietal of the bunch, we aged this batch in Caribbean rum barrels.
As in with previous Most MOST Premium labels, the beer's artwork once again has been created by Frank Kozik. He is an American graphic artist that's best known for his posters for alternative rock bands such as Nirvana, The White Stripes, Beastie Boys, Green Day, Neil Young, Pearl Jam, Red Hot Chili Peppers, Melvins and The Butthole Surfers. Kozik has been described as "one of rock world's top poster artists."
2021 Most MOST Premium will be released in 500mL Oregon BottleDrop Refillable bottles. The five varieties will debut on Saturday March 13 at an affordable $10 per bottle at both the Gigantic Brewery & Champagne Lounge (5224 SE 26th Ave) and Gigantic Robot Room (6935 NE Glisan St) locations and for home delivery. The barrel-aged beer will also be sent out in distribution to select locations in Oregon, Washington and California.