Gigantic Brewing To Release Glow Cloud Hazy IPA
|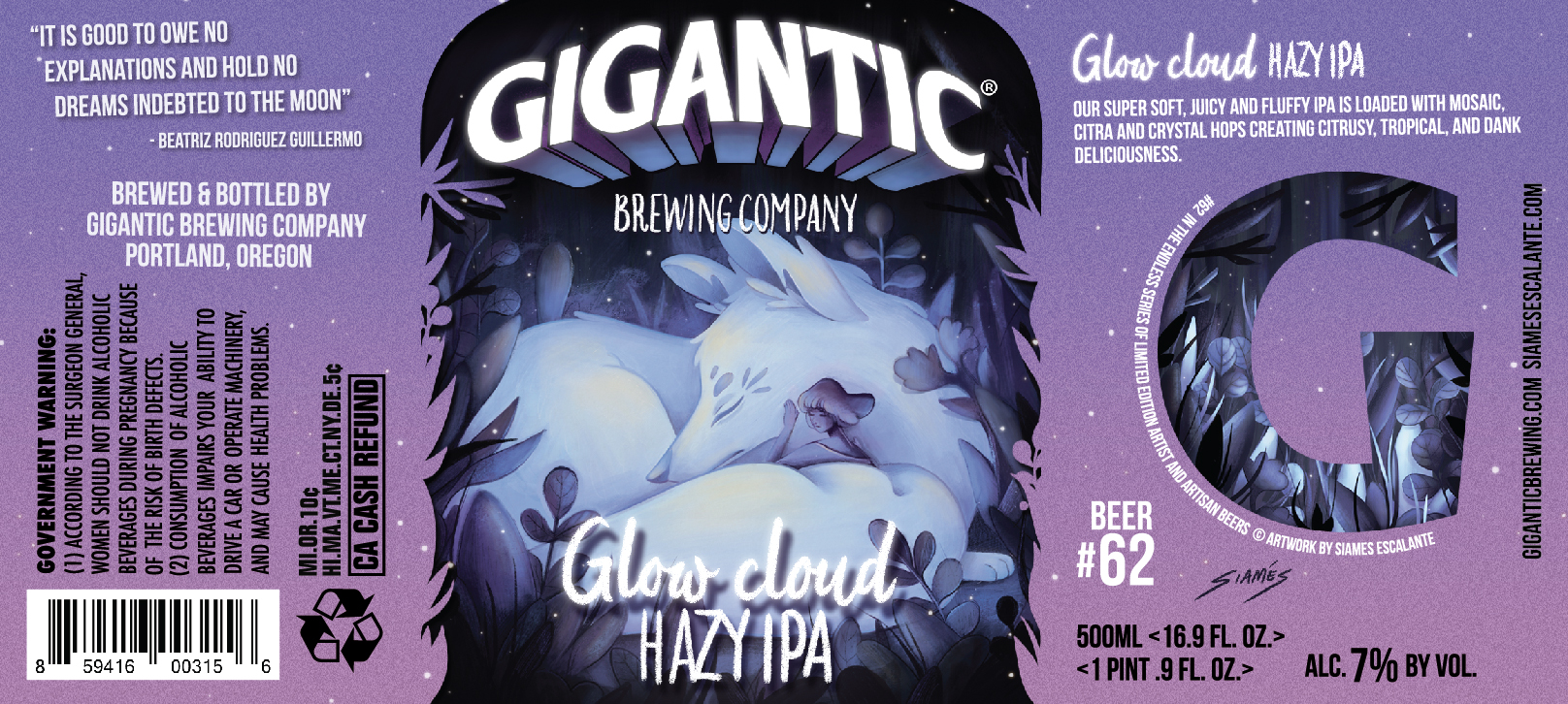 To continue with its recent drops of freshly packaged Hazy IPAs, Gigantic Brewing is set to release its latest one off with Glow Cloud Hazy IPA. The release will take place on its next First Taste Tuesday on March 6th from 3:00-9:00pm at the Gigantic Taproom and Champagne Lounge.
Glow Cloud Hazy IPA is inspired from the recent trend of New England-Style IPAs but with a West Coast twist. After releasing Mystery Cloud Hazy IPA about 6 weeks ago, this new turbid IPA has been tweaked a bit by using Mosaic, Simcoe, and Crystal Hops alongside a lighter malt character. Glow Cloud is described as being just as juicy and fluffy with citrusy, tropical and dank deliciousness.
The label for Glow Cloud Hazy IPA is from Mexico City based artist Siames Escalante. And the quote on the label is also from one of her family members, her aunt Beatriz Rodríguez Guillermo.
"It is good to know no explanations and hold no dreams indebted to the moon" – Beatriz Rodríguez Guillermo
Glow Cloud Hazy IPA Stats:
Tasting notes:  Grapefruit, Loquat, Orange, White mulberry
Alcohol by Volume: 7
IBUs: 65
Color: Hazy Gold
Availability: Draft pours and 16.9oz bottles will be available in our Taproom.
Glow Cloud Hazy IPA will be available in limited amounts through Gigantic Brewing's Distributor Partners. This includes Maletis Beverage in Metro Portland, OR, Bigfoot Distributing in Western/Central OR, Summit in Southern OR, Fort George Distributing on Northern OR/Southern WA coast, Click Distributing in Western Washington and on Tavour.com
Gigantic Brewing
5224 SE 26th Ave
Portland, OR 97202