Gigantic Brewing & Weird Portland United Reunite on Unipiper Hazy IPA
|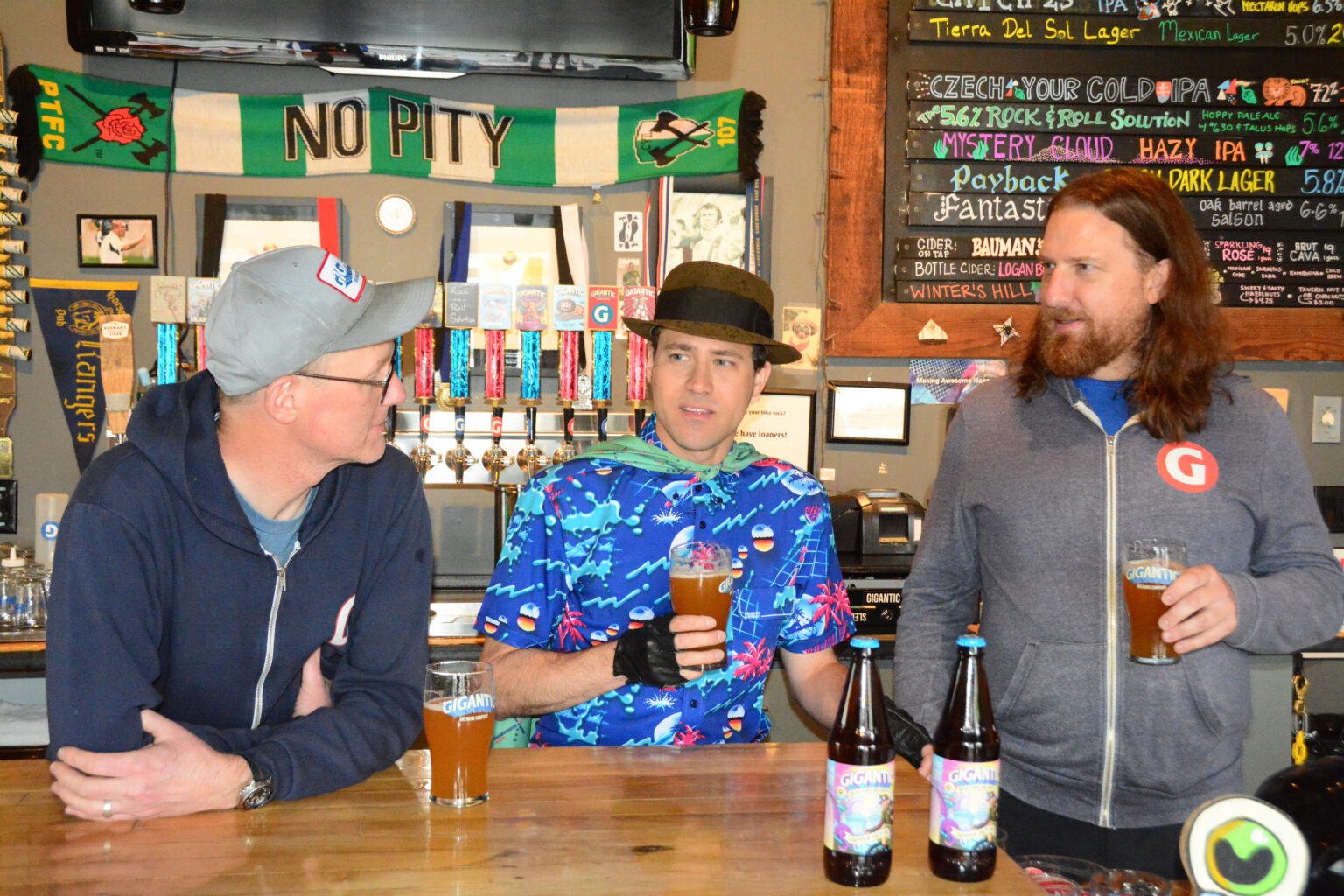 Portland, Ore., May 23rd, 2023 – It's back, and weirder than ever! Gigantic Brewing Company and Weird Portland United (501c3) are keeping the celebration of Portland's weird wonders alive by returning to where it all started, with the revival of the much-lauded Unipiper Hazy IPA as the next release in their ongoing Weirdtastic Beer Series collaboration.
With a blend of Citra, Mosaic, Crystal, and the Unipiper's own Cascade hops, Gigantic's Unipiper Hazy IPA was specifically designed as a riotously refreshing tropical blast with notes of passioinfruit, mango, guava, and orange, all thanks to the masterful work of the Cosmic Punch yeast, unleashing thiols that amplify the tropical aromas to eleven. On the occasion of the Unipiper Hazy IPA's return, Gigantic brewmaster and co-owner Ben Love said "Unipiper beer in Portland has a cult-like following, and we're honored to be carrying on the tradition. With the Unipiper Hazy IPA, we created a beer that people were excited to drink and talk about. The demand for its return was overwhelming and we were more than happy to oblige." And in the same vein, the Unipiper himself quipped, "I am so happy for all the buzz this beer has generated for Weird Portland United. Beer is the lifeblood of this city and this beer series is our megaphone, broadcasting Portland's unique charm to the world. Making beer brings me such joy, and getting to share it on this scale is a dream come true."
Since the introduction of Unipiper Hazy IPA in 2022, Gigantic and WPU have gone on to produce an array of Weirdtastic brew celebrating the PDX Adult Soapbox Derby, the work of beloved local artist and public joy creator, Mike Bennett, and most recently, drag icon and Guinness World Record holder, Darcelle XV. Through this work, the team have raised over $5,000 in support of Weird Portland United's efforts to sustain what is considered a normal level of weird for the Rose City. Their latest project is the construction of the Weird Portland Hall of Fame, set for a grand opening late summer 2023.
This release also marks 10 years of community driven beer projects involving the Unipiper, Portland's legendary fire-breathing, bagpipe-playing, kilt-donning, unicycle-riding marvel. Beer and the Unipiper go hand-in-hand in Portland, and over this time, the Unipiper has worked with multiple local breweries to produce unique beers featuring everything from bagpipe roasted peppers to pickled pipers. For his work with the Oregon Brewer's Festival, the Unipiper was even honored in 2019 as the event's Grand Marshal.
Unipiper Hazy IPA Special Delivery Contest
Fans looking for the ultimate Unipiper Hazy IPA experience can enter to win a special delivery of the beer including a basket of unique gifts delivered directly to their house by the Unipiper himself! For full details, keep an eye on Gigantic Brewing and the Unipiper's social media on 5/21 when the contest officially begins.
Unipiper Hazy IPA Beer Release
For everybody else looking to get in on the revival celebration, they should plan to attend the official ALL AGES Unipiper Hazy IPA release party at the brand new Gigantic Hawthorne Pub on June 2nd from 4-7pm. Admission is free and the Unipiper will be on hand providing entertainment, selfies, and signatures on souvenir bottles. Following release, Unipiper Hazy IPA will be available on draft and on store shelves everywhere Gigantic is sold, including New Seasons Market. Home delivery of Unipiper Hazy IPA is also available within 18 miles of Portland through the Gigantic website.
Unipiper Hazy IPA Release Party and Bottle Signing
June 02, 4-7pm | Gigantic Hawthorne Pub, 4343 SE Hawthorne | Portland | Join the Facebook Event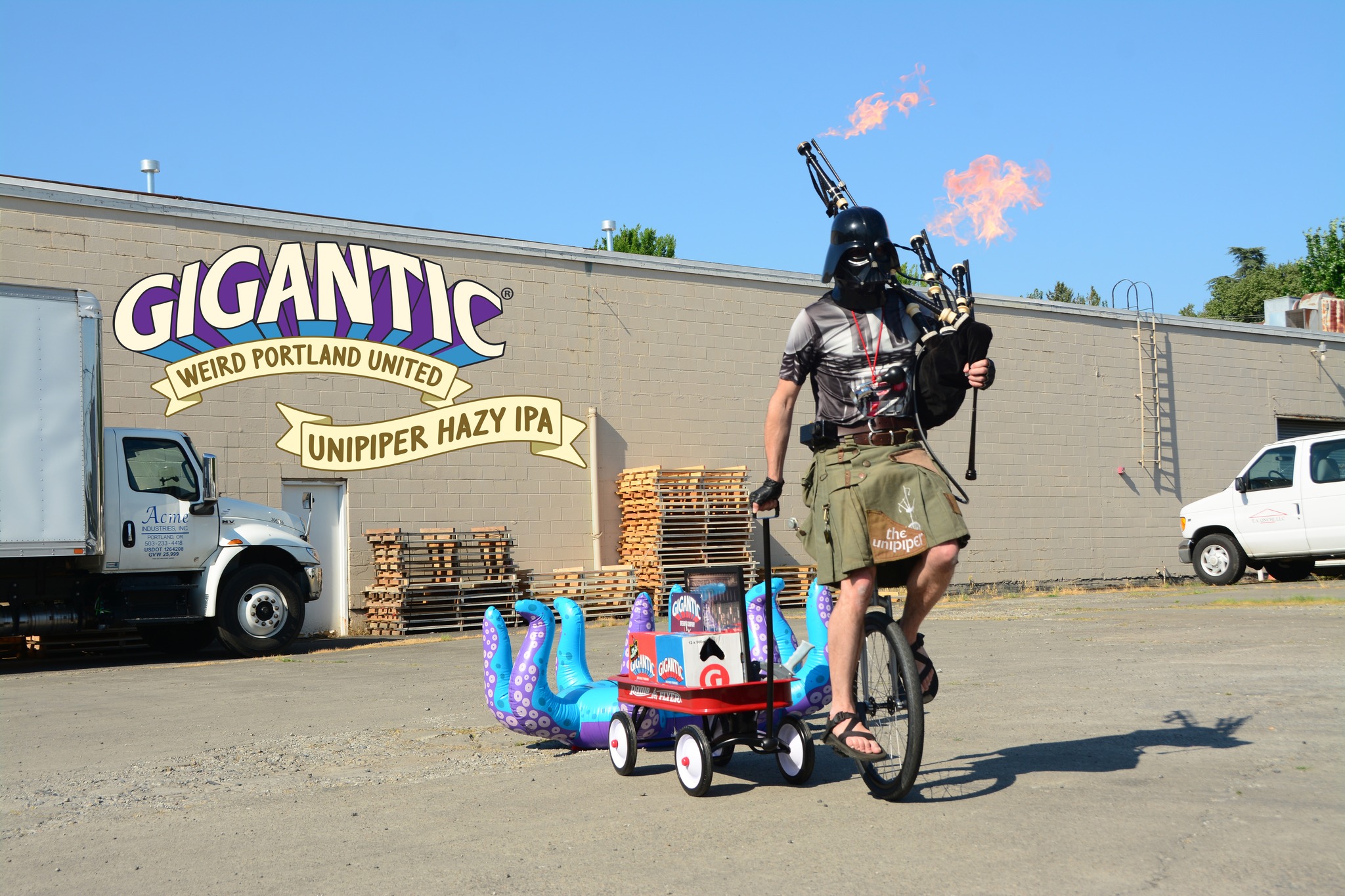 About Gigantic Brewing Company
Gigantic Brewing Company is an independent, artisanal brewery located in the Southeast quadrant of Portland. We hold ourselves to a simple principle – Never Give an Inch. We vow to start small and (stubbornly) stay small, focusing our efforts on making exceptional beer, rather than a lot of beer. When you drink Gigantic, know that we didn't just put our names on the label – our effort, imagination, and dry wit are in every bottle. Enjoy Gigantic at the Gigantic Brewery (5224 SE 26th Ave), Gigantic Robot Room (6935 NE Glisan), on tap or in bottle at your favorite grocer, bottle shop, bar or restaurant in Oregon. As always, Gigantic beer is packaged in BottleDrop Refillable bottles. BottleDrop Refillables are sorted, washed, inspected, and delivered back to Oregon's craft beverage producers to be refilled. By choosing beverages in refillable bottles, you help keep our air clean, our beaches, parks and roadsides litter-free, promote a circular economy, and set a model for future generations.
www.GiganticBrewing.com
About the Unipiper
Legends abound in Portland surrounding the antics of a unicycle riding, flame spewing bagpiper. Six times crowned as Portland's 'Best Local Celebrity', The Unipiper, also known as Brian Kidd, has become synonymous with the Rose City's offbeat sensibilities. With great power comes great responsibility however, and in 2019, as the city's unofficial ambassador of weird, The Unipiper fulfilled a longtime dream with the formation of Weird Portland United, the city's first nonprofit dedicated to Keeping Portland Weird. In recognition of his longtime contributions to Portland's craft beer scene, The Unipiper served as Grand Marshal of the 2019 Oregon Brewer's Festival where he was honored with the 'Spirit of Craft Brewing' award. When he's not wheeling around town, the Unipiper co-hosts a podcast about movies filmed in Portland, appropriately called 'Portland At The Movies'.
www.unipiper.com
About Weird Portland United
Founded in 2019 by Portland's Unipiper in an effort to curb the growing homogenization and sanitization of the city's image, Weird Portland United exists to discover, promote, and nurture the dreamers, creators, and risk-takers that keep Portland weird. Current and past initiatives include the establishment of the Weird Portland Hall of Fame, organization of Portland Weird Week, and hosting of many events such as Weird Portland Creatives, the Weird Portland Gala, and the Portlandia Mermaid Parade. In 2020, WPU awarded over $5000 in grants to Portland creatives through the #KeepWeirdAlive campaign.
www.weirdportlandunited.org