Gigantic + Upright Collaborate on Czech Your Cold IPA
|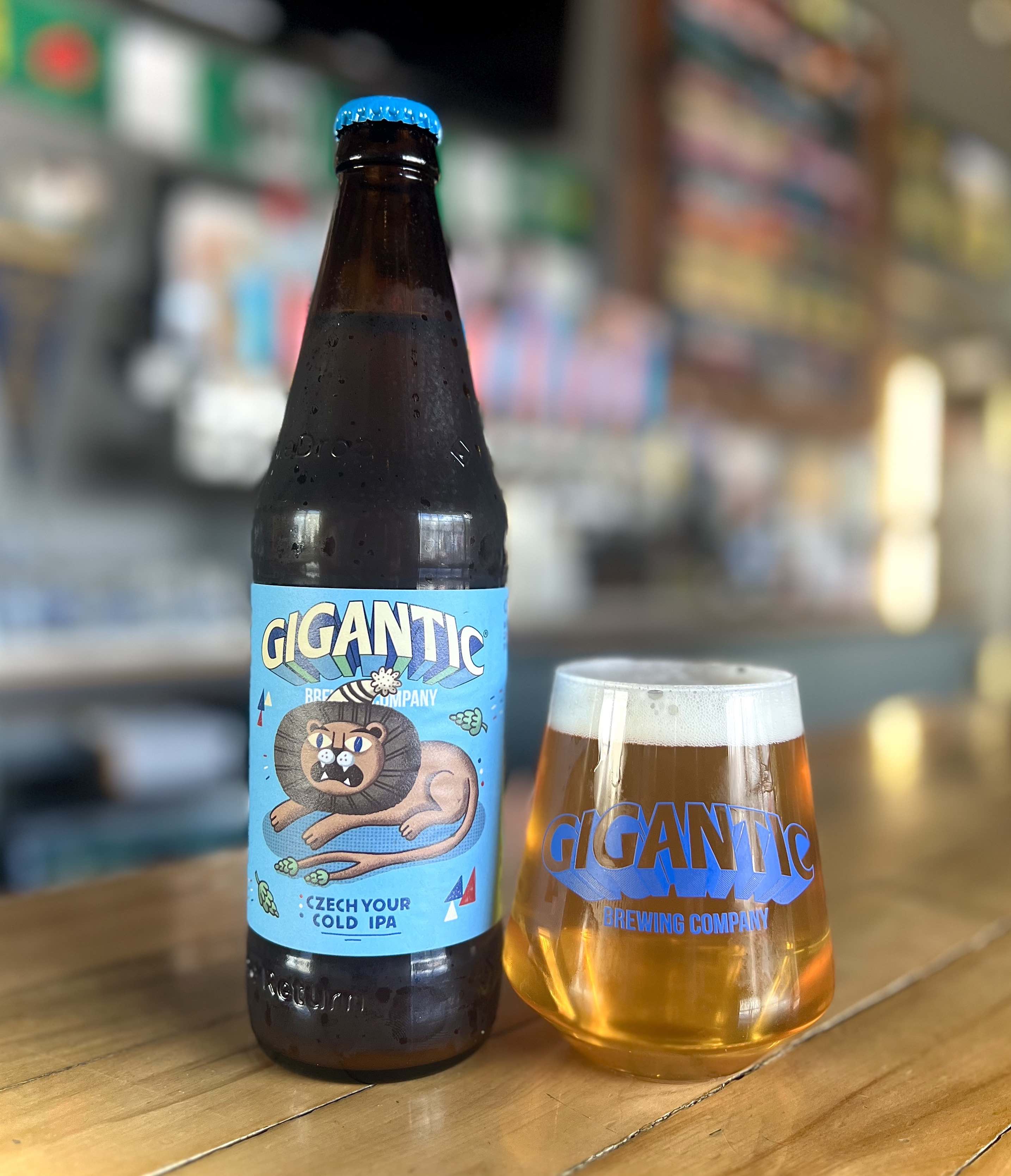 FOR IMMEDIATE RELEASE: Gigantic Brewing Company, with Upright Brewing Company, announces the release of Czech Your Cold IPA – a beer so clean, crisp and drinkable, you'll ask yourself, "Is this an IPA or a Pilsner?"  Upright founder Alex Ganum posed the question of what would happen if we brewed an Imperial Pilsner like an IPA. Would it be a cold IPA? Czech. A Pilsner? Czech. Grab your 'ushanka' and bundle up for an inverted journey around Cold IPA by two of Portland's most nonconforming breweries.
"We were having beers with Alex one day and talking about this collaboration and he just laid this on us. What if we did a cold IPA but made it backwards? Using a traditional pilsner recipe but making an IPA out of it," explains Van Havig.
Czech Your Cold IPA is a Czech Lager made like an ale.  It is a light bodied beer with hints of lemongrass, lemon peel, a quintessential hoppiness, and a subtle dry finish. We used 100% Bohemian pilsner malt to create a clean base, adding Czech Saaz hops and Oregon grown Mt Hood and Crystal hops to invoke the hoppy exuberance of West Coast IPAs. Whereas a standard cold IPA is an IPA brewed more like a lager, our beer is a lager brewed more like an IPA. If you asked us, "Do we like to brew IPAs or Pilsner?" Czech. Czech!
We had the pleasure of working with returning artist Ryan Bubnis on the Czech Your Cold IPA.  Ryan Bubnis is a multidisciplinary artist, illustrator, and educator based in Portland, Oregon. Bold, graphic and deceptively simple, Bubnis' imagery lives in the space between the abstract and representational. Equally influenced by DIY culture, art history, illustration, and design, he explores themes of memory, nostalgia, good vibes, and the human condition. Bubnis has collaborated with a number of commercial clients and agencies and his work has been exhibited across the U.S. and abroad. He is currently an Assistant Professor at The Pacific Northwest College of Art.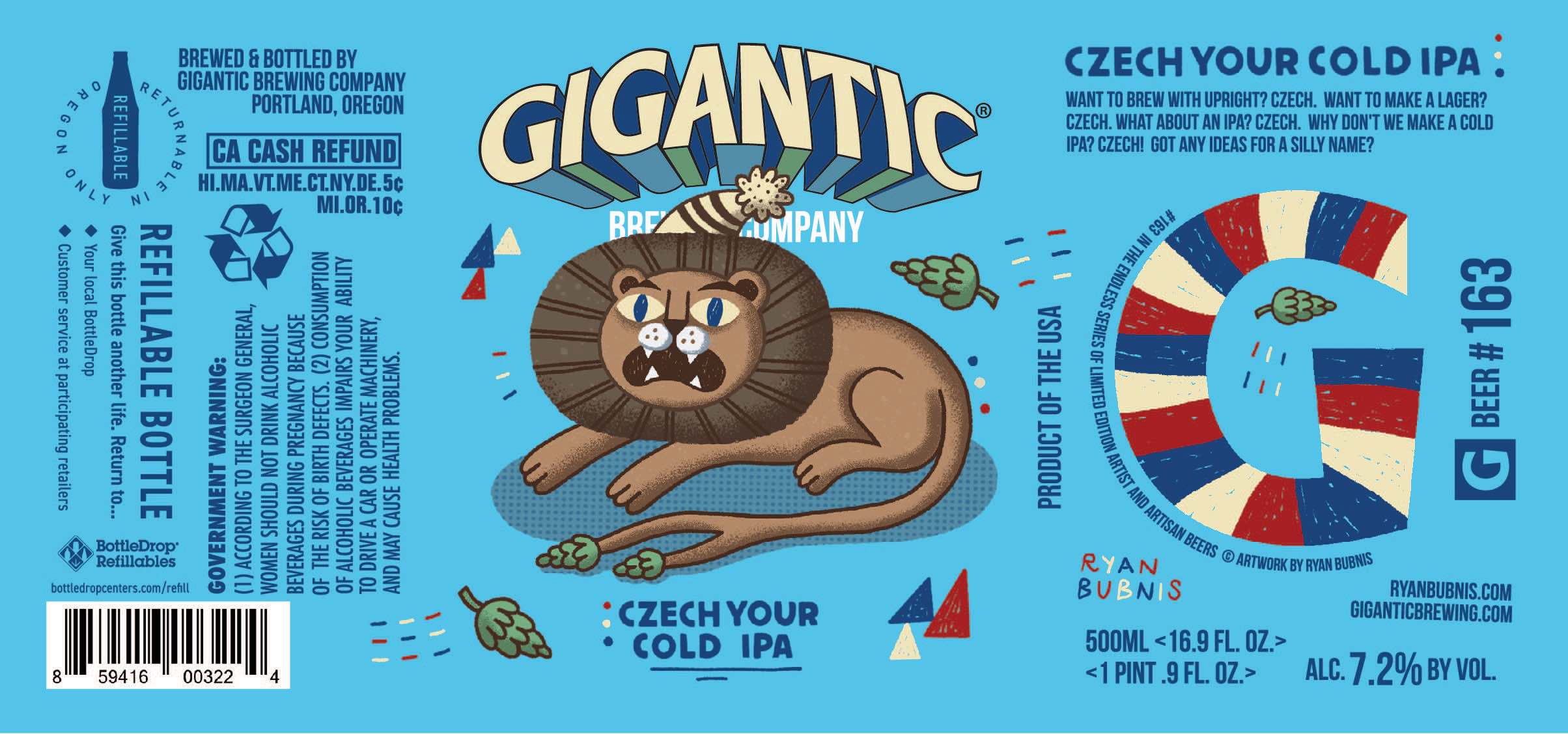 Czech Your Cold IPA is available on tap and in refillable bottles at The Gigantic Brewery (5224 SE 26th), Hawthorne Pub (4343 SE Hawthorne Blvd) and Robot Room (6935 NE Glisan). Look for Czech Your Cold IPA on draft and in refillable bottles at finer grocers, bars, bottle shops and bodegas in the Portland metro area and throughout Oregon.
As always, Gigantic beer is packaged in BottleDrop Refillable bottles. BottleDrop Refillables are sorted, washed, inspected, and delivered back to Oregon's craft beverage producers to be refilled. By choosing beverages in refillable bottles, you help keep our air clean, our beaches, parks and roadsides litter-free, promote a circular economy, and set a model for future generations.