Goose Island Beer Co. 2020 Bourbon County Stout Release
|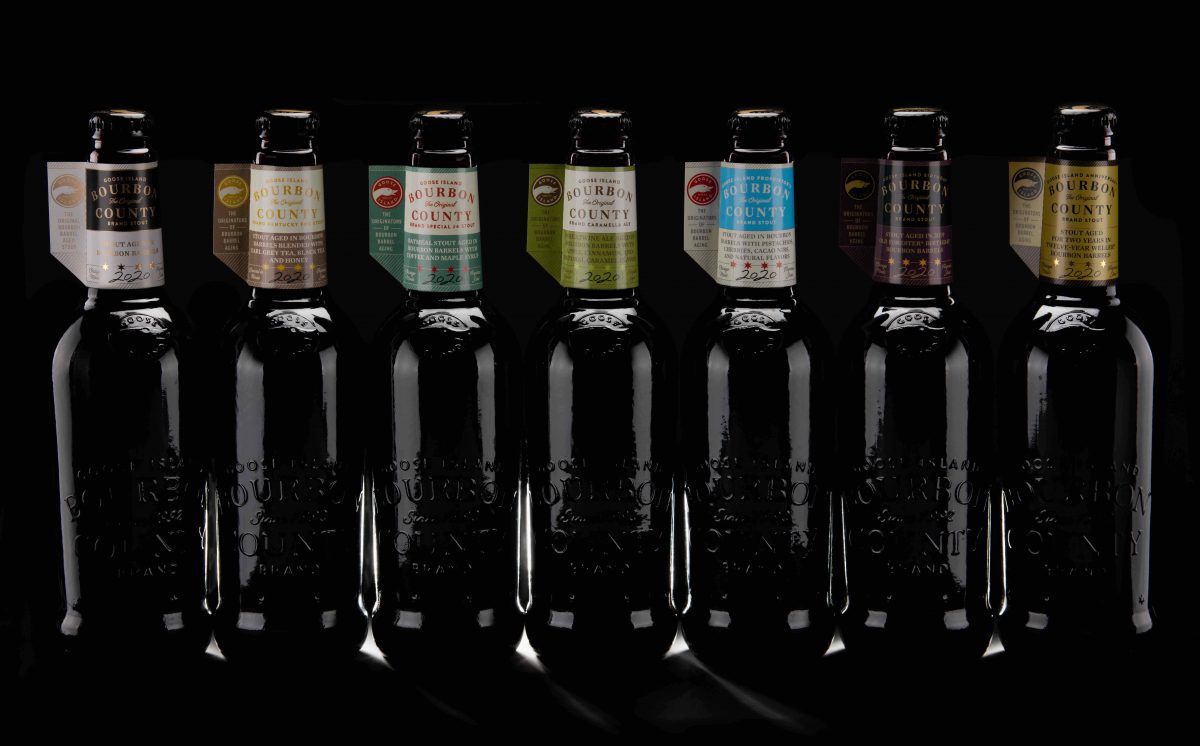 The most well-known barrel-aged beer, Bourbon County Stout from Goose Island Beer Co., officially hits store shelves today on its annual release day of Black Friday. This year marks the tenth anniversary of the Goose Island promoting Black Friday as the official release date of the World Class Beer according to BeerAdvocate. Now many additional breweries have taken this idea to also market their own barrel-aged beers on Black Friday.
To help its fans get through the crazy year that we have all experienced. Goose Island releases seven variations of Bourbon County Stout. The available variants for 2020 include Bourbon County Stout, Bourbon County Kentucky Fog Stout, Bourbon County Special #4 Stout, Bourbon County Caramella Ale, Proprietor's Bourbon County Stout, Birthday Bourbon County Stout, and Anniversary Bourbon County Stout.
As with other years, only a handful of these beers will see distribution outside of Chicago, the home of Goose Island. It appears that the Portland, Oregon market with have the original alongside Bourbon County Kentucky Fog Stout, Bourbon County Special #4 Stout, and Bourbon County Caramella Ale.
"This year's Bourbon County Stout lineup is special because it marks a milestone that we are particularly proud of, the 10th anniversary of our namesake Black Friday release," said Todd Ahsmann, President, Goose Island Beer Co., in a statement. "Back in 2010 we had no idea the impact our Bourbon County Stout release on Black Friday would have on the craft beer community, and today we are proud of the tradition it's become. Cheers to our fans and those who have been with us all of these years!"
Here are descriptions on each of the seven varieties of 2020 Bourbon County Stout as provided by Goose Island Beer Co.
Bourbon County Stout: ​The Original Bourbon Barrel aged Imperial Stout. Our primary focus every year is to make this beer the best that it's ever been, with the best ingredients, which includes the finest of bourbon whiskey barrels.​ ​This year's Bourbon County Stout is aged in a mix of bourbon barrels from whiskey distilleries like Buffalo Trace, Heaven Hill Distillery and Wild Turkey. Barrel-aged for a year to develop the complexity that only time can provide, Bourbon County Stout boasts a unique blend of flavors such as fudge, vanilla and caramel — topped off with a rich, complex mouthfeel.
Tasting Notes:​ Cocoa, fudge, vanilla, caramel, almond, plus leather and tobacco
Bourbon County Kentucky Fog Stout: ​Pinkies up ​– we're excited to debut our first-ever tea-inspired variant. Brewer Paul Cade brought this idea to life, inspired by his girlfriend, Martha, who prefers tea over coffee. Our Bourbon County Kentucky Fog Stout is a take on the London Fog tea drink. With that flavor profile in mind, we added Earl Grey Tea and Black Tea from Kilogram Tea, as well as clover honey from The Honey House, to make a Bourbon County Stout variant with a complexity like none before. Trust us, you'll just have to try it. This variant brings a new meaning to ​I'm a little teapot short and "stout".
Tasting Notes: ​Black licorice, white pepper, citrus, florals, graham cracker
Bourbon County Special #4 Stout: ​Bourbon County Special #4 Stout is an oatmeal stout variant of our original Bourbon County Stout recipe, also aged in bourbon barrels, that uses crystal oats to add a nutty character, as well as a smooth mouthfeel. After barrel aging, we add Intelligentsia Coffee, both their cold coffee ​and​ single origin coffee beans from Ethiopia, called "Metad Buku," bringing out a pleasant fruity coffee character. Lastly bourbon barrel-aged maple syrup from Bissell Maple Farm in Ohio is added which provides complexity to the nutty oats and coffee to round out the flavors, ultimately reminiscent of your breakfast 'special' at the local diner.
Tasting Notes:​ Coffee, vanilla, toasted nuts, cocoa, maple
Bourbon County Caramella Ale: ​Caramella or 'candy' in Italian is a wheatwine aged in Larceny Wheated Bourbon barrels with apple, cinnamon, and natural caramel flavor added after aging. Just like last year, the sweet smoothness from the Larceny Wheated Bourbon barrels adds a lingering warmth that complements the added flavor nuance. Its nostalgia-inducing flavors are reminiscent of a caramel apple. Our Lab Tech, Joey Tidei, created this variant as a tribute to his love of seasonal flavors. This luscious embodiment of caramel perfectly paired with a slightly-tart apple flavor will transport you to a crisp autumn day.
Tasting Notes: ​Creamy caramel, red apple, cinnamon, funnel cake
Proprietor's Bourbon County Stout: ​This year's Proprietor's Bourbon County Stout was inspired by third-generation Italian American brewer Emily Kosmal's love of spumoni, a classic Italian frozen treat. Spumoni is a tri-colored frozen dessert that contains candied fruit and nuts between each layer, historically including flavors such as pistachio, cherry and chocolate. Blended with fresh pistachios, cacao nibs, candied Amarena cherries, and natural vanilla flavors, the 2020 Proprietor's Bourbon County Stout is incredibly complex and layered with cocoa, nut, and dark fruit notes with hints of vanilla and oak. Emily, who also created the concept for 2016 Proprietor's, is our first brewer to have two Proprietor's concepts picked for release.
Tasting Notes: ​Cocktail cherry, pistachio, dark chocolate, vanilla, oak
Birthday Bourbon County Stout:​ We partnered with the Old Forester Brand and paired Bourbon County Stout with barrels from one of the world's most sought-after bourbons – Old Forester Birthday Bourbon. The limited-edition bourbon, released each year on the founder George Garvin Brown of Brown-Forman's birthday, is made in hand-selected 11-year old barrels and chosen from one specific day of production – resulting in flavor profiles that vary every year and never replicated. Old Forester's tasting notes for the 2019 Birthday Bourbon are: "Rich oak spice and blackcurrant coupled with light maple, caramel cake, and white floral notes." This year's Birthday Bourbon County Stout is a truly unique variation that is a must-have for bourbon and beer lovers alike.
Tasting Notes: ​Chocolate, vanilla, maple, berry, cinnamon
Anniversary Bourbon County Stout: ​Anniversary Bourbon County Stout is aged 2 years in Weller 12 Year barrels and is a special variant this year to celebrate Goose Island's 10-year tradition of releasing Bourbon County Stout on Black Friday. The Weller brand is one of the most universally loved collections in all of bourbon, with Weller 12 Year being one of the hardest to get and most sought after. Our Original Bourbon County Stout is aged in 4-5 year old barrels for one year, so the added age of these Weller barrels, paired with an extra year of the beer in the barrel, adds stronger barrel flavors and notes of dried dark fruit.
Tasting Notes: ​Chocolate, bourbon, vanilla, burnt sugar, oak, dried dark fruit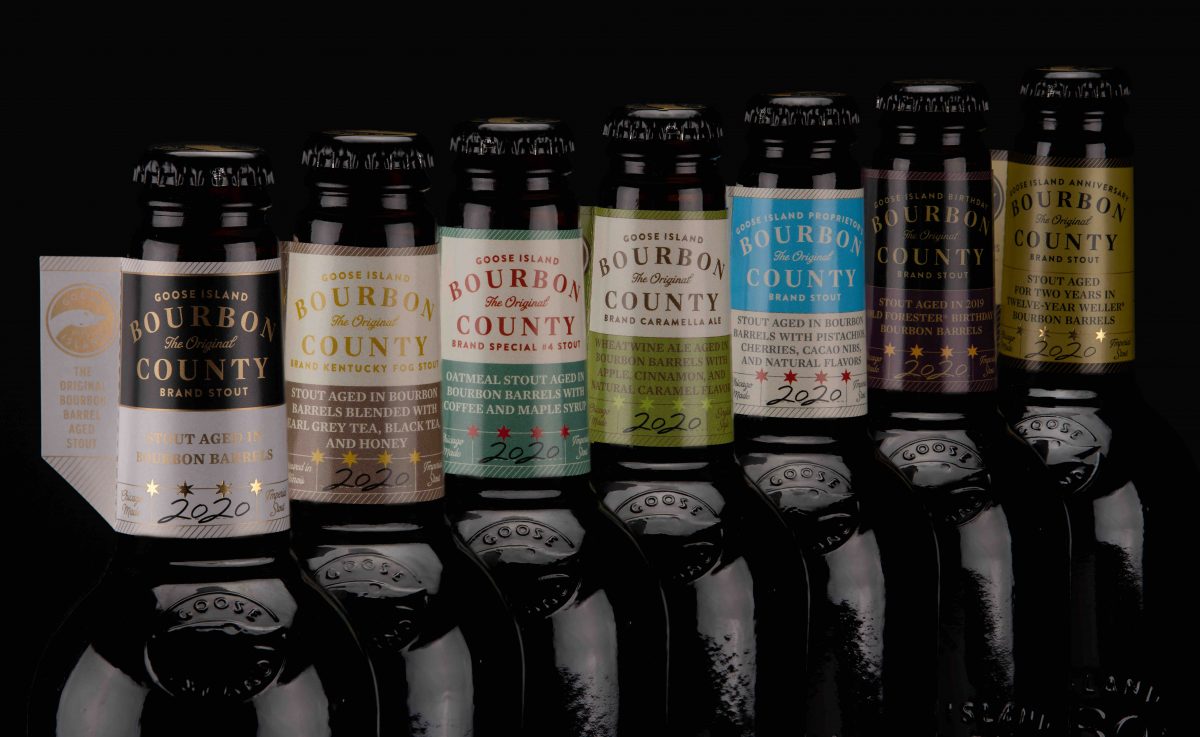 "When we set out to develop the Goose Island Bourbon County Stout lineup, our fans are always top of mind as we hope to continue to exceed their expectations; providing not only the best barrel-aged stout out there, but pushing ourselves to create a lineup that is unparalleled," said Keith Gabbett, Brewmaster, Goose Island Beer Co., in a statement. "This year's release continues in that tradition and we hope you enjoy it, cheers!"