Groundwork Coffee & Burnside Brewing Collaborate on Wau, Nessie Coffee Wee Heavy Ale
|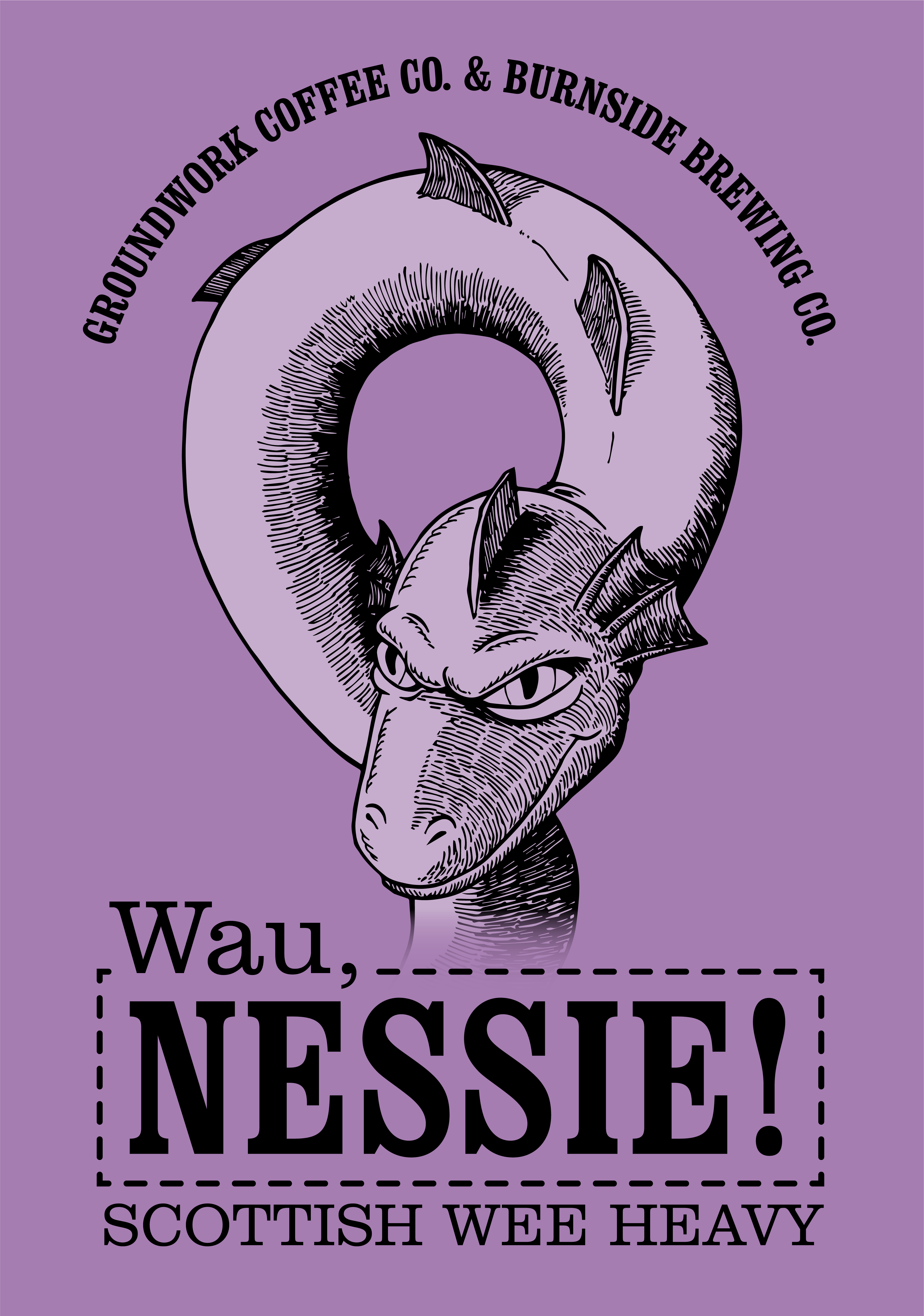 The second release in the Brewers Series from Groundwork Coffee will see the coffee roaster collaborating with Burnside Brewing on Wau, Nessie! – Coffee Wee Heavy Ale. This new coffee beer features Groundwork's organic single origin Papua New Guinea roast from the Wau Co-Op. Wau Nessie will be available at Burnside Brewing on January 31st.
Here are additional details from the press release…
The name "Wau, Nessie!" is a reference to both the Papua New Guinea Wau Co-Op from which this coffee is sourced, and the Scottish origins of Wee Heavy style ales, as well as a nod to another Burnside beer the Groundwork team loves, the 'Woah Nelly'.
Also known as "strong Scotch ale," a Wee Heavy (or "small strong") is rich, malty, and usually caramel-sweet, suggestive of a dessert without being cloying or syrupy. The Burnside Brewing team has balanced this style with Groundwork's Papua New Guinea medium roast coffee, which has notes of cocoa nibs, pipe tobacco, dry spice, and tart cherries, for a delicious and unique coffee beer.
Wau Co-Op in Papua New Guinea is part of the Monpi Sustainable Services organization. Formed in December 2008, Monpi Sustainable Services contributes to sustainable livelihoods by providing training on the best agricultural, environmental, social, and healthcare practices in its coffee-growing communities. In this way, Monpi contributes to improving the quality of life for its coffee producers.
As part of Groundwork's mission to help build and support its community locally and globally, during the first week of each new collab beer's launch, $1 for every coffee beer sold at that brewery will be donated to Café Femenino Foundation, an independent nonprofit organization that funds community betterment grant requests proposed and managed by women in coffee-producing regions around the world. For every "Wau, Nessie" beer sold at Burnside Brewing from January 31st to February 7th, $1 will be donated to the Café Femenino Foundation!
Each of the collaboration beers in the series feature a different Groundwork organic coffee roast chosen by the brewers, and featured in a style of beer that's not typically combined with coffee. The first collaboration beer of the series was a Coffee and Cream Ale made by Stormbreaker Brewing called"MOCABE Lo Sabe" featuring Groundwork coffee from Mexico's MOCABE Organic Farmer Co-Op. 304 pints of MOCABE Lo Sabe were sold during its launch week in December, resulting in a total $304 donation to Café Femenino Foundation from Groundwork and Stormbreaker!
I've attached the graphic for the Burnside Brewing "Wau, Nessie!" Groundwork Coffee Wee Heavy Ale if you'd like to share with your readers! The beer will be available at Burnside Brewing starting January 31st while supplies last, but we encourage folks come taste the beer during its launch week, January 31st to February 7th!