Guinness Releases Its First Barrel-Aged Stout – Guinness Stout Aged in Bulleit Bourbon Barrels
|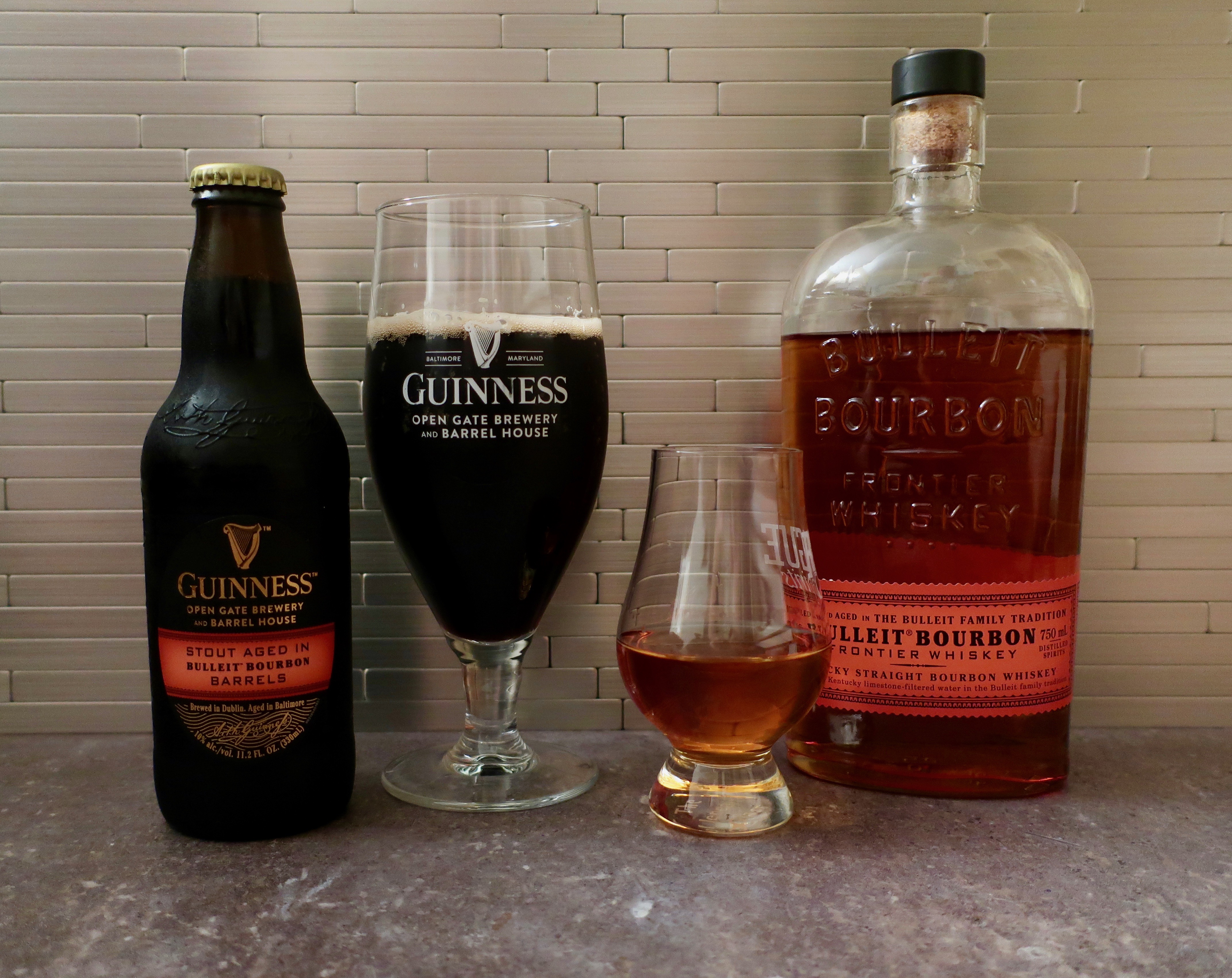 On its latest release Guinness keeps it all in the family with its very first distributed barrel-aged beer release. Guinness Stout Aged in Bulleit Bourbon Barrels is truly a transatlantic beer.
Across the pond in Dublin, Ireland, Guinnes brewed its Guinness Antwerpen Stout and then sent it to Guinness' new Open Gate Brewery & Barrel House located in Baltimore, Maryland. There the Antwerpen Stout was added to barrels that were once home to Bulleit Bourbon, one off the many distillers in the Diageo spirits portfolio.
Guinness opened the new Open Gate Brewery & Barrel House earlier this year in the former Maryland Distilling Company, a post-prohibition distillery that opened in 1933 and was shut down in recent years. Now the iconic brewer from Dublin is beginning to experiment with its beers just as its American counterparts have been doing for the past twenty or so years.
"Our story as brewers began more than 250 years ago in Dublin, and those Irish roots will absolutely always be a key part of who we are, but beer has evolved in so many ways since then," said Brand Director, Emma Giles in a statement. "It's hard to deny that the U.S. is the center of the universe as far as beer innovation is concerned. Now that we have a permanent home here with some of the most talented brewers the country has to offer, the potential to blend our brewing expertise with American creativity is virtually endless."
For its first barrel-aged beer release for the States, Guinness had a long list of its Diageo distillery partners to choose from. The brewers at Guinness ended up choosing to go with Bulleit Bourbon. What led them to Bulleit was the strong toffee and caramel notes from the barrels that would help balance out the bittersweet profile of the Antwerpen Stout. The stout was then aged for eight months in these Bulleit Bourbon barrels.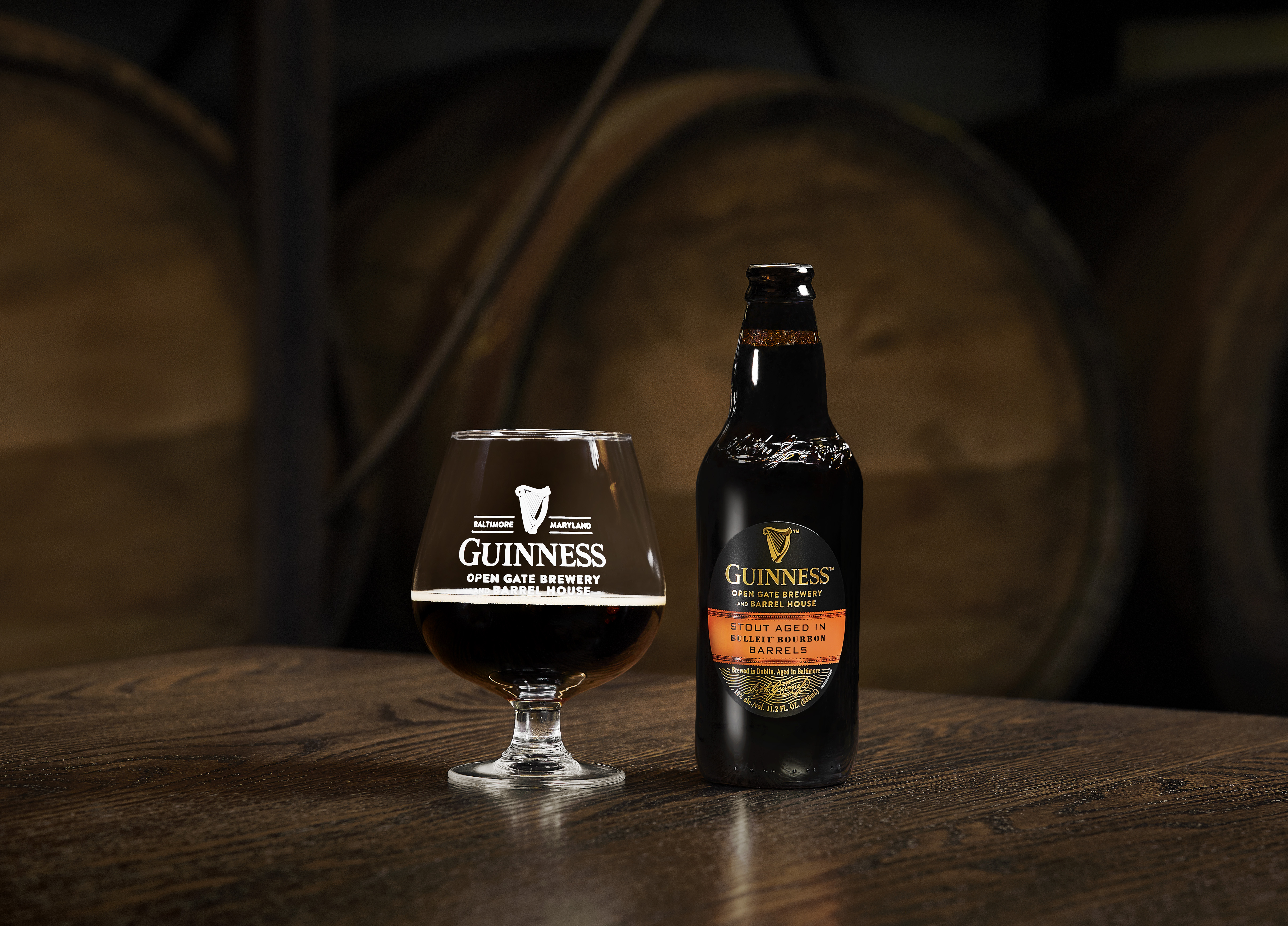 Guinness Stout Aged in Bulleit Bourbon Barrels pours a dark, jet black appearance that flickers with a slight hint of red in direct lighting. Aromas of oak and chocolate are prevalent at first and when the beer warms up a bit, notes of vanilla come forth. Then flavors of chocolate, caramel, oak and a bit of bourbon come through on the taste. At 10% ABV, up from the base beer's 8% ABV, this barrel-aged stout is very mellow on the noticeable presence of any alcohol warmth. Definitely a barrel-aged beer meant to drink now or could also be cellared for a few years.
"The best part about barrel-aging any beer is that you get the chance to pull the flavors of the wood and liquid previously aged in it," said Senior Brewer at the Open Gate Brewery & Barrel House, Sean Brennan in a statement. "We've already started to think about what we'll be experimenting with next, but we couldn't be more pleased with our first go at using barrels from our friends at Bulleit. This beer is something special, and one to be sipped slow and savored."
Guinness Stout Aged in Bulleit Bourbon Barrels will be available in very limited supply across the United States in 4-pack, 11.2 ounce bottles for a suggested retail price of $19.99. The barrel-aged beer will also be on tap at the Open Gate Brewery & Barrel House until the end of the year.