Hop Valley Brewing Honors The Tiger King with Stash Exotic Hazy Blonde Ale
|
What began as an April Fool's Day joke is now a reality as Hop Valley Brewing has followed through on the fun it posted on brewing a beer inspired by the Tiger King himself, aka Joe Exotic.
On April 1st, Hop Valley Brewing posted on Instagram that it was set to brew a beer named Stash Exotic Bleach Blonde Ale that's "as golden bright as a fresh dye job and brewed with flavor strong enough for a Bengal tiger. By the last sip, you may have even solved a murder mystery or bought a jet ski". The Molson Coors owned Hop Valley hadn't planned on brewing a beer that honors the main character from the Netflix docu-series Tiger King, but the fan response was too positive to say no.
Now a few months later the beer with a slightly different name, Stash Exotic Hazy Blonde Ale is now available in Oregon, Washington, Idaho, and California. As part of the Stash Family from Hop Valley Brewing, Stash Exotic uses Cryo Hops that have a long history at the Eugene based brewery. Nine years ago in 2011, Hop Valley brewed Bubble Stash, a beer that used the lupulin powder or what is better known as the fine dust that is a byproduct from the pelletizing hops. The experiment from the Hop Valley brewers proved successful and Yakima Chief ended up marketing this concentrated hop powder that is packed with aromatics and juicy flavors without the bitterness as Cryo Hops.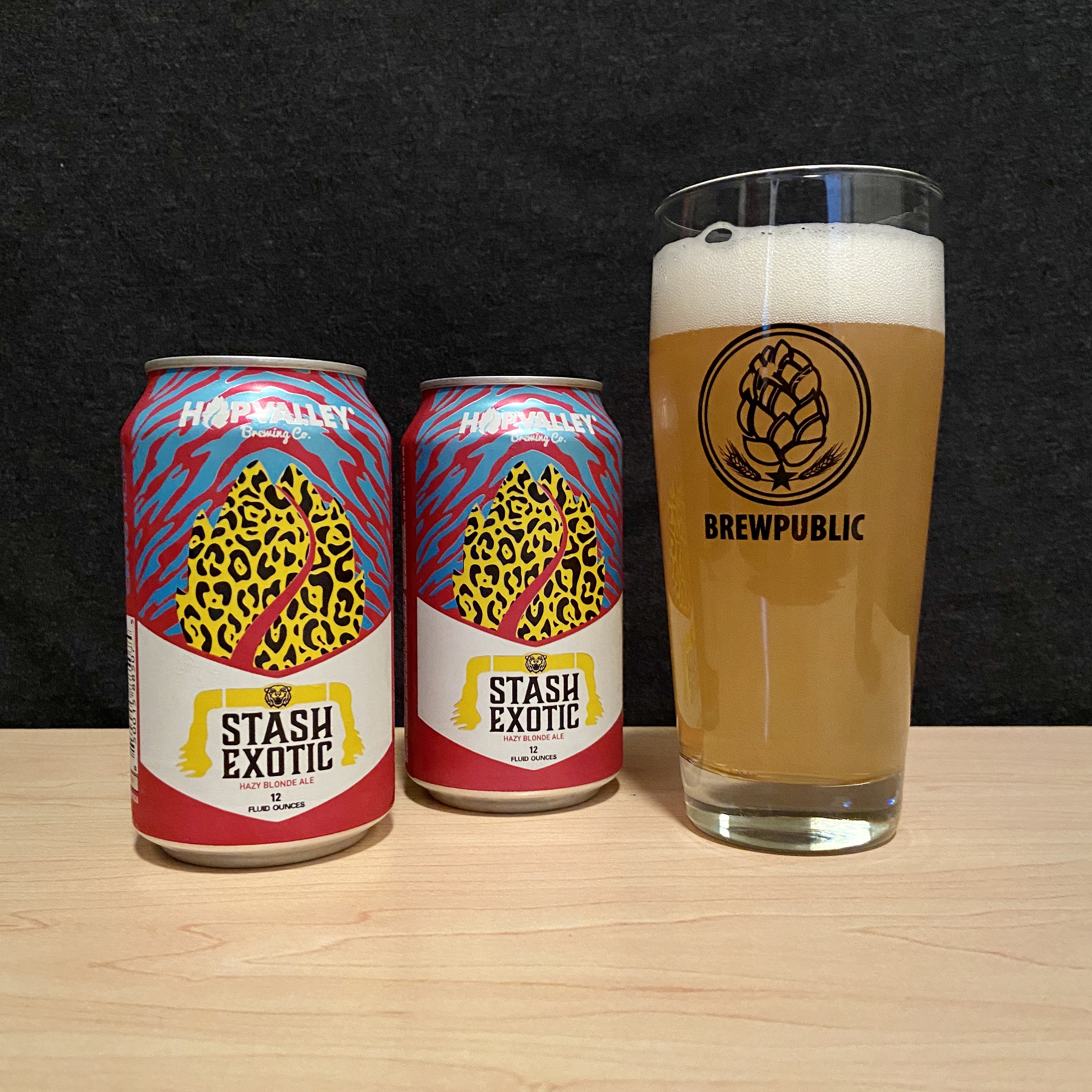 Being fans of Cryo Hops we were excited to try this new offering from Hop Valley. Stash Exotic pours a bright golden color that's unfiltered but much less turbid than other hazy beers in the marketplace. Since it's a member of the Stash Family, this one uses both Cascade and Willamette Cryo Hops. These hops bring forth smooth tropical flavors without any lingerin bitterness. Definitley a crushable beer that's a sessionable 4.5% ABV and 20 IBUs
A portion of proceeds from every Stash Exotic Hazy Blonde Ale sold will be donated to Oregon Wild, a conservation group that works to protect and restore wildlands, wildlife and waters.
Stash Exotic is available in 6-pack, 12oz cans and on draft throughout the Hop Valley Brewing distribution network. To better locate Stash Exotic or any other Hop Valley beer, use the Hop Valley Beer Finder by clicking here.