Hop Valley Brewing Releases Triple Double Imperial IPA Pack
|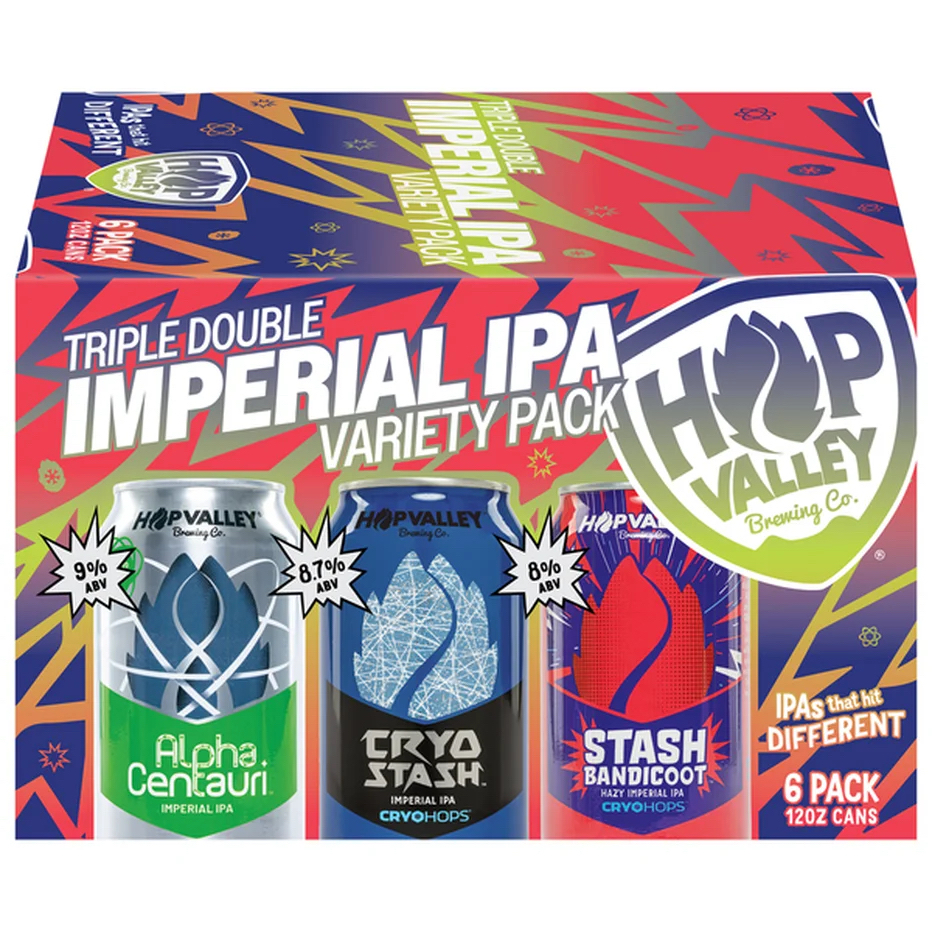 The beer aisle is full of 12 beer variety packs but finding a variety pack in a six-pack format poses a challenge. It may be the labor it takes to put a 12-pack together isn't much more than what it takes to put a 6-pack together so the brewery chooses the larger format.
However, for those looking to sample a few beers from the same brewery, Hop Valley Brewing is now offering its Triple Double Imperial IPA Variety Pack in a convenient 6-pack format. This pack features two, 12oz cans each of Stash Bandicoot Hazy IIPA, Cryo Stash Imperial IPA, and Alpha Centauri Imperial IPA. And did we mention these beers range from 8% to 9% ABV?
Triple Double Imperial IPA Pack:
Stash Bandicoot Hazy IIPA
Stash Bandicoot packs a punch with our stash of Citra®, Ahtanum®, and Chinook Cryo Hops®. Discover a juicy jungle with notes of apricots and red berries in this Hazy Imperial IPA. 8% ABV 61 IBUS
Cryo Stash Imperial IPA
Cryo Stash brings the power of imperial and intensity of Cryo Hops® to an incredibly smooth ale that will saturate your senses with passion fruit, mango, and orange hop character that's balanced by a candied cracker malt goodness. 8.7% ABV 40 IBUs
Alpha Centauri Imperial IPA
Big flavor, intense pine and citrus aromas dominate this brew. We keep the malt profile clean in this Imperial IPA to let the love lights shine on the fine NORTHWEST hops. 9% ABV 100 IBUs
To learn more about these three IPAs that are part of Triple Double Imperial IPA 6 Pack, visit hopvalleybrewing.com.