Hopworks Lets The Dogs Out With Sunset Fuel IPA Release Party
|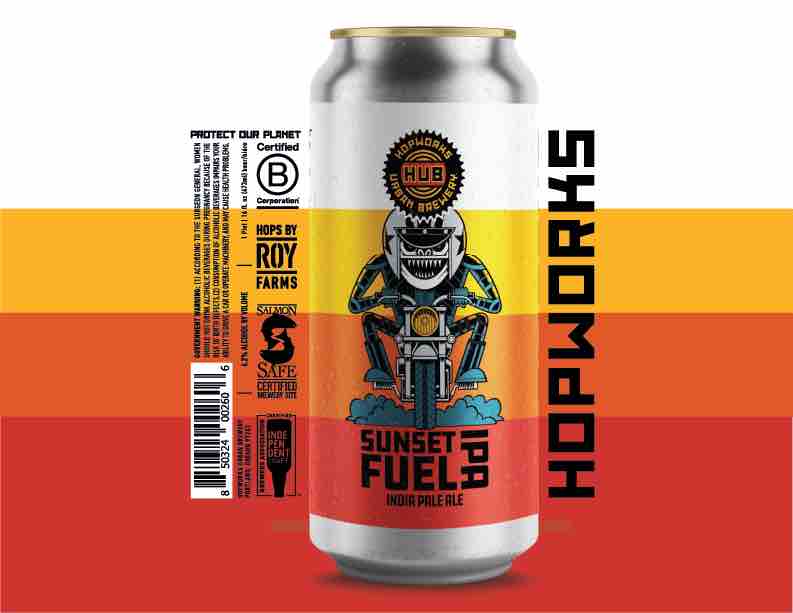 PORTLAND, Ore. Jun. 14, 2021 —Hopworks Urban Brewery (HUB), the first B Corp brewery in the Pacific Northwest, is releasing Sunset Fuel IPA on Wednesday June 16, 2021, alongside a 5:00 PM Dog Happy Hour event at both their Powell Mothership and HUB Vancouver locations.
The Dog Happy Hour event kicks off a partnership with Portland Pet Food Company and the dog biscuits they make using Hopworks' spent grain. Starting June 16, Hopworks will carry the biscuits throughout the summer and donate 100% of profits to benefit PAW Team, a local nonprofit that provides veterinary care to the pets of people experiencing houselessness or extreme poverty. The Dog Happy Hour will run from 5:00 PM to 7:00 PM and feature a dog photo booth, happy hour beer pricing for guests who bring their pets, and a booth to learn more about PAW Team's mission.
"We're stoked to partner with PAW Team and Portland Pet Food Company this summer," said Matt Sutherland, Brand Manager at Hopworks. "What better way to release a beer than with tons of dogs, sustainable dog biscuits, and a nonprofit partner that does incredible work for the community?"
The Dog Happy Hour will also take place at HUB Vancouver the same evening, however with no photo booth.
Sunset Fuel IPA is available on tap and in 16 oz. 4-packs ($12.00) at both the Powell Mothership, 2944 SE Powell Blvd. in Portland, and HUB Vancouver, 17707 SE Mill Plain Blvd., Vancouver, Washington.
Sunset Fuel IPA
With a hoppy nose of tropical fruits and fresh-squeezed oranges, this sunset sipper is round-bodied with notes of pinesap, ripe mangos, and creamsicle. 6.2% ABV. 20 IBU.
About Hopworks Urban Brewery
Founded in Portland, Oregon, in 2008 by Christian and Brandie Ettinger, Hopworks Urban Brewery creates world-class beer and food with sustainable business practices that protect the environment and support our community. Family-owned and operated, Hopworks sources thoughtfully, operates efficiently and minimizes waste in an effort to protect the planet. The company's 20-barrel brewery produces 10,000 barrels of beer a year for Hopworks' brewpubs and distribution throughout Cascadia. Hopworks is the first Certified B Corporation brewery in the Pacific Northwest. HopworksBeer.com | @hopworksbeer