Hopworks Releases Fresh Hop Ace of Spades IIPA & Fresh Hop Downstream IPA
|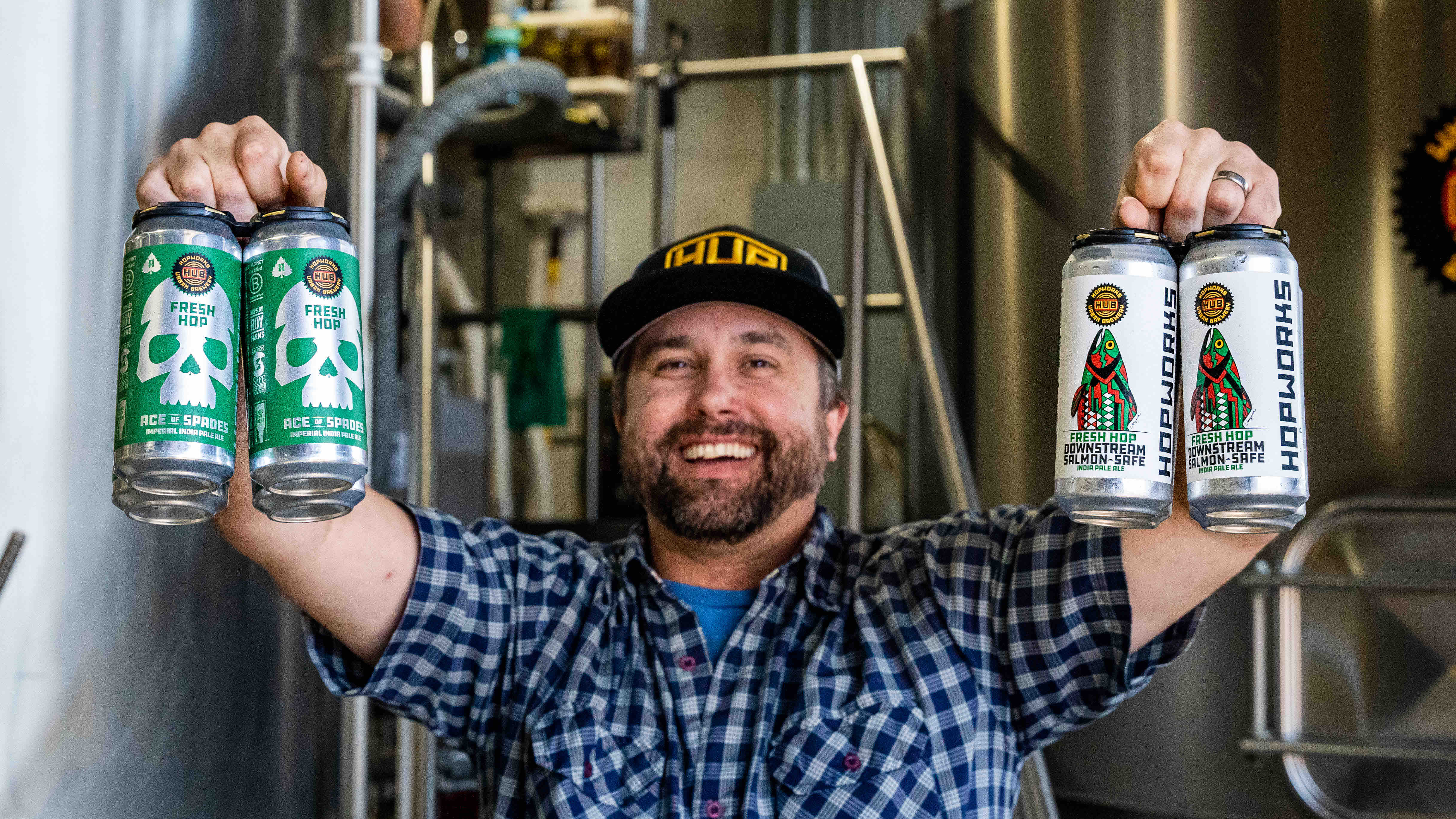 PORTLAND, Ore. — September 17, 2021 —Hopworks Urban Brewery (HUB), the first B Corp brewery in the Pacific Northwest, has released its final two fresh hop beers for the season. Brewed with local malt from Mainstem Malt and local hops from B Corp Roy Farms, Fresh Hop Ace of Spades was given an addition of fresh Strata hops and Fresh Hop Downstream Salmon-Safe IPA with fresh Centennial hops.
"It's bittersweet to be wrapping up fresh hop season, but this is a super tasty end!" said Matt Speckenbach, Head Brewer at Hopworks. "I love both of these beers, but as a West Coast IPA, Downstream is a beautiful example of sustainability and flavor working hand-in-hand, with 100% Salmon-Safe hops and malt bill brewed on our Salmon-Safe brew site."
Fresh Hop Ace of Spades IIPA and Fresh Hop Downstream IPA are available at Hopworks brewpubs in 16 oz 4-packs and on draft. 16 oz 4-packs and draft will also be available at select independent bottle shops, gourmet grocery stores, and taphouses.
Fresh Hop Ace of Spades IIPA
This fresh hop beast is hopped out with fresh Strata on top of Cascade, Centennial, Simcoe, Mosaic, and Amarillo hops to balance beautiful citrus notes, a dank fresh hop addition, and a clean malt bitterness. 8.6% ABV. 100 IBU.
Fresh Hop Downstream IPA
This West Coast IPA is hit with fresh Centennial hops, giving it a melony aroma and fruity flavor that balances a crackery malt backbone. 7.0 ABV. 70 IBU
About Hopworks Urban Brewery
Founded in Portland, Oregon, in 2008 by Christian and Brandie Ettinger, Hopworks Urban Brewery creates world-class beer and food with sustainable business practices that protect the environment and support our community. Family-owned and operated, Hopworks sources thoughtfully, operates efficiently and minimizes waste in an effort to protect the planet. The company's 20-barrel brewery produces 10,000 barrels of beer a year for Hopworks' brewpubs and distribution throughout Cascadia. Hopworks is the first Certified B Corporation brewery in the Pacific Northwest. HopworksBeer.com | @hopworksbeer