Hopworks Urban Brewery Releases Walla Walla Wheatwine
|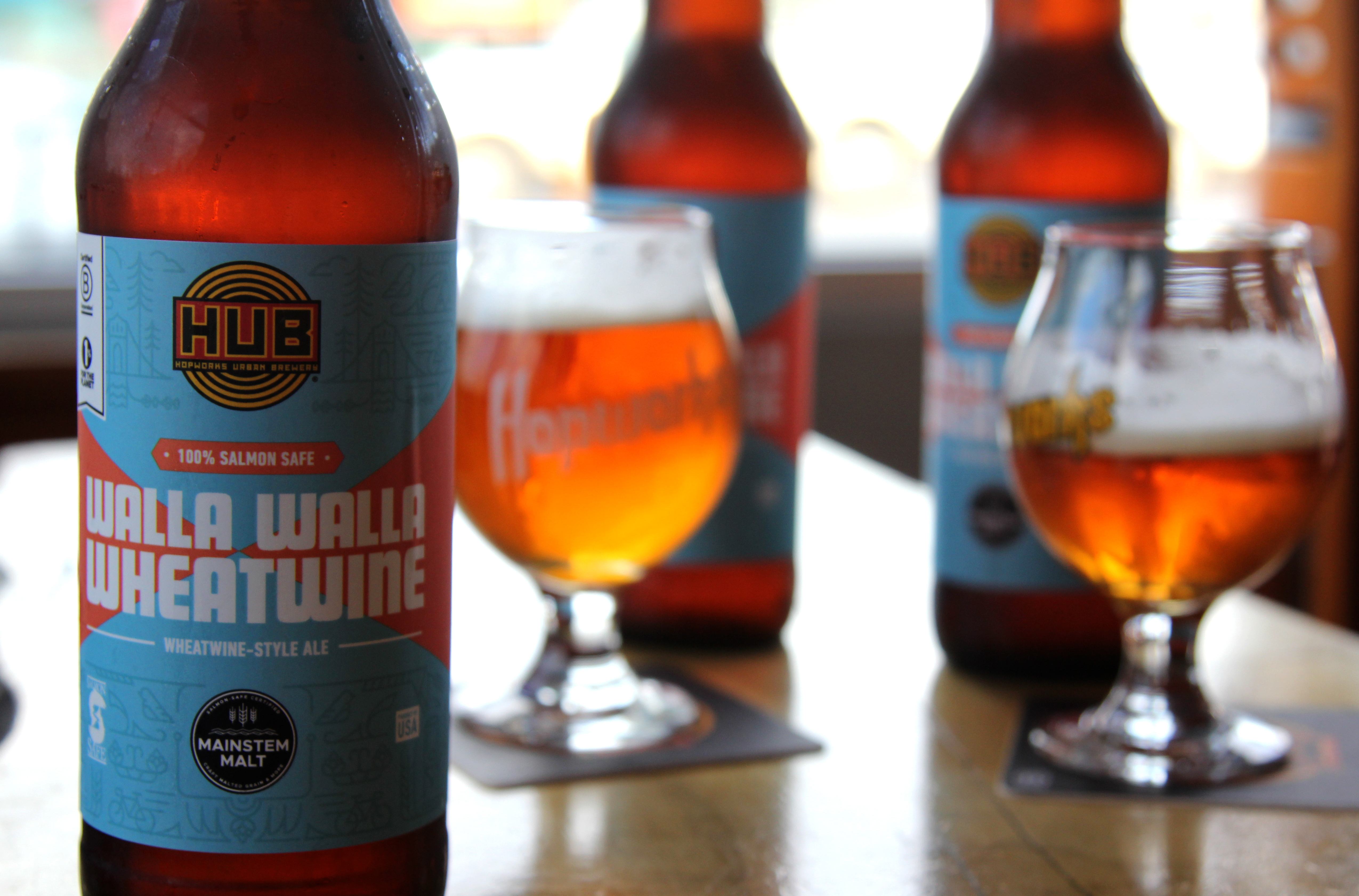 In 2018 Hopworks Urban Brewery is launching its new Win-Win Series of beers. The first release is Walla Walla Wheatine, a new limited release beer that sees HUB partnering with Mainstream Malt from Walla Walla, Washington. Walla Walla Wheatwine is currently available on draft and in 22-ounce bomber bottles at all HUB pubs.
Here are additional details from the brewery's press release…
The Win-Win Series is born from the goal to experiment with flavors while highlighting Hopworks' strong relationships formed over the last decade with businesses focused on sustainability. Each beer in the series features ingredients from businesses that share HUB's commitment to protecting the environment. Craft beer fans and eco stewards can take part in this win-win scenario by picking up a new limited-edition partner beer each month throughout 2018.
The partner business for Walla Walla Wheatwine is the nation's first supplier of Salmon-Safe certified malt — Mainstem Malt in Walla Walla, Washington. Brewed with 100% Salmon-Safe ingredients including wheat and barley from Mainstem, Mt. Hood and Crystal hops, and HUB's fruity yeast strain, this full-bodied beer can be enjoyed now or cellar aged. At 10% ABV, this complex wheatwine-style ale has a smooth mouthfeel and rich, bready flavor.
Upcoming Win-Win beers will also feature tasty flavor profiles from sustainably sourced ingredients. Morning Vibes Imperial Latte Stout will be released on February 1. It features organic coffee from B Corp™ coffee roasters, Nossa Familia Coffee.
"It has always been our goal to make world-class beer, as sustainably as possible," said HUB Brewmaster and Founder, Christian Ettinger. "The new Win-Win partnership helps us shine a spotlight on special ingredients and great companies who want to make a positive impact on the planet. As someone who spends time in the great outdoors where salmon depend on clean water and a healthy ecosystem to thrive, Walla Walla Wheatwine holds special meaning. It is great to make great beer and do good at the same time."
"Mainstem Malt supports supply chain water conservation and rural development efforts with its high-quality, single-origin malt. It's an honor to see our products flow so beautifully into this Walla Walla Wheatwine," said Phil Neumann, Mainstem founder. "The dry-farmed grain bill boasts Walla Walla wheat from H.T. Rea Farms and Athena barley from Johns Ranch. When folks drink this beer, they support two family farms using Salmon-Safe water conservation practices for landscape-scale change. Cheers to HUB and the next 11 eco-champions!"
"We are thrilled that Hopworks is kicking off the Win-Win Series with this special cellar-worthy Salmon-Safe beer. Walla Walla Wheatwine is the first packaged beer brewed with 100% Salmon-Safe ingredients," said Dan Kent, Salmon-Safe Co-Founder and Executive Director. "What makes it even more special is it is brewed in Portland, the first city in the world to achieve the third-party designation for its systematic approach to improving water quality and restoring salmon habitat."
To learn more about 1% for the Planet and how to get involved, visit: http://www.onepercentfortheplanet.org/index.php. For more information about Salmon-Safe, visit: http://www.salmonsafe.org