Hopworks Urban Brewery to Release Three Fresh Hop Beers
|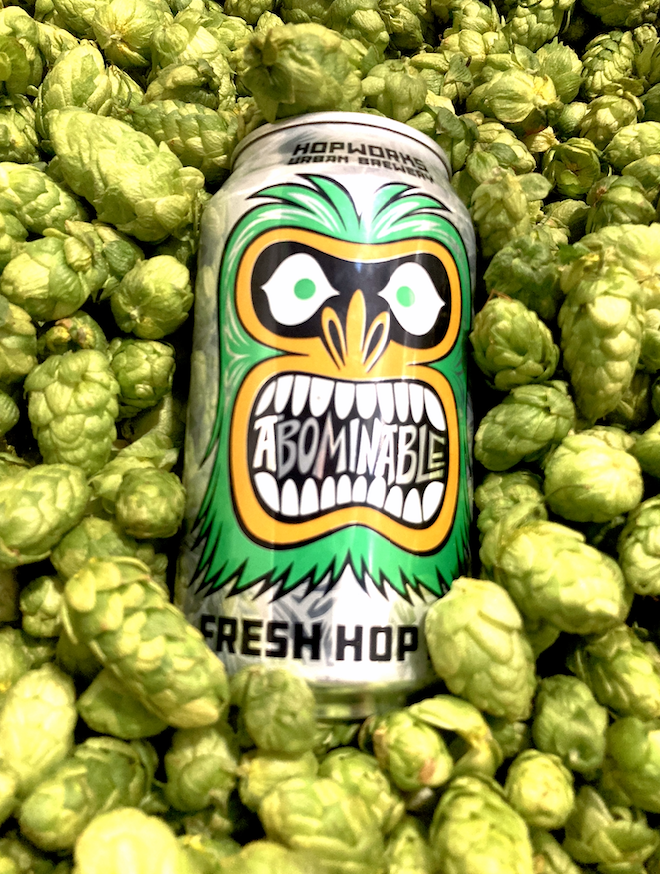 The 2022 Fresh Hop beer lineup has been announced by Hopworks Urban Brewery. Three fresh hop beers will be brewed by Hopworks using hops picked fresh off the bine and used within hours of harvesting. The fresh hop lineup for 2022 includes Fresh Hop Abominable, Fresh Hop Downstream IPA, and Fresh Hop Ace of Spades IIPA.
"Fresh hop season is one of the greatest times of year for brewers in the Northwest," said head brewer Ryan Pappe, in a statement. "It's a celebration of the unique climate and soils that we're so fortunate to have here, and of farmers like our friends at Goschie Farms and Roy Farms who dedicate their lives to cultivating this incredible crop. Every September, we look forward to mixing up our typical brewing schedule with some fresh hop experimentation, visits to hop farms, and deep inhales of that fresh cone fragrance!"
Here are descriptions of all three fresh hop beers as provided by Hopworks Urban Brewery.
Fresh Hop Abominable
The fresh-hop version of the company's signature Abominable Winter Ale stays true to its namesake with fresh Centennial hops that add juicy notes of pine to the complex, citrusy ale. Available in 12-ounce six-packs and on tap starting now.
7.3% ABV   65 IBU
Fresh Hop Downstream IPA
Brewed with certified Salmon-Safe barley and fresh hops from Mainstem and Roy Farms, this Pacific Northwest IPA has notes of fruit and spice with pine, grapefruit and pineapple flavors. Available in 16-ounce 4-packs beginning September 16.
7.0% ABV   60 IBU
Fresh Hop Ace of Spades IIPA
This fresh-hop beast is brewed with Cascade, Centennial, Simcoe, Mosaic and Amarillo hops to balance beautiful citrus notes, fresh Strata hops and a clean malt bitterness. Available in 16-ounce four-packs and on tap beginning September 16.
8.6% ABV   100 IBU
All three fresh hop brews are available at Hopworks' Powell Mothership, located at 2944 Southeast Powell Boulevard in Portland, Oregon and HUB Vancouver, at 17707 Southeast Mill Plain Boulevard in Vancouver, Washington. These three beers can also be found in cans at select retailers throughout the Pacific Northwest, while supplies last.