Imperial Bottle Shop & Taproom – Division 2018 Cellar Sale
|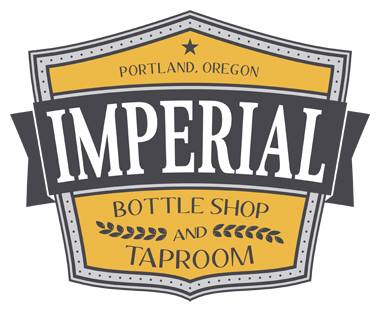 Early next week Imperial Bottle Shop & Taproom – Division will host a Cellar Sale where co-owner Alex Kurnellas will bring out some of the shops best vintage beer. The Cellar Sale will take place from Monday, December 17 through Wednesday, December 19.
From going through the beer list that is shown below, there are some nice finds in there that go back to 2013. And from stopping by to purchase a vintage bottle or two it'll either make a great Christmas present or an excellent way to add to your own cellar. You'll also be assisting Alex and his partner and Imperial co-owner Shawn Stackpoole as she continues her fight with a rare and aggressive form of cancer and the lost wages that she is experiencing.
Here's a preview of what will be for sale beginning on Monday. All of the bottles are singles except when noted.
Cellar Sale Bottle List:
Anchorage Brewing A Deal with the Devil 2014
Anchorage Brewing Darkest Hour 2014
Block 15 Figgy Pudding 2015
Breakside Bourbon Barrel Aztec 2015 (2)
Breakside Brewing BA Salted caramel 2016
Breakside Brewing Alan from the Wood
Commons Flemish Kiss
Crux Freakcake 2014 (2)
Crux Tough Love 2013
Crux Tough Love 2014 (3)
Crux Tough Love 2015 (2)
Crux Tough Love 2017 (12)
de Garde Morningstar 2013
Deschutes Abyss 2013
Deschutes Abyss 2014 (2)
Deschutes Abyss 2015 (5)
Deschutes Abyss 2016 (13)
Deschutes Abyss 2017 (12)
Deschutes Cognac Barrel-aged Abyss 2016 (2)
Deschutes Rye Barrel-aged Abyss 2016 (2)
Deschutes Black Butte XXVII (12)
Deschutes Black Butte XXVIII (12)
Deschutes Black Butte XXIX (3)
Deschutes Dissident 2012
Deschutes Dissident 2014
Deschutes Dissident 2015
Deschutes Dissident 2016
Ecliptic Barrel-Aged Orange Giant Batch 1 2014
Epic Brewing Big Bad Baptista
Ex Novo Nevermore 2017 (12)
Firestone Walker Anniversary Ale XIX
Firestone Walker Anniversary Ale XX (5)
Firestone Walker Double DBA 2014 (3)
Firestone Walker Parabola 2015 (2)
Firestone Walker Parabola 2016 (2)
Firestone Walker Stickee Monkee 2014
Firestone Walker Stickee Monkee 2015
Firestone Walker Sucaba 2015 (2)
Firestone Walker Sucaba 2016 (4)
Founders CBS 2017 (2)
Fremont Coffee Cinnamon BBomb 2017
Fremont Rusty Nail 2017
Gigantic MA Massive 2017 (12)
Midnight Sun Arctic Devil 2014
North Coast Barrel-Aged Old Rasputin XVII (5)
North Coast Old Stock 2013 (4)
Oakshire Brewing Hellshire VI
Pelican Mother of all Storms 2015
Perennial Abraxas 2015
Sierra Nevada Barrel-Aged Bigfoot 2015
Sierra Nevada Barrel-Aged Narwhal 2014
Sierra Nevada Barrel-Aged Narwhal 2015
Stone Brewing Espresso Imperial Russian Stout 2013
Stone Oak-Smoked Old Guardian 2013
The Bruery Autumn Maple 2015
The Bruery Cuivre
The Bruery Mash 2015
The Cellar Sale will take place each of the three days from Noon until 10:00pm.
Imperial Bottle Shop & Taproom
3090 SE Division St.
Portland, OR 97202