Inspired by Mexican Hot Chocolate, Gigantic Brewing Releases Tierra Del Stout
|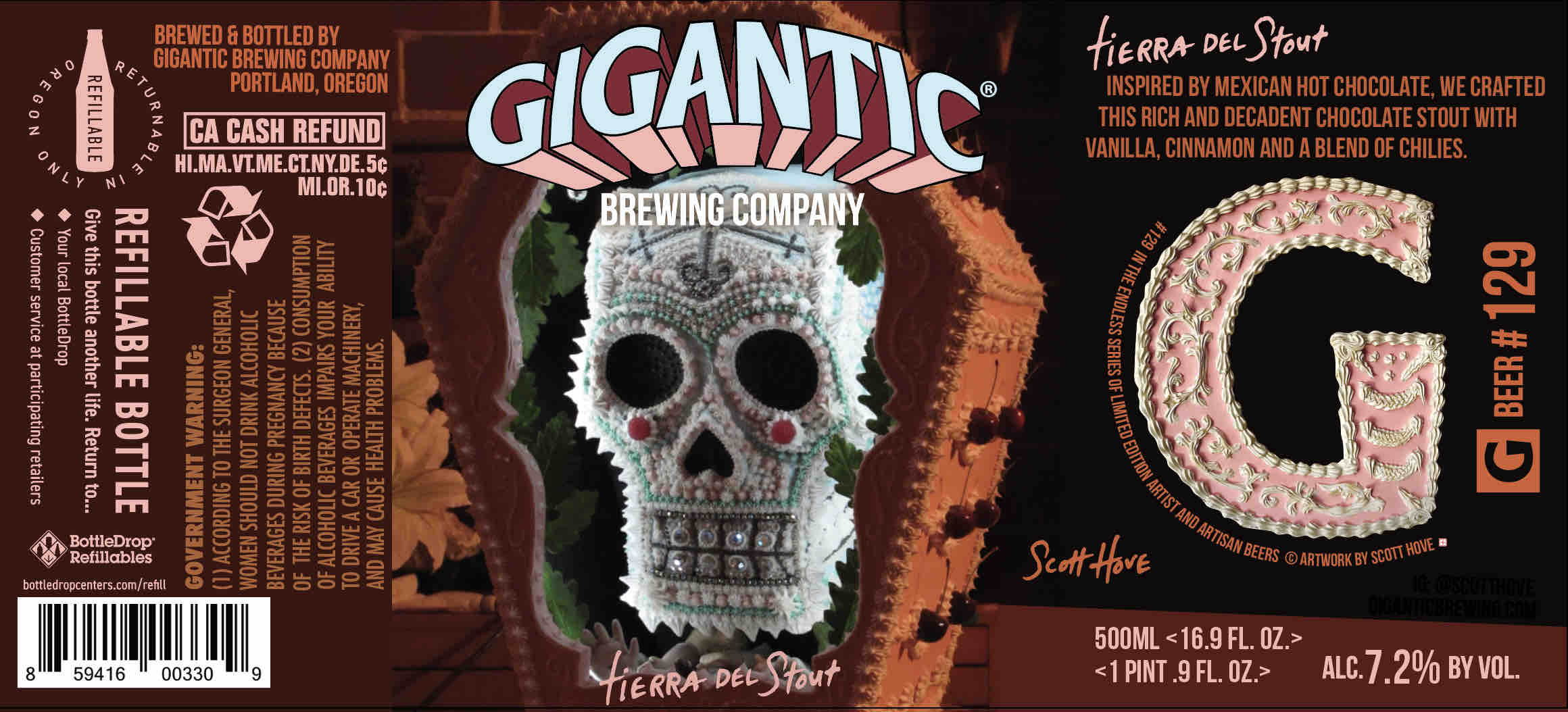 Tuesday, April 20th 2021:  Gigantic Brewing Company is excited to announce the newest release in our year long series of stouts, Tierra del Stout. Inspired by Mexican hot chocolate, we crafted this rich and decadent chocolate beer with vanilla, cinnamon and a blend of chiles.
"We were inspired by our neighbors Tierra del Sol at our new Robot Room location at Rocket Empire Machine" explains Ben Love. "Tierra del Stout is influenced by Mexican hot chocolate, but at its core is based on a mole. We use malt to create the base flavors of pepitas, chocolate, and raisin. Then we add guajillo chili and ancho chili, demerara sugar, and cinnamon to replicate the mole. The final ingredient is Madagascar vanilla beans to boost the sweet notes."
Enjoy rich, luscious notes of vanilla and chocolate in this perfectly decadent stout beer. We added a hint of chile to compliment the sweetness. You can delight in Tierra del Stout as a dessert beer any day of the year!
We had the pleasure to work with the very talented artist Scott Hove on the Tierra del Stout label. He considers himself a primarily self-taught artist, and his work encompasses a broad variety of media. His ongoing series of lush 'cakeland' installations and sculptures describe an allegorical paradise, in the process of reintegrating light and dark, from a false dualism to a true whole. He has been featured in Smithsonian Magazine, LA Times, Architecture & Design, Food and WIne, KQED, The Cooking Channel, Hi Fructose, Vogue, The Daily Telegraph and more. Find his work at Cakefangs.com.
Join us for First Taste Tuesday featuring Tierra del Stout on April 20th at both The Brewery and Champagne Lounge (5224 SE 26th Ave) and Robot Room at the Rocket Empire Machine (6935 NE Glisan). You can also look for Tierra del Stout on draft and in 16.9oz refillable bottles in the Portland metro area, and along the west coast in CA and WA!
As always, Gigantic beer is packaged in BottleDrop Refillable bottles. BottleDrop Refillables are sorted, washed, inspected, and delivered back to Oregon's craft beverage producers to be refilled. By choosing beverages in refillable bottles, you help keep our air clean, our beaches, parks and roadsides litter-free, promote a circular economy, and set a model for future generations.