Little Beast Brewing to Release Mr. Nice, Circle Cutter, and 2019 Golden Stone
|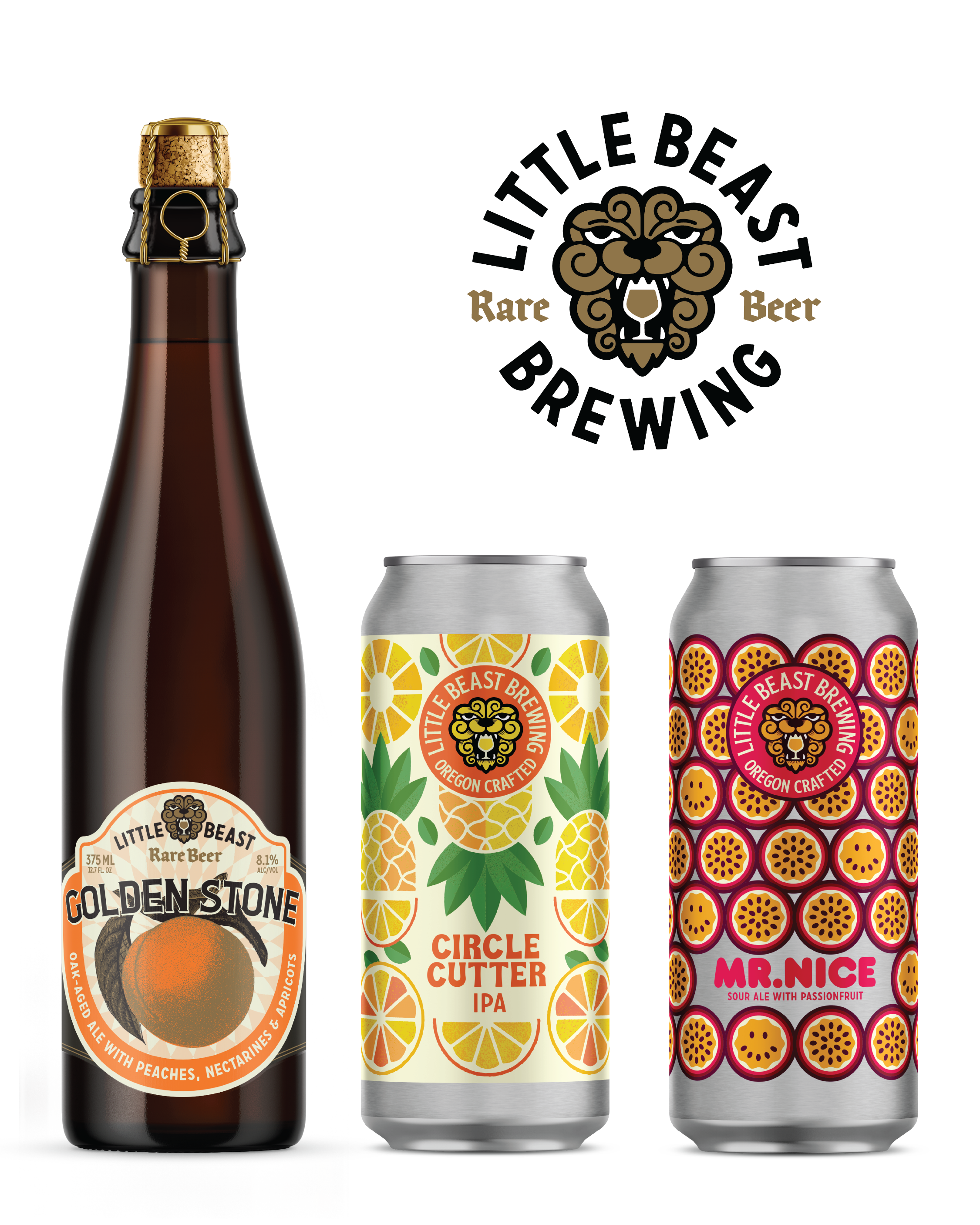 Portland, Ore., March 4, 2020—Little Beast Brewing today announces the upcoming release of three new beers throughout the month of March. Circle Cutter IPA and Mr. Nice will release in 16 oz 4-pack cans and on draft. Little Beast will also release the 2019 vintage of Golden Stone in highly limited 375 mL bottles and on draft.
Mr. Nice, the newest seasonal release from Little Beast, is a Passionfruit Sour Ale. The beer is created through a combination of two base fermentations—the first base is naturally soured during fermentation with Lactobacillus and the second is fermented with Saccharomyces. The two beers are blended during fermentation creating a balance between the healthy addition of passionfruit and the lemony sour character. The beer releases on March 7 at the Little Beast Brewing Beer Garden.
After picking up a medal for Fogmatic IPA at the Oregon Beer Awards, Little Beast is proving to be a dynamic brewery that makes great IPAs in addition to the funky, wild beers they are already well known for. Circle Cutter, the brewery's newest IPA, is made with pineapple, tangerine, and orange citrus, amplifying the natural fruit characteristics from Trident and El Dorado hops. Circle Cutter is tropical, juicy, and piney with a delightful bitterness. Only 175 cases of 4-pack cans, priced at $20 apiece, will be produced, and the beer releases on March 14.
On March 28, Little Beast will release the 2019 vintage of Golden Stone, an oak-aged mixed culture farmhouse ale fermented with peaches, nectarines, and apricots. The beer is a highly anticipated annual release and it recently won an award at the prestigious Good Food Awards in San Francisco. Only 84 cases of 375 mL bottles were produced. Little Beast will sell the new beer in draft and in bottles, along with the 2017 and 2018 vintage bottles at the Little Beast Brewing Beer Garden in SE Portland. Little Beast requires a group of at least two people when ordering a vertical on site, otherwise the three bottles are available to go.
Beer Release Details
Mr Nice Beer Release | March 7, 12:00pm
Circle Cutter IPA Beer Release | March 14, 12:00pm
Golden Stone Beer Release | March 28, 12:00pm
Little Beast Brewing Beer Garden, 3412 SE Division St. Portland, OR