Lompoc Brewing Cans Portland Parkways Premium Pilsner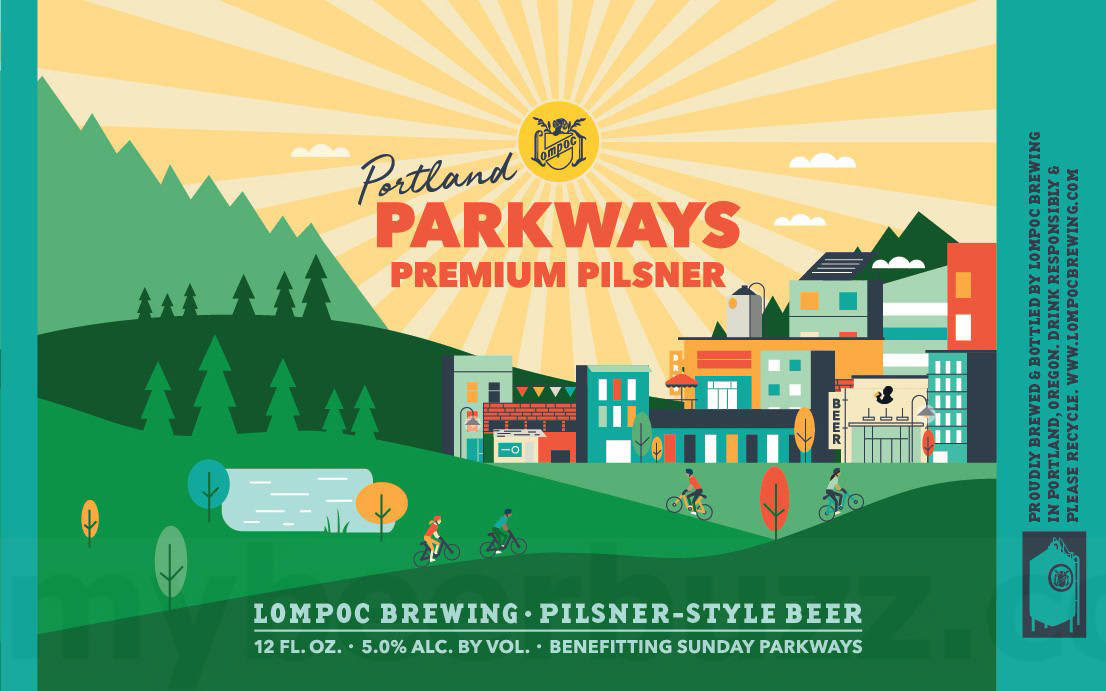 Prior to the launch of the 2018 Portland Sunday Parkways, Lompoc Brewing will release its new Portland Parkways Premium Pilsner in six-pack, 12-ounce cans.
To honor the annual City of Portland Sunday Parkways, Lompoc Brewing has unofficially attached itself to these monthly summer bike rides with its very own beer, Portland Parkways Premium Pilsner. Lompoc Brewing will be donating money to the Sunday Parkways program from every 24-pack case of Portland Parkways Pilsner sold.
On Thursday, May 10th, Lompoc Sidebar will launch the new Portland Parkways Premium Pilsner beginning at 4:00pm. Ten days later the City of Portland Sunday Parkways will begin its 2018 season of five monthly Sunday bicycle rides with its Southeast Portland ride. This series of bike rides will continue throughout the summer on June 24 (North Portland), July 22 (Downtown), August 19 (Outer Northeast) and September 23 (Northeast).
Portland Parkways is described as a golden straw colored German style pilsner that is clean and crisp, with a bready maltiness that is balanced by the spiciness of Saaz hops. This sessionable pilsner comes in at 5% ABV.
"Lompoc Oregon is knitted from the fabric of our local community, and we can't think of a better way to support and celebrate our citizens," said Lompoc owner Jerry Fechter in a statement. "We're especially excited to host Lompoc beer gardens offering Portland Parkways Pilsner throughout the Portland Sunday Parkways events; look for us along the routes!"
Portland Parkways Pilsner six-pack release will take place at the same time as Lompoc releases its Enter the Dank IPA in six packs. When the May 10 release party takes place, Lompoc will offer a special $6 six-pack of each of the two new beers.
Lompoc Sidebar
3901 N. Williams Ave.
Portland, OR
About The Author
DJ
D.J. is a Portland, Oregon based writer that spent his formative years in the Midwest. With over 25 years under his belt of drinking beer at festivals across America and the world, he has developed a strong appreciation and understanding of craft beer and the industry that surrounds it. He can be found in any of the great breweries or beer bars that make Portland the best beer city in the world. His writing can also be found in the archives of Northwest Brewing News and can be followed on Twitter and Instagram at @hopapalooza.