Ninkasi Brewing Launches Peach Maiden The Shade Summer IPA
|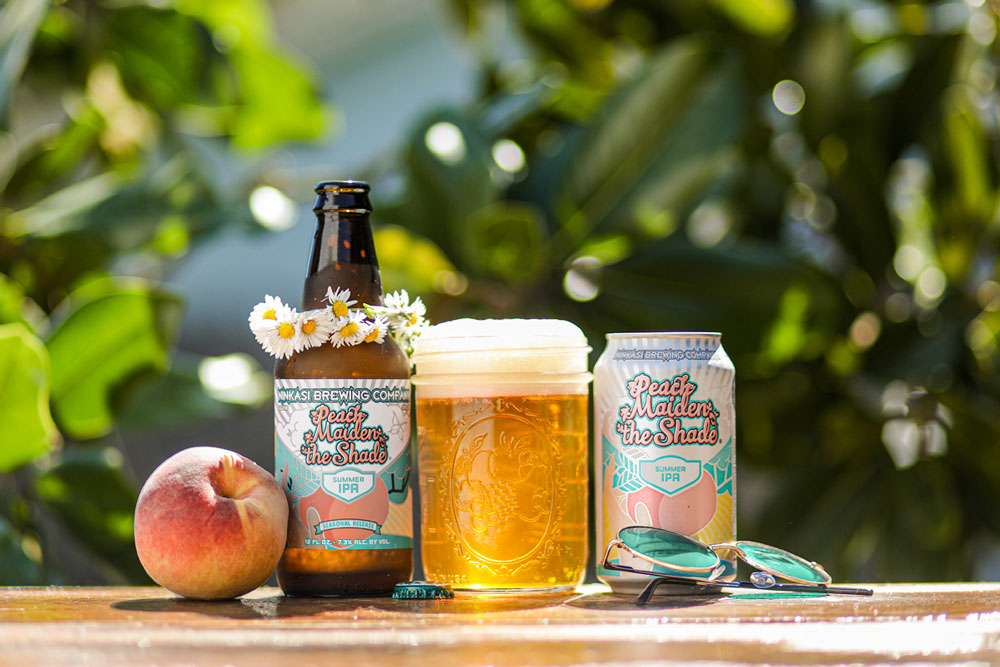 Making its debut in bottles and cans for the Summer of 2020 will be Peach Maiden the Shade Summer IPA from Ninkasi Brewing. Previously only available on draft in very limited quantities, Peach Maiden the Shade is an offshoot of former summer seasonal, Maiden the Shade, but with a fruity twist.
"We created Maiden the Shade for a local cultural and music festival that has been in our community for 50 years whose logo happens to be a peach," said Ninkasi co-founder Jamie Floyd. "We decided to make a peach version of this cult classic for the festival that became a favorite of festival staff, musicians, and beer enthusiasts alike. So much so, we wanted to share it with all Ninkasi lovers."
Additionally, Ninkasi has once again partnered with Eugene-local Glimmer Tech to create an interactive augmented reality experience activated through their beer packaging. When a user scans the Peach Maiden the Shade label using the GlimmerXP app, they will activate Peach Maiden: The Game, an Asteroids-like experience where gamers must defend summer by fending off intruders.
Peach Maiden the Shade Summer IPA
Take a sip and delight in the refreshing, tart notes of peach and grapefruit dancing freely on your tongue. That's the essence of summer bursting from Peach Maiden the Shade. Crack one open, enjoy, and run wild.
Style: Summer IPA
Available: Now
ABV: 7.3%
IBU: 71
Malt: 2-Row, Vienna, Flaked Barley
Hops: Alpha CO2 Extract, Centennial, Crystal, Palisade, Amarillo, Simcoe, Columbus, Chinook
Special Ingredients: Peach puree and flavoring
Packaging: Draft; 6-pack bottles and 12-pack cans; 19.2oz cans available mid-May
Distribution: Alaska, Arizona, California, Colorado, Idaho, Montana, Nevada, Oregon, and Washington.
Peach Maiden the Shade Summer IPA is now available in 6-packs of bottles and 12-packs of cans throughout Ninkasi's distribution footprint. A 19.2oz can will be available in May.  Peach Maiden the Shade replaces Ninkasi's first 2020 seasonal, Galaxy Trippin' Stellar IPA.
For all Ninkasi beers, including seasonal offerings, visit ninkasibrewing.com/beers. And look for the forthcoming Ninkasi Brewing location in Tumwater, Washington in late summer 2020.