Oakshire and Von Ebert Collaborate on Mirror Neuron IPA
|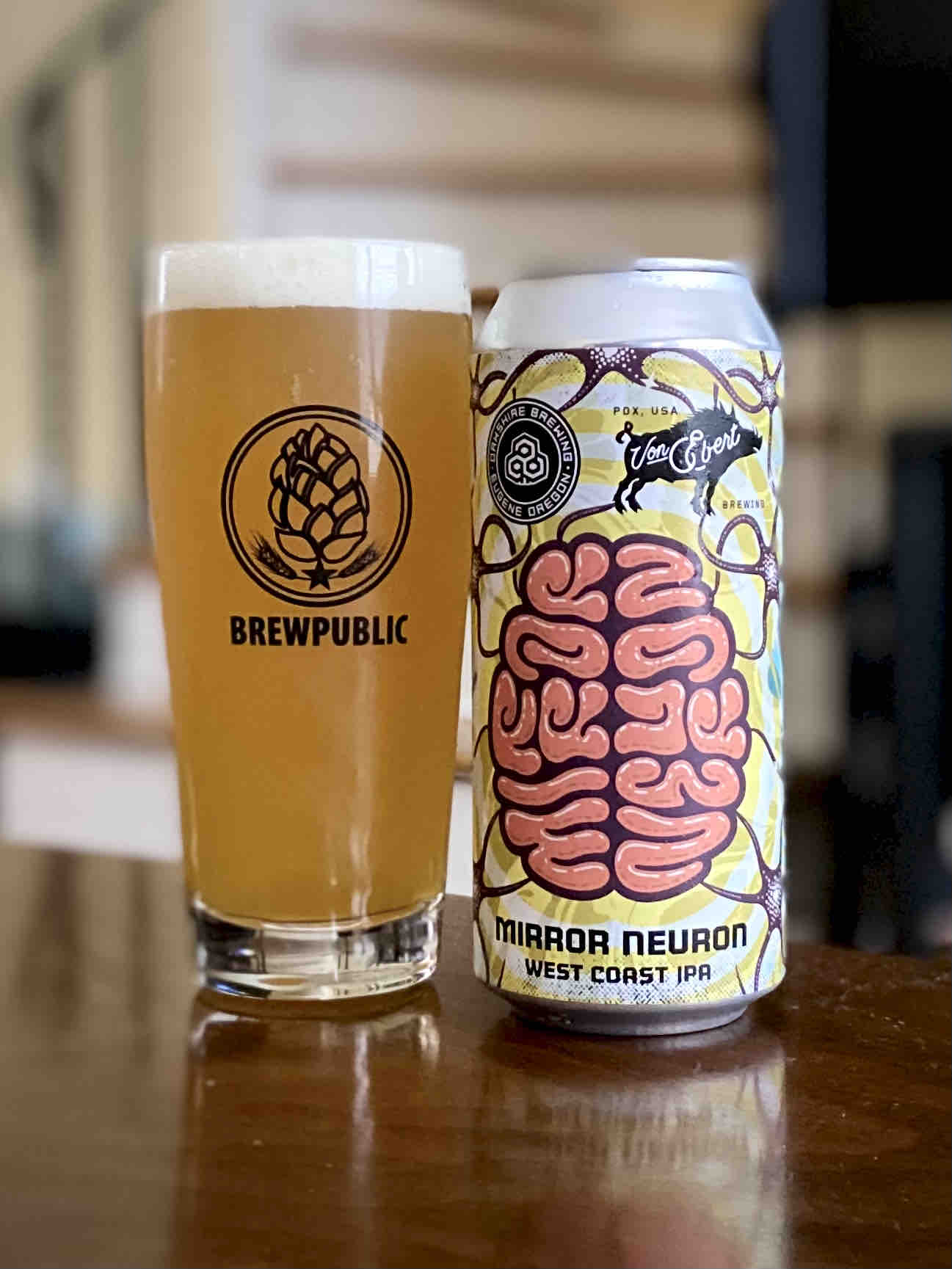 A new collaboration beer from Oakshire Brewing and Von Ebert Brewing hits the taps and shelves beginning today. On this effort the team from Von Ebert took a trip two hours south for a brew day at Oakshire Brewing to create Mirror Neuron – West Coast IPA.
According to Wikipedia, here is the definition of a mirror neuron. It is a neuron that fires both when an animal acts and when the animal observes the same action performed by another. Thus, the neuron "mirrors" the behavior of the other, as though the observer were itself acting. Such neurons have been directly observed in human and primate species, and birds.
Oakshire's Dan Russo and Joe Giammatteo invited Von Ebert's Sam Pecoraro and Eric Ebel down to Eugene to brew an IPA. The goal of this collaboration was to create a beer incorporating each brewer's philosophy on recipe development, hop usage, and brewing style. Just as the beer is named, the four brewers attempted to mirror each other's brewing acumen.
Labeled as West Coast IPA on the can, but in Oakshire's press release Mirror Neuron is described as a West Coast Inspired Pan-Continental IPA.
So what exactly is a Pan-Continental IPA beer style? After sampling a can of Mirror Neuron, we can attest that it's a hybrid of bringing together the best elements of a West Coast IPA and New England Style IPA.
In brewing Mirror Neuron, the brewers began with a simple grist bill of North American Two-Row Barley, German Vienna, Acidulated and Dextrin Malt, as well as Flaked Rice to create a drying yet full mouthfeel. When it came to the hop bill, eight hop varieties were used. This includes Herkules, Hallertau Blanc, Enigma, Nelson Sauvin, Barbe Rouge, Styrian Wolf, Mosaic, and El Dorado. These hops arrived from three continents and six countries – United States, Australia, New Zealand, Germany, France, Slovenia – in three different forms – hop extract, Cryo hops, and traditional hop pellets.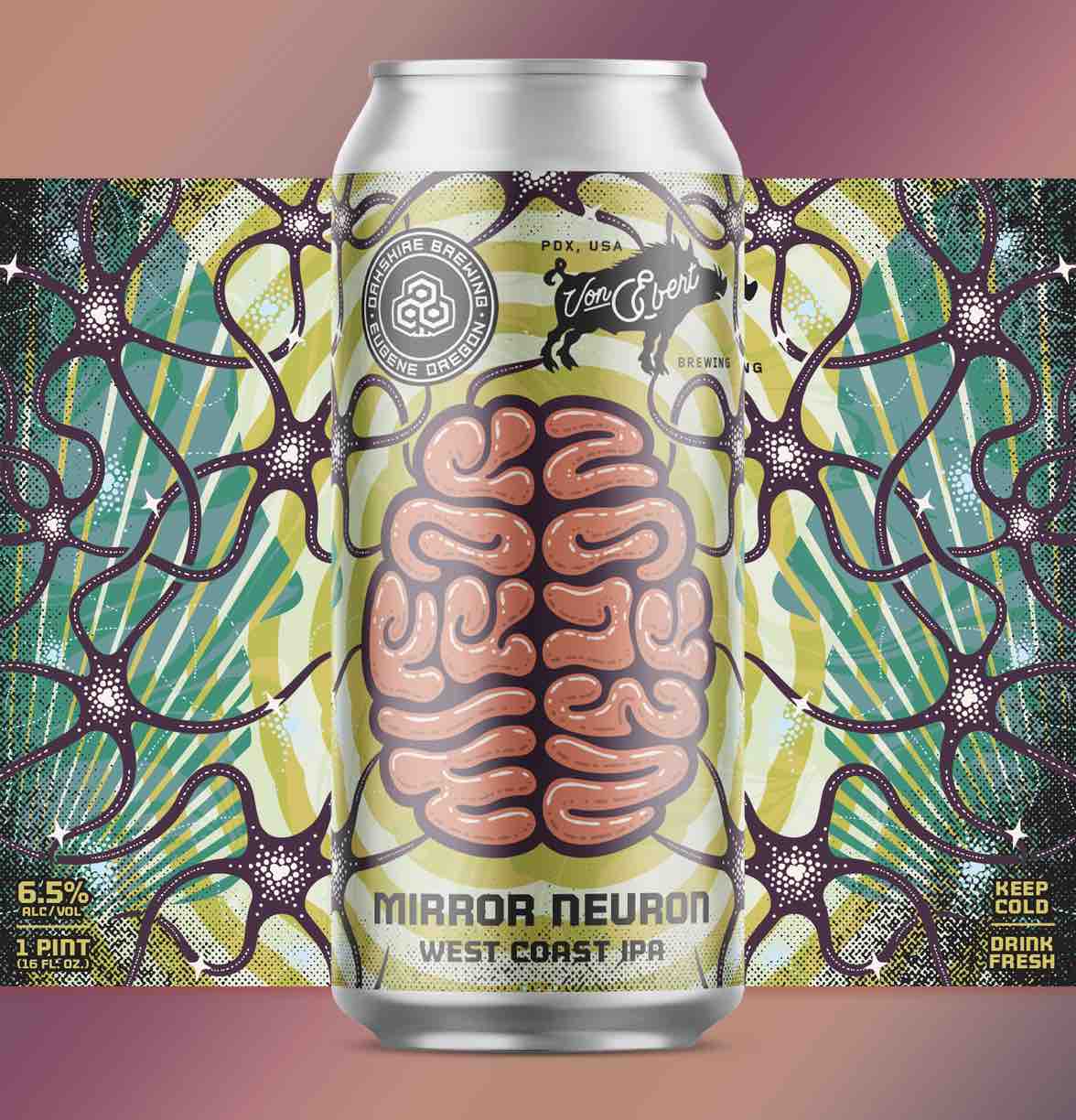 Each hop variety was chosen for its unique berry-forward character. The collaborative brew team then layered each hop addition, bringing out the additional traits such as diesel dank resin, tropical fruit, and pleasant citrus to create a multidimensional and very appealing IPA. One of the best IPAs that we have consumed this year!
Mirror Neuron pours a bright yellow with the appearance resembling that of an unfiltered IPA with a touch of haze. Upon bringing the glass to our nose pleasant aromas of berries come out. Then when Mirror Neuron hits your mouth the softness of a well-executed Hazy IPA hits your palate that's followed by a tinge of bitterness as expected in a West Coast IPA.
Overall a really nice IPA that sits at an appealing 6.5% ABV. It is definitely one that we will be adding to our beer fridge!
Mirror Neuron – West Coast IPA is available beginning today in 16oz cans and on draft at Oakshire Brewing in Eugene and Portland and Von Ebert Brewing in Portland.