Paulaner Brewery Releases Two Beers For Oktoberfest
|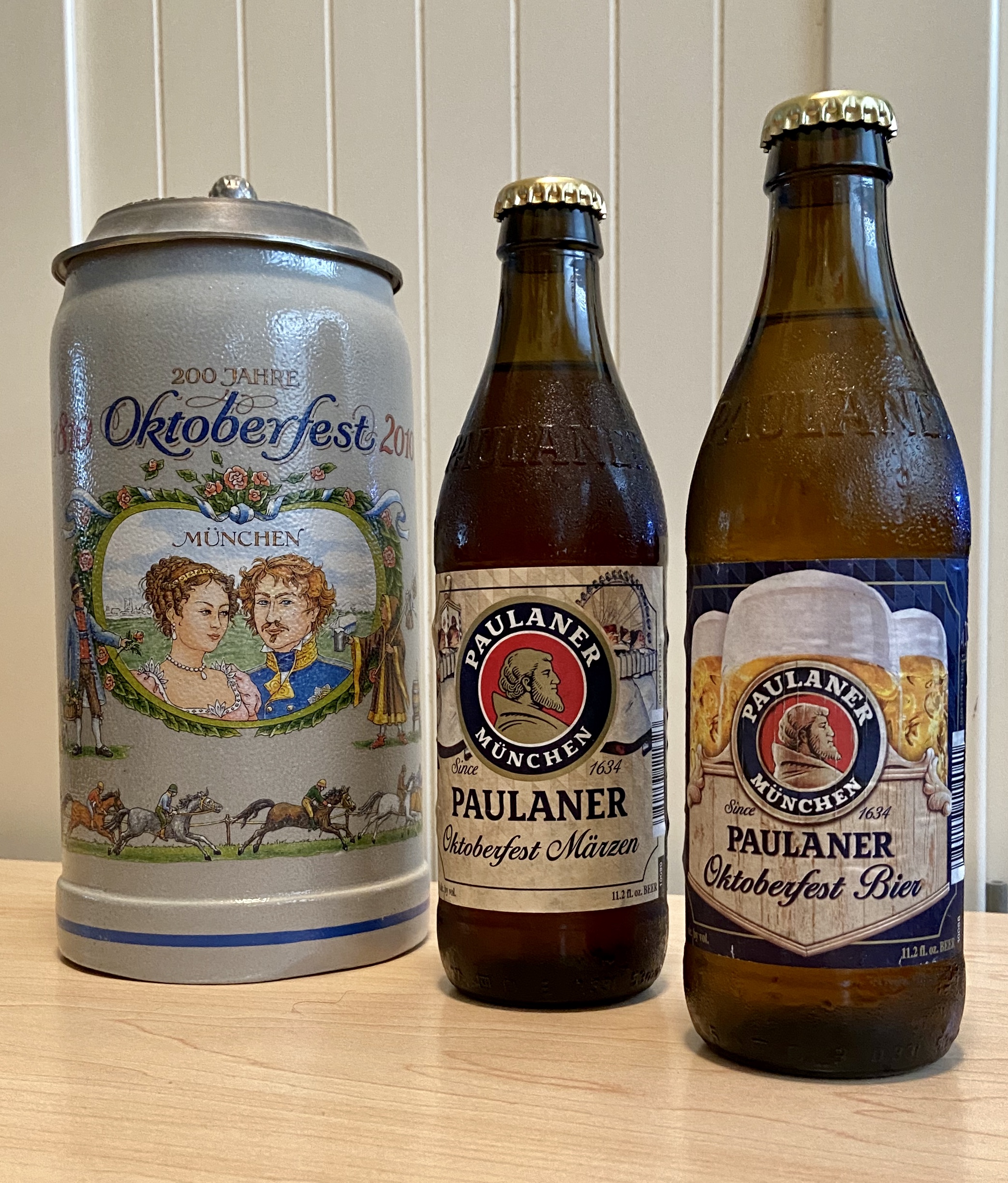 This weekend would have been the kick off to the annual Oktoberfest celebration at the Theresienwiese grounds in Munich, Germany that would have continued through October 4th. Unfortunately this 16-day celebration was another casualty of the COVID-19 pandemic.
With its history dating back some 210 years, Oktoberfest has been celebrated 186 times over its history, the years that the festival was cancelled were due to wars and disease such as this year's global pandemic. The Oktoberfest bier served on the grounds all hail from the big six breweries that call Munich home – Paulaner, Hacker-Pschorr, Löwenbräu, Spaten, Hofbräu, and Augustiner. You can find a few of these Oktoberfest bier offerings here in the U.S. including two versions from the Paulaner Brewery.
This year Paulaner has shipped its traditional Oktoberfest Märzen and Oktoberfest Bier, the top selling bier at Munich's Oktoberfest, to America. Both are available in 6-pack and 12-pack, 11.2oz bottles and draft. Plus, its Oktoberfest Bier is also available in a limited edition 1 Liter Can and Mass (Maß) Mug set.
Paulaner, just as many of the other Munich breweries brew two versions of their fall classic. The traditional one is the Märzen and the more contemporary version is the Festbier or Wiesn style. Märzen was the bier that had been served at Oktoberfest since its inception but this changed in the 1950s when a lighter color, less sweet bier style was introduced that's now known better as Festbier. According to a PorchDrinking.com article, Märzen vs. Festbier? Paulaner Explains It All, it states that Augustiner served its lighter colored, less malty Edlestoff in 1952. This proved so popular that it went on to become the Festbier style that is now served by all six breweries at Munich's Oktoberfest.
Read More: Oktoberfest a 200 Year Tradition
The two bier styles are quite different and can be a bit confusing on what you should expect. The traditional Märzen is an amber lager that is a deep, dark copper color with bready notes and a bit sweeter that's usually hovers near 6% ABV. It takes its name from the month of March when the bier was historically brewed and then cellared through the warmer, summer months and then was released in September. Whereas the more modern Festbier is similar to a more traditional Helles Lager but with a bolder ABV hovering around 6-6.5%. This bier pours a nice straw-blonde color that is lighter in body compared to the traditional Märzen style and usually in the 5-6% ABV range.
Paulaner continues to brew and export its traditional Oktoberfest Märzen along with its Oktoberfest Bier, the bier served in Munich at Oktoberfest. Both biers are great examples for exploring the historical significance of the two bier styles.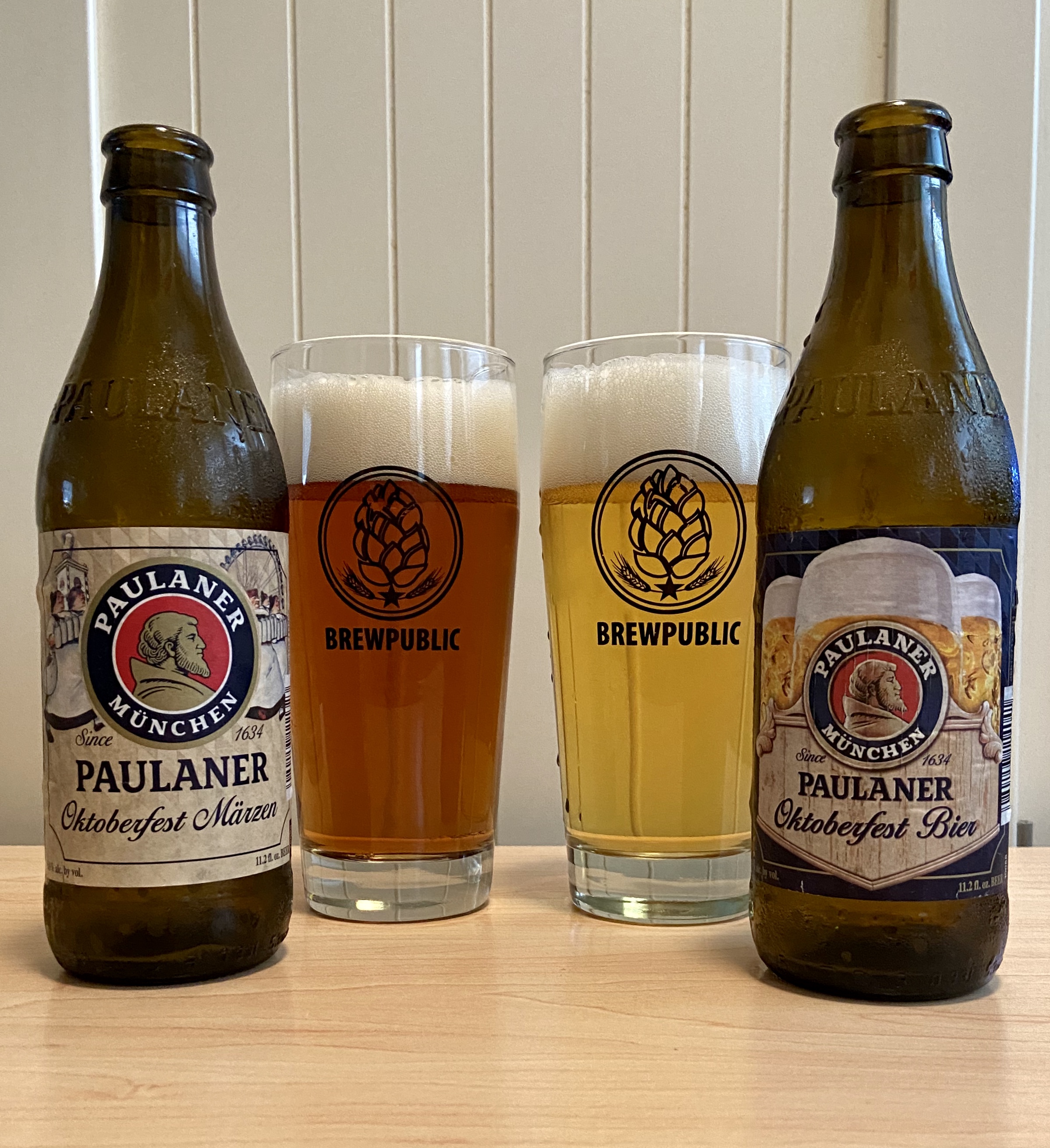 Upon viewing the pours of both biers, it's easy for one to come to the conclusion that the Oktoberfest Märzen would be the stronger of the two. As we explained that is not the case but even with the first sips its challenging to believe that Paulaner Oktoberfest Märzen is lower in ABV at 5.8% vs 6.0%.
Oktoberfest Märzen pays tribute to the amber colored bier style that has been served at the inception of Oktoberfest over 200 years ago. Staying true to the German Reinheitsgebot, Oktoberfest Märzen is brewed with water, malted barley and hops. It uses both Munich and Pilsner Malt that is balanced with Herkules and Hallertauer Tradition Hops.
With aromas of toasted, bready malt, this Oktoberfest Märzen has a nice, full head that continues with perfect lacing in the glass. Flavors of malt sweetness with a subtle hop bitterness take over the palate through its medium mouthfeel. It's a bier that you will entice you into pouring yourself another one during the fall season that is around the corner.
When it comes to Paulaner Oktoberfest Bier, this bier uses the same ingredients as its traditional counterpart but in a different recipe. This is the bier that is served in the Paulaner tents in Munich at Oktoberfest. It is brewed only once a year to the delight of its fans as it has become the top selling beir at the festival.
Oktoberfest Bier pours a deep golden color, slightly darker than its similar Paulaner Original Münchner Hell, with a nice frothy white head. Grainy malts are balanced by spicy and fragrant hops to give this bier pleasant drinkability at a robust 6% ABV. Yes, a bit stronger than your typical German Helles but it's the main reason why this Festbier style has won over the attendees at Oktoberfest.
No matter which Paulaner Oktoberfest bier you choose, either one is likely to provide a satisfactory drinking experience. To locate this or any other Paulaner bier, use the Paulaner Bier Finder.