Payette Brewing Company's Blood Orange Rustler IPA Available Year Round in Cans
|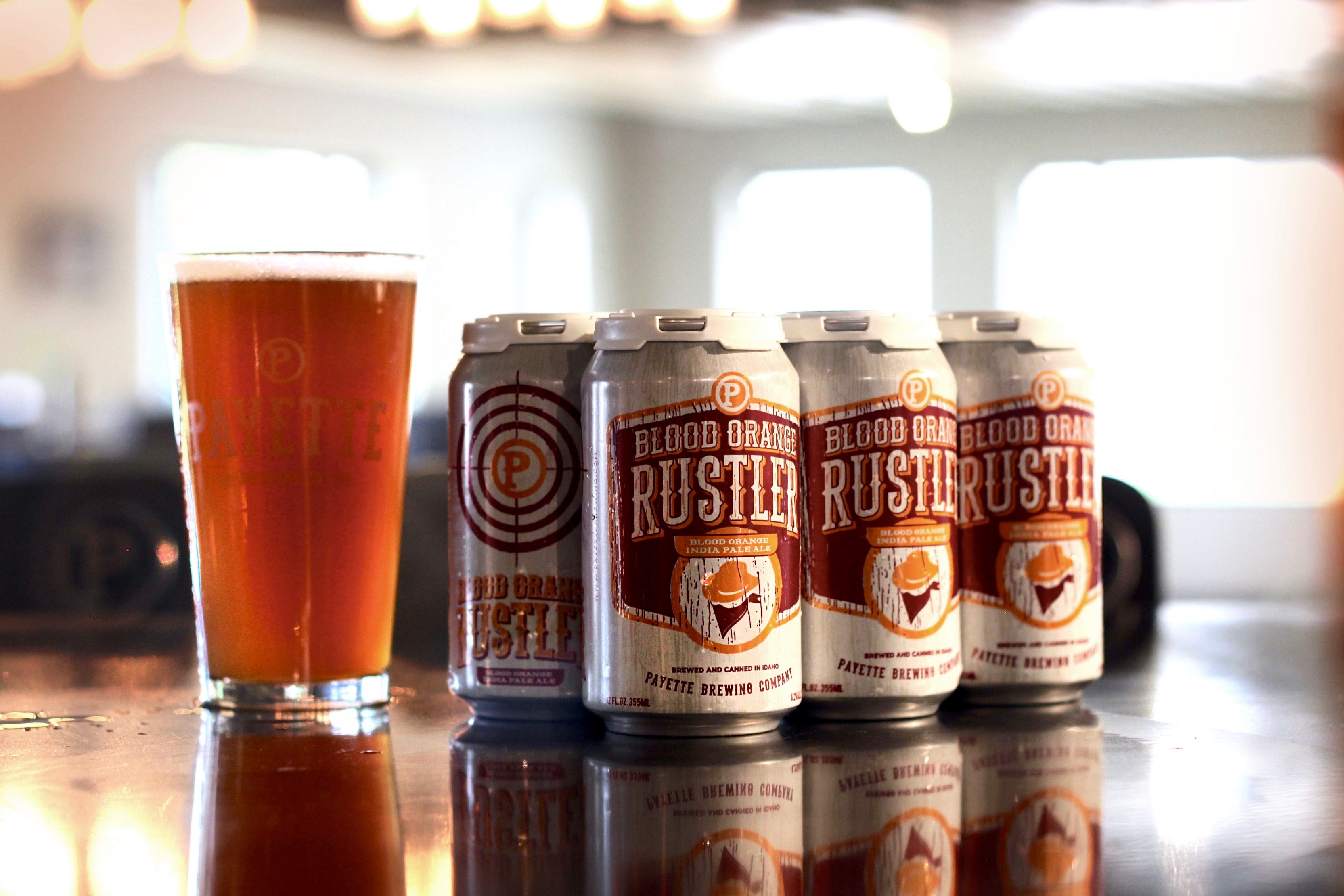 Boise, Idaho (May 26, 2016) – Payette Brewing Company, Idaho's largest brewery, announces a new brand to the year-round packaging portfolio, Blood Orange Rustler IPA. This citrus and spice twist on their No. 1 selling beer is a refreshing combination of hops and blood orange smoothness that will start hitting the shelves in six-packs June 1, 2016 and will be available year-round!
Payette Founder, Mike Francis, mentions while drinking one himself, "We have been playing around with Blood Orange Rustler for a few years now, it has been a fan favorite ever since the first time one of our brewers made a single keg of the beer. It is super exciting to finally add it to our canned beer line up and into people's summer coolers!"
Currently available on tap in Idaho, Oregon and Washington, Blood Orange Rustler is brewed with Centennial, Chinook and Columbus hops which give it slightly spicy aroma, hints of citrus, and a mildly bitter finish. The addition of blood orange during the fermentation process enhances those citrus notes introduced by the hops. At 6.2% ABV and 65 IBU's, it's Rustler with a twist of succulent, juicy blood orange that is worth the squeeze! Cans will be available in Idaho, Oregon, Utah, Washington, Wyoming and Montana to start.
Payette Brewing will celebrate with a Blood Orange Release Party on Wednesday, June 1 in the Tap Room located at: 733 South Pioneer Street, Boise, ID from 7:00 PM – 10:00 PM with the acoustic sounds of Ryan Wissinger in the beer garden and a local food truck will be available for dinner options. Join the party and peel yourself a pint or take a six-pack to-go.
Beer fans are encouraged to follow Payette's social media for the latest updates or visit www.PayetteBrewing.com.
About Payette Brewing Company:
Founded in Boise, ID by Michael Francis in 2010, Payette Brewing Company is proud to be Idaho's largest brewery. The brewery currently runs a 15-barrel brewing system and offers six year-round beers, seasonal releases, various beers in the Ales of No Return series and their limited-Hoop & Stave Barrel-Aged bottle series. Payette recently finished construction on their second production facility in Downtown Boise with the capacity to produce 100,000 barrels annually. The new brewery and Tap Room will be open June 2016.