Pelican Brewing and The Bier Stein Collaborate On Marine Layer Foggy IPA
|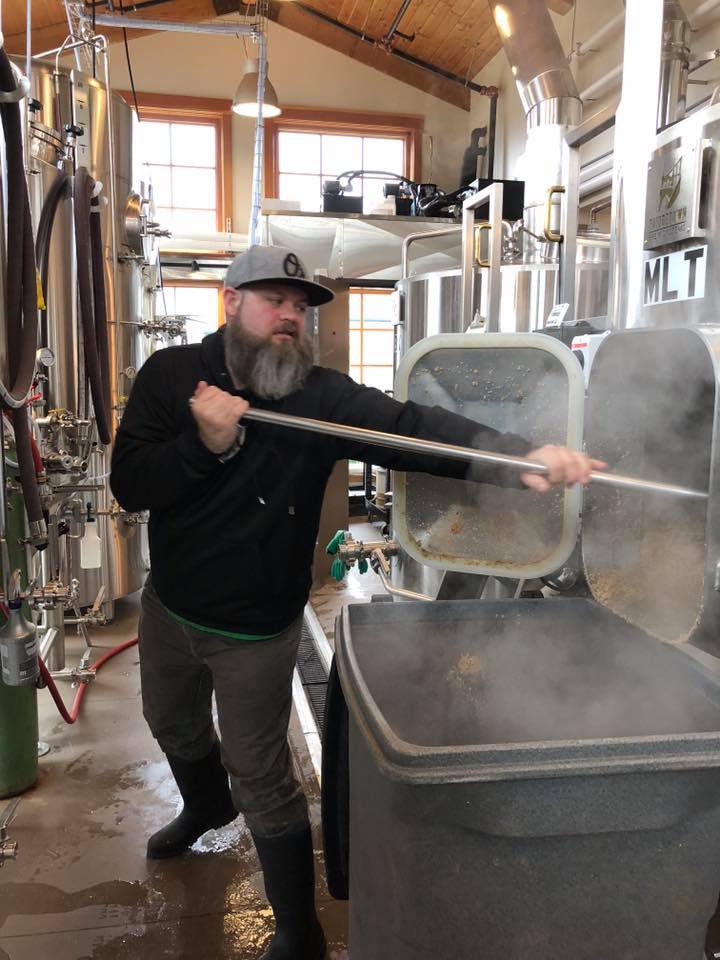 One of Oregon's best beer bars has collaborated on a new beer with one of Oregon's most awarded breweries. Last week The Bier Stein hosted the release of Marine Layer Foggy IPA, a beer brewed in collaboration with Pelican Brewing.
Dave Stockhausen, The Bier Stein's longtime beer buyer traveled out to Pelican Brewing in Pacific City, Oregon to brew this New England Style inspired IPA. There he collaborated with Pelican's Cannon Beach brewer Coren Tradd. What the two created is a semi-hazy IPA that is now on tap only at The Bier Stein and Pelican Brewing at Cannon Beach. As part of Pelican's Small Batch Series, don't delay in seeing Marine Layer Foggy IPA out as it has been quite popular since last week's release party at The Bier Stein.
Here are additional details from Pelican Brewing's press release…
"At The Bier Stein we are always looking for interesting, inventive beers you are just not going to find elsewhere so when this opportunity came up to co-brew with a talent like Coren at Pelican, it was a perfect opportunity for us," says Stockhausen of The Bier Stein in Eugene, which boasts an 18-door cooler with over 1,000 bottles of beer from around the world and 30 taps with rotating drafts. "We had this idea to do a hazy or foggy IPA and I wanted to add the grapefruit to accentuate the stone fruit and tropical flavors. This recipe resulted in such a creamy and juicy IPA—I thank Pelican for a great collaboration and an educational experience."
According to Tradd, Marine Layer Foggy IPA offers a light gold color with a slight fog and a thick white head. Aromas of grapefruit, sweet pine and ripe fruit combine for a flavor and aroma of mild malty sweetness. The new brew has a smooth, creamy mouthfeel along with a nice dry finish and a moderate level of bitterness balanced with its malty character.
The brewers combined two row malt, malted oats and malted white wheat with Meridian, Eukanot, Mosaic and El Dorado hops and Pelican's house ale yeast for an ABV of 7% and IBU of 50.
While fog lingers, enter to win a brewing adventure at Pelican
While Marine Layer is on tap at The Bier Stein—possibly only a few more days based on its popularity, fellow fanatics can enter to win a 'Brewers Getaway Weekend' for two in Cannon Beach including a brew day with Coren Tradd and overnight lodging. Entry is open to passionate beer geeks only. Enter at The Bier Stein while Marine Layer is still on-tap—possibly just a few more days.
Like all Pelican beers, Marine Layer Foggy IPA is born at the beach by a team of award-winning craft beer makers known for brewing styles of beer that they themselves love to drink. Cheers!
About Pelican Brewing Company
Pelican Brewing Company was founded in 1996 by Jeff Schons and Mary Jones in Pacific City with Oregon's only oceanfront brewpub. Celebrating its 21st year, the brewing company has created masterpieces like Kiwanda Cream Ale, India Pelican Ale, MacPelican's Scottish Ale, Tsunami Stout and Doryman's Dark. With the vision, creativity and brewing expertise of founding brewmaster Darron Welch, Pelican Brewing has won over 450 awards including a Silver Medal at the 2016 Great American Beer Festival, 2014 World Beer Cup© Champion Small Brewing Company and Brewmaster of the Year. Pelican Brewing currently distributes 22oz bottles, 12oz bottles in 6-packs, a new mixed 12-pack, and 50 liter and 20 liter kegs via a network of distributors in Oregon, Washington, Idaho, Utah, and Hawaii. The company operates brewing and brewpub facilities in Pacific City, Tillamook and Cannon Beach.