pFriem Announces 2023 Beer Release Calendar
|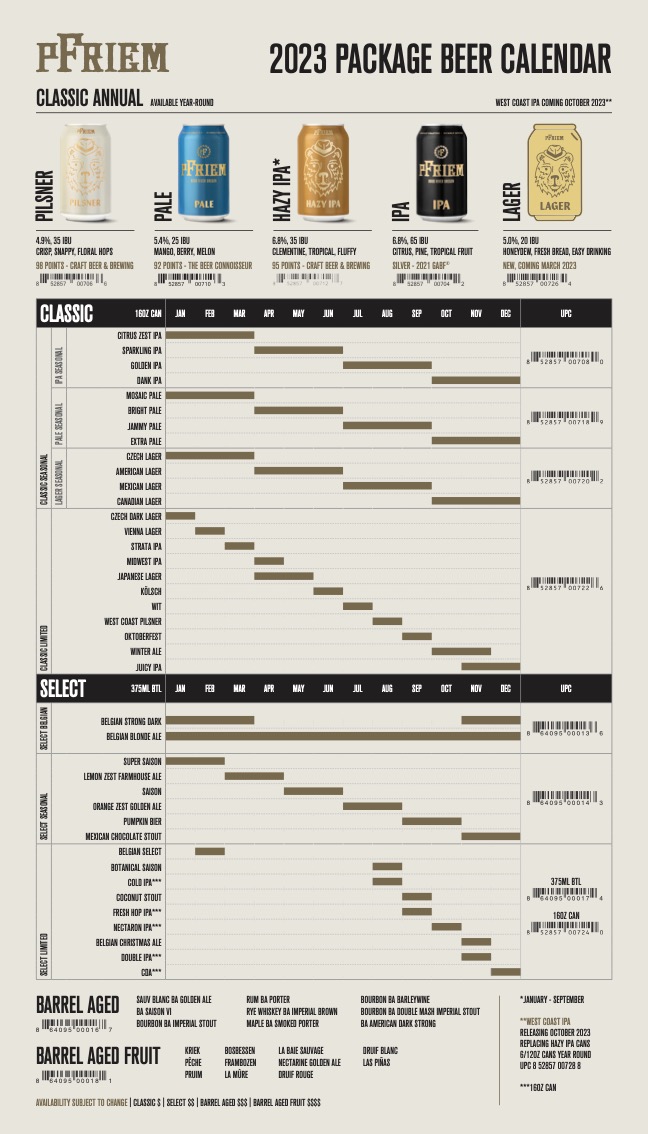 January 24th, 2023 – Hood River, Oregon – Award-winning pFriem Family Brewers has announced its 2023 beer portfolio with over 100 unique styles throughout the year with 63 of those coming in package, ranging from 375ml bottles, to 16oz and 12oz cans. The Hood River-based brewery is also adding two new 12oz can 6-packs to their core line including a Lager, releasing in the Spring, and a West Coast IPA, releasing in the Fall.
"We are proud to offer such a diverse and exciting beer portfolio this year, with something for every beer drinker & moment. Whether you're looking for a crisp and refreshing lager, an aromatic and hoppy IPA, or a nuanced barrel-aged beer, we have many styles we are excited to offer you in 2023," said Josh Pfriem, Brewmaster/Co-Founder of pFriem Family Brewers.
As the popularity of its Pilsner has grown dramatically, pFriem decided it was time to add a classic German-inspired lager to its core line-up of beers. The brewery recognized the need for an interesting yet refreshing and easy-drinking beer that can be enjoyed on any occasion. pFriem Lager, with its fresh and smooth taste profile, complements the existing line of beers and is a classic and timeless beer that is inspired by the Helles style. The brewery has spent considerable time perfecting this recipe to ensure it is of the highest quality and meets the high standard that pFriem drinkers have come to expect.
"We are excited to introduce pFriem Lager to the market, perfect for those casual moments where you just want to relax and unwind with a crisp and refreshing beer that also offers a unique and interesting flavor profile. With its smooth finish and nuanced notes of melon and honey, our Lager is sure to become a new favorite for beer lovers everywhere. It's the perfect beer to crush at the trailhead after a big day mountain biking, or tailgating with your buddies after a day of snowboarding or skiing", explains Josh Pfriem.
Later this year, pFriem also plans to release a West Coast IPA. This beer boasts a lightly golden appearance, with beautiful white fluffy foam. The aroma is bright, with notes of strawberry, tangerine juice, and ruby red grapefruit, accompanied by tropical notes of passionfruit and papaya. The flavor is smooth, with ripe strawberries, marshmallow, peach tea, pine, and red hard candy. The finish is appropriate sweetness and resin. Perfectly crushable, this beer is sure to be a hit with hop lovers.
"We at pFriem love bright, aromatic, hop-forward, dry, and super drinkable West Coast IPA's and glad that you are asking us to make more of them! We are building our West Coast IPA around new school hops, making sure hops jump out of the glass, leaving the crystal malt on the shelf, and making sure as you find the bottom of the glass easily", says Josh Pfriem.
pFriem Lager will retail at $10.99/ 6pack and West Coast IPA will retail at $11.99/6pack. Both beers will be distributed across Oregon, Washington, and Idaho.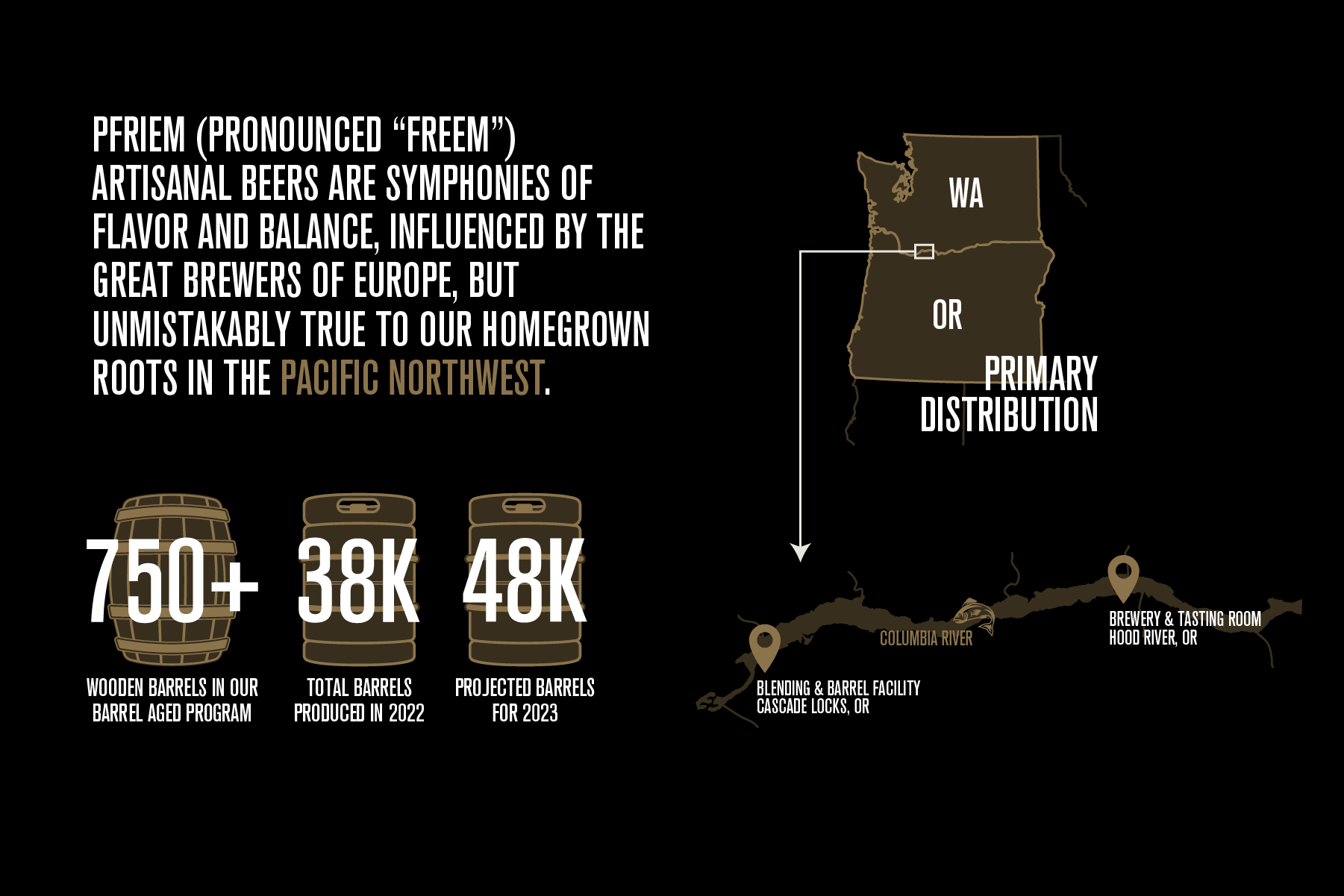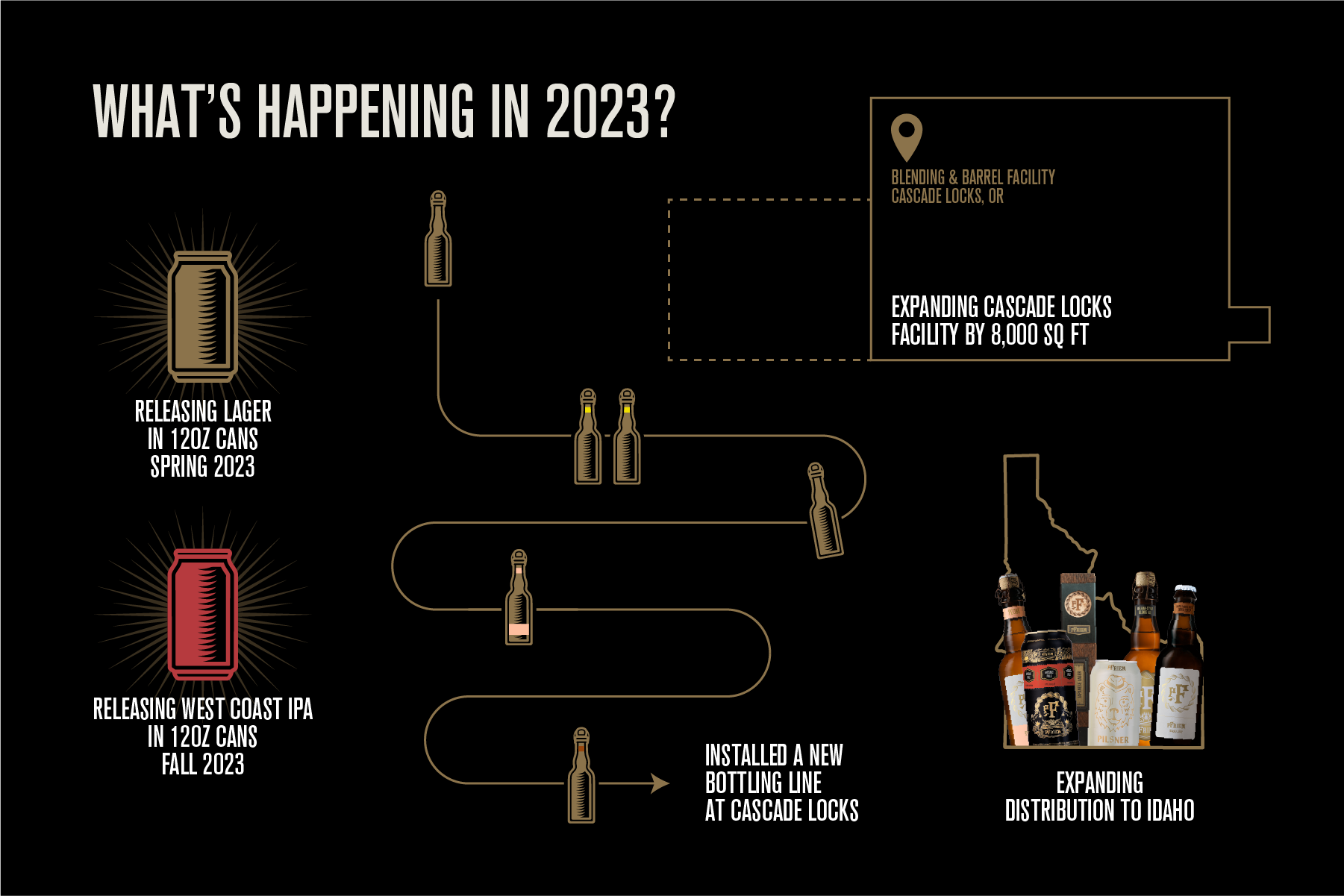 About pFriem Family Brewers
pFriem Family Brewers (pronounced "freem") is a Northwest and European-inspired brewery and tasting room in Hood River, OR. Founded in 2012, pFriem has experienced incredible growth in the past decade and has earned prestigious awards, including being named GABF® 2018 Mid-Size Brewing Company of the Year, Three-Time Brewery of the Year by the Beer Connoisseur, and numerous medals in national and international brewing competitions. Best known for artisanal beers influenced by the great brewers of Europe while staying true to homegrown roots in the Pacific Northwest, pFriem craft beers are unmistakably unique in both flavor and balance.
Visit pFriem online at www.pfriembeer.com, or onsite daily at 707 Portway Ave., Suite 101, Hood River, OR 97031.