pFriem Family Brewers Summer 2019 Beer Releases
|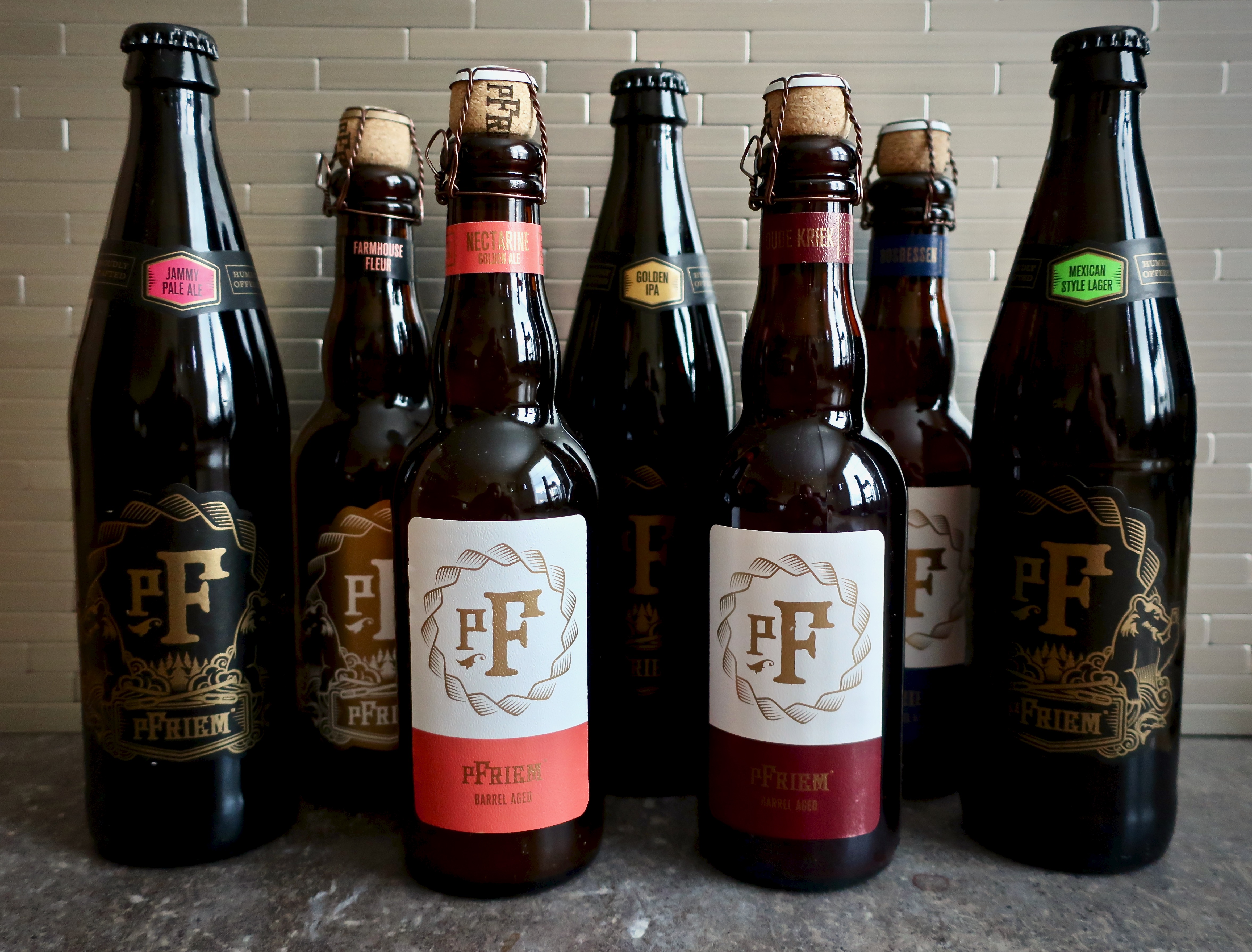 pFriem Family Brewers is set once again to produce an exorbitant amount of beer in 2019. This is quite impressive as the Hood River based brewer is in the middle of some large expansion plans that includes a larger brewhouse at its existing facility, plus a new barrel-ageing facility in nearby Cascade Locks.
For the summer of 2019, pFriem has seven beer releases lined up to be packaged in bottles. pFriem's Summer 2019 Beer Releases includes Mexican Lager, Golden IPA, Jammy Pale, Farmhouse Fleur, Nectarine Golden Ale, Bosbessen, and Oude Kriek.
Here are descriptions for each of the seven bottle releases as supplied by pFriem Family Brewers…
Mexican Lager | 4.4% 17 IBU
pFriem loves Mexican Lagers, so we brewed our own! Our light and crisp reinvention is brewed with malted barley and flaked maize, and aromas of orange blossom and a faraway Mexican beach. Like the lagers that inspired us, pFriem's Mexican Lager will leave you wanting another, and another…
Golden IPA | 6.8% 50 IBU
If you're prospecting for a bright, golden beer with fluffy white foam, you'll hit the mother lode with pFriem Golden IPA. Fruity aromas of watermelon, citrus, papaya, and lychee fruit, accompany jammy notes of honeydew melon, kiwi, ripe raspberries, and honey. It finishes with a tropical citrus zing that will have you rushing down to pFriem to stake your claim today.
Jammy Pale | 5.4% 32 IBU
Did someone say Jammy? pFriem Jammy Pale is rife with aromas of marionberries, strawberry preserves, candied pineapple, and peach, and round notes of cantaloupe, blueberries, gummy bears, and lemon balm. It finishes juicy, jammy, and fruity. We're Jammin'!
Farmhouse Fleur | 4.8% 22 IBU
In the early days of brewing, saisons were spiced with farm-grown flowers to celebrate the arrival of spring. pFriem Farmhouse Fleur is our own celebration. Brewed with rose hips, calendula, and white peppercorns, lively aromas of lemon and banana and complex notes of key lime and spice abound. Smell the fleurs; spring is here!
Nectarine Golden Ale | 6.9% 9 IBU
We age pFriem Nectarine Golden Ale in fresh Napa Valley Sauvignon Blanc barrels, before adding perfectly ripened Flavortop Nectarines, grown right down the road by our friends in Maryhill. After another six months of aging, the resulting aromas of marmalade, graham cracker and citrus zest, and notes of peach nectar, cantaloupe and Sauvignon Blanc practically leap from the glass.
Bosbessen | 6.0% 6 IBU
We combine fresh blueberries with our barrel-aged Lambic-style ale to make pFriem Bosbessen. Its aromas of ripe fruit, white pepper and tobacco lead to a bright, jammy flavor that finishes as tart and tangy as the berries themselves.
Oude Kriek | 5.6% 6 IBU
pFriem's Oude Kriek is made by adding lush, juicy cherries grown right up the road, to our year-old lambic ale and letting them get to know each other for another ten months. Judging from the aromas of fruity, nuttiness and bright flavors of cherry pie and berries with a dry, tangy finish, they're a perfect match.